DMK to move no-trust motion against TN Assembly Speaker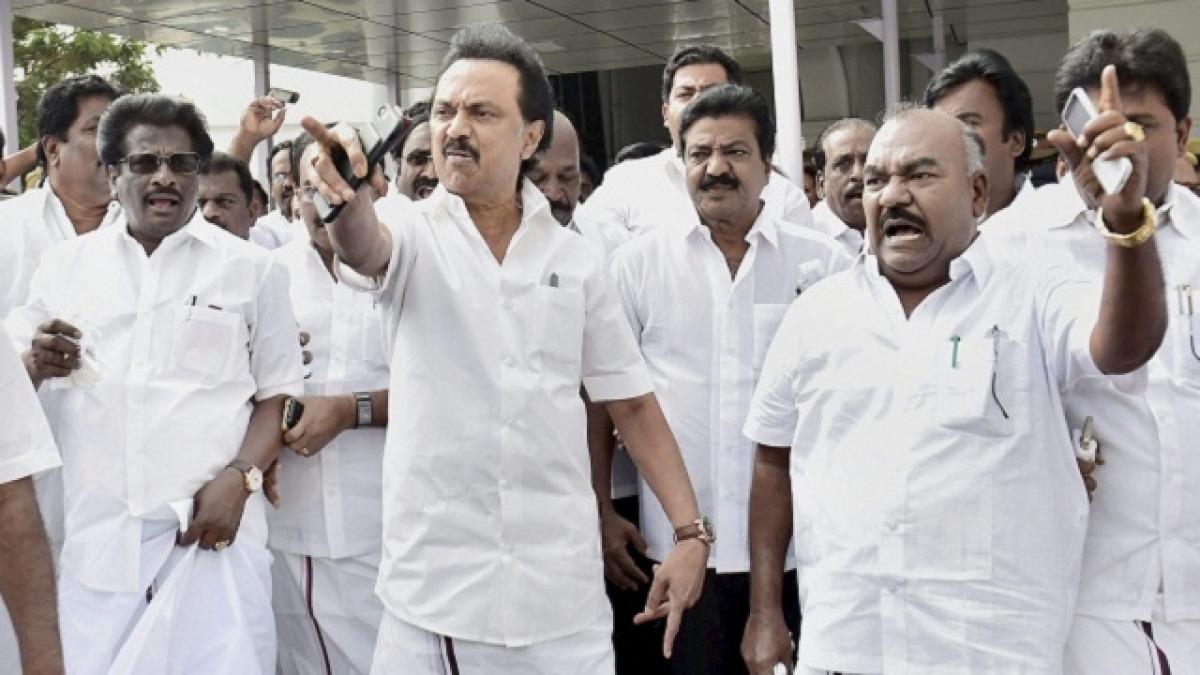 Highlights
The DMK has said it would soon move a no-confidence motion against Assembly Speaker P Dhanapal as it accused him of deliberately harping on his community to malign the party.
Chennai: The DMK has said it would soon move a no-confidence motion against Assembly Speaker P Dhanapal as it accused him of "deliberately harping on his community to malign" the party.
DMK working president and leader of the Opposition in the Assembly M K Stalin announced this at a press conference here yesterday, indicating a possible trial of strength for the AIADMK government, which only on Saturday won the trvst Vote by 122-11 margin.
Stalin was responding to Dhanapal's charge on Saturday after the confidence vote faced by Chief Minister E K Palaniswami, that he was perhaps targeted by the DMK during the ruckus for hailing from a particular community.
"When we see that the Speaker is deliberately harping on his community to maligns us, it is very regrettable. It is a matter of shame, according to us, for Tamil Nadu," said Stalin.
"Therefore we will move a no-confidence motion (against Dhanapal). Signatures of 34 of our MLAs is enough for that and the (Assembly) rules mandate that it (motion) should be taken up within 15 days. On that basis, we will be soon giving it," he added. The DMK has 89 MLAs in the 234-member Tamil Nadu Assembly.
On Saturday, amidst chaotic scenes involving the DMK which eventually led to eviction of its members en masse, the Palaniswami government won the trust vote by the huge margin.
The 11 votes were cast by rebel AIADMK leader and former Chief Minister O Panneerselvam and his supporters.
DMK and Panneerselvam camp had pressed for a secret ballot on the motion of confidence, but it was rejected by the Speaker. Stalin repeatedly claimed Palaniswami would have lost the trust vote if secret voting was held or if the floor test was conducted a week later, the two demands put forth by the Opposition party and rejected outright by the Speaker.
He also denied any wrongdoing by his party MLAs as alleged by Dhanapal and said while he had expressed regret to the Speaker in person at his chamber, he was even ready to apologise if there was any mistake on the part of his colleagues.
Asked about the visuals purportedly showing his MLAs creating ruckus, Stalin shot back saying "the video is in government control and so they can edit accordingly".
"That's why we have been stressing for live broadcast of the Assembly proceedings," he said, refuting the charge of violence by his party legislators. Stalin asserted that the DMK members only protested "peacefully".
Asked if he was "injured" following the eviction, he said he was feeling some internal pain, especially in the shoulder, and that he would go for a scan to determine the nature of it.
Steadfastly opposing the 'benami government' headed by Palaniswami, indicating that jailed AIADMK chief V K Sasikala was pulling the strings, Stalin said it lacked people's support.
He sought the support of people, youth and like-minded citizens to back the DMK in its struggle against the government and to ensure its removal, a plea he had made earlier.
The party's 'hunger strike' on 22 February, in which seniors including himself would be participating across the State, is the first step in this direction, he added.
On Sasikala taking a vow at the memorial of late Chief Minister J Jayalalithaa before going to jail last week, he said it seemed to be an expression of her "anger and anguish" as she was on the verge of becoming Chief Minister but could not do so because of her getting convicted in the assets case.
Stalin refused to comment on her nephew T T V Dinakaran's elevation as AIADMK deputy general secretary, saying it was that party's internal affair.
Stalin recalled the political events since the hospitalisation of Jayalalithaa in September last and once again pointed out that ministers never issued any bulletin on her health status unlike the times of the late CMs C N Annadurai or M G Ramachandran.