Modi blames Congress for bad loan mess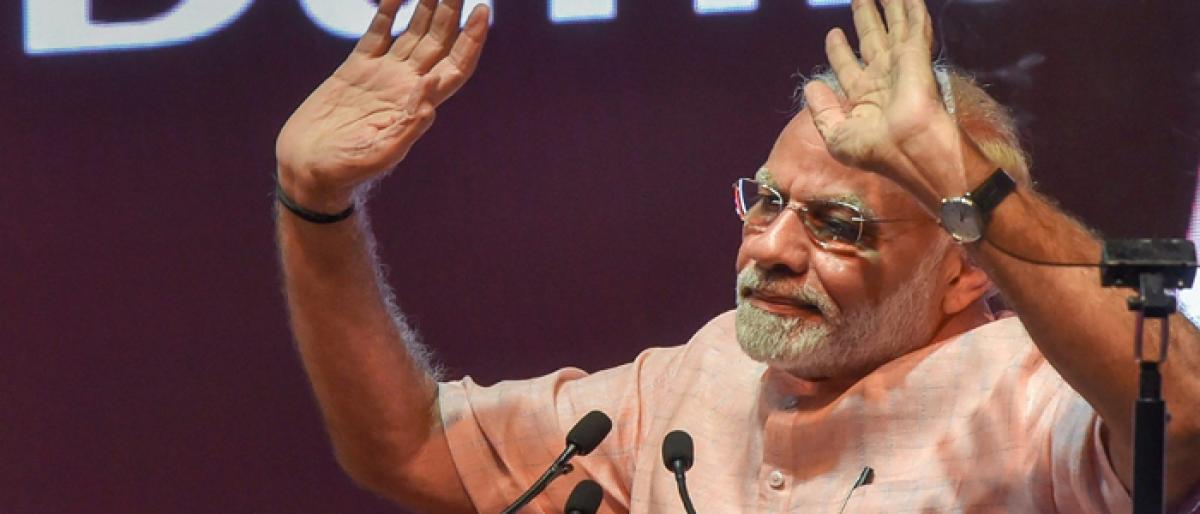 Highlights
Launching an allout attack on the Congress, Prime Minister Narendra Modi on Saturday pinned the blame on the previous UPA government and its phonealoan scam for the bad loans in the banking sector and insisted that every penny given at the behest of namdars dynasts will be recovered
​New Delhi: Launching an all-out attack on the Congress, Prime Minister Narendra Modi on Saturday pinned the blame on the previous UPA government and its 'phone-a-loan scam' for the bad loans in the banking sector and insisted that every penny given at the behest of 'namdars' (dynasts) will be recovered.
While addressing a gathering at the launch of India Post Payments Bank (IPPB) at Talkatora Stadium in the national capital, PM Modi claimed that it took just one call for banks to lend crores of rupees to businessmen close to "one family". "Four-five years back, a majority of funds with the banks were reserved only for those close to one family," he said. "Loans were given on phone calls made by 'namdars' (dynasts)," Modi added, without referring to anyone's name.
Stating that lenders were compelled to restructure the debt when the borrowers defaulted, the prime minister accused the UPA government of hiding the extent of non-performing assets (NPAs). "Against Rs 18 lakh crore loans given since Independence to 2008, the figure rose to an astronomical Rs 52 lakh crore in six years thereafter," he said. The PM also charged the previous UPA government of "putting the economy on a landmine". "Our government brought out the true picture of NPAs and the scam of the previous government," he said.
While claiming that no defaulters were sanctioned loans ever since his government came to power in 2014, Modi said, "Since coming to power in 2014, the NDA government has analysed the enormity of the situation and asked banks to strictly recover dues. During the last four years, all loans in excess of Rs 50 crore have been reviewed and ensured that terms are strictly complied with. Every penny of loans given at the behest of 'namdars' (dynasts) will be recovered." He added, "We never gave any loans to any of the 12 big defaulters."
The IPPB seeks to leverage the expansive network of the postal department to ensure financial inclusion for the masses. The payments bank, where the Indian government holds 100 per cent equity, will leverage the vast network of the Department of Posts (DoP) that has more than three lakh postmen and Grameen Dak Sewaks. All the 1.55 lakh post offices in the country will be linked to the IPPB system by December 31, 2018. IPPB will, hence, significantly augment the reach of the banking sector in India.