Gay rights rule change sets up cultural battle in conservative India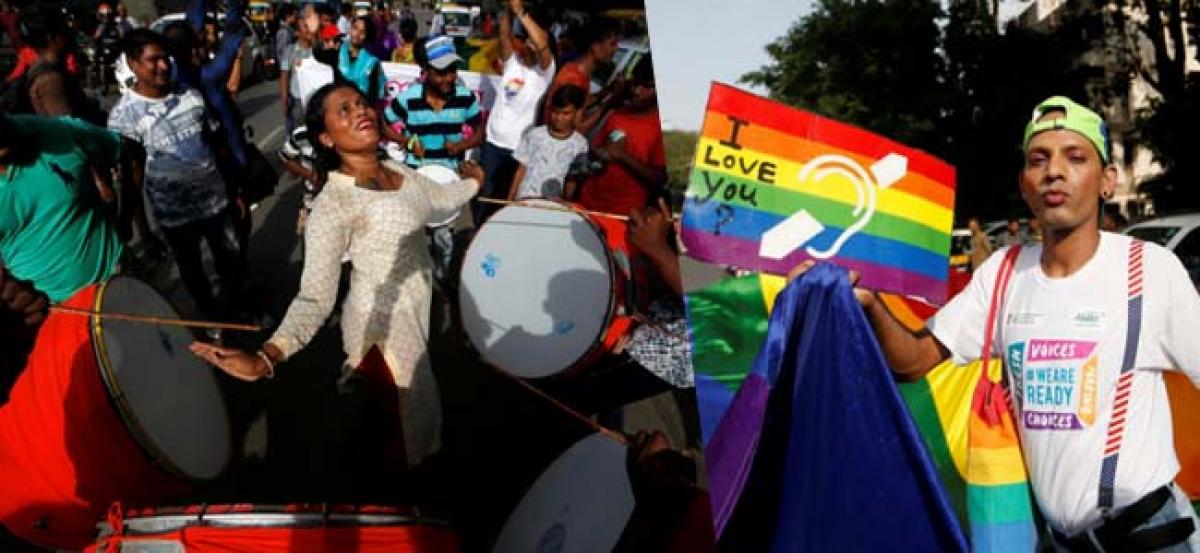 Highlights
When R Balaji, a 30yearold gay man from Indias IT hub Bengaluru, comes up for whitecollar job interviews, recruiters are initially enthusiasticIts only when they notice his rsum includes work at an LGBT magazine they go cold, he said
NEW DELHI: When R. Balaji, a 30-year-old gay man from India's IT hub Bengaluru, comes up for white-collar job interviews, recruiters are initially enthusiastic.
It's only when they notice his résumé includes work at an LGBT magazine they go cold, he said.
His struggles to find a job show the difficulties LGBT Indians have faced for years, and many still expect to face, despite a landmark ruling by the Supreme Court that decriminalised homosexuality on Thursday.
"They would say 'we'll call you back' or 'you don't have the right experience for this job'," Balaji said. "Many of my friends have also faced this issue. It's so difficult to survive in this country where people judge you based on your sexuality."
Gay sex is considered taboo by many in socially conservative India, and while it no longer carries the previous punishment of up to 10 years in prison, other rights like gay marriage are likely to prove elusive.
India's government, a broadly right-wing, Hindu nationalist coalition led by the Bharatiya Janata Party, has indicated it will support the Supreme Court in its ruling, but will oppose any attempts by activists to push for further rights. Gay people in India are currently not allowed to marry, adopt children or inherit their partner's wealth should they die.
A senior government source said the country was "deeply divided" on gay marriage, and that the government would challenge any move to legalise it, The Week magazine reported, citing the Press Trust of India.
CONTINUING BATTLE
LGBT employees say policies to prevent discrimination at work are patchy.
Vyjayanti Vasanta Mogli, a longtime employee at a leading IT services firm, said she was forced out of her company after she felt emboldened to "come out" as a transgender woman to her bosses after a 2014 Supreme Court ruling that allowed trans people to identify as male, female or a third gender.
"They couldn't understand (it), nor were they willing to understand," she told Reuters before Thursday's judgement. "For them it was some unproductive rubbish, some trash that they had to deal with."
Mogli, who has been trying to find a job for months, says leading American and European companies based in India routinely invite her to deliver talks about diversity and inclusion, but always shy away from hiring her as a full-time employee. She declined to name the companies as it would affect her employment prospects.
While several companies including Hindustan Unilever, Infosys and Godrej told Reuters they welcomed the lifting of Section 377 that criminalised gay sex, others said they had no plans for better workplace rights.
Avinash Kumar, the head of marketing at consumer goods company Patanjali - one of India's largest private sector employers - told Reuters via text message the idea of rights for gay employees at the company was a "nonsensical question".
"We have better things to ponder over," he said.
Patanjali's founder, Baba Ramdev, a celebrity yoga tycoon with close ties to the BJP here, has previously said homosexuality can be "cured" by using yoga.
His spokesman did not respond to a request for comment.
Mumbai-based conglomerate Godrej has long offered partners of LGBT employees benefits like health insurance despite Section 377, said Parmesh Shahani, head of the Godrej India Culture Lab, that encourages Indian companies to adopt LGBT-friendly policies.
"So many companies have been using Section 377 as a figleaf to cover their own homophobia," he said. "Now we'll see who really cares."