Grand alliance an eyewash: Shah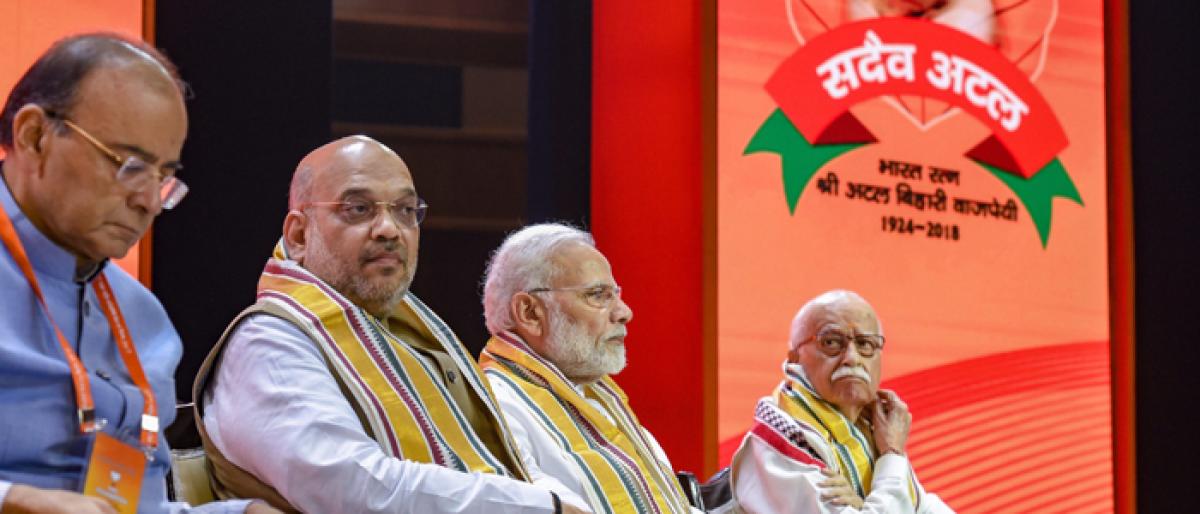 Highlights
With the party deciding to fight the next Lok Sabha elections under his leadership, BJP president Amit Shah on Saturday hit out at Opposition plans for a grand alliance, saying his party was not in the least bothered about it calling it an eyewash
​New Delhi: With the party deciding to fight the next Lok Sabha elections under his leadership, BJP president Amit Shah on Saturday hit out at Opposition plans for a grand alliance, saying his party was not in the least bothered about it calling it an "eyewash".
In his inaugural speech at the two-day national executive of the BJP, he accused the Congress of aligning with forces that want to "break" India while his party was focussed on "making" India. He gave the message that the party was keen to win the Assembly elections in Madhya Pradesh, Rajasthan, Chhattisgarh and Mizoram to which list has been added Telangana, where the Assembly has been dissolved.
"The talk of mahagathbandhan (grand alliance) is eyewash based on falsehood. It is not going to make any difference in 2019 because we have fought against each and every opposition party in 2014. We are not bothered about it," Shah was quoted as saying by Defence Minister Nirmala Sitharaman, who briefed the media on the presidential speech.
Shah urged party workers not to be complacent because of the continuous electoral successes since 2014 and to reach out to the people with a clear-cut message that BJP was not at all worried about the opposition ganging up against the party.
Shah said the party was in power already in 19 states where it was sure of doing well in the Lok Sabha elections. "West Bengal, Odisha and Telangana and other states where the BJP was in second position in 2014, we need to take advantage of anti-incumbency there.
We will also perform better in Andhra Pradesh and Tamil Nadu," he said. Shah said the BJP would contest the next Lok Sabha polls on the plank of its performance and organisational strength and form a government with a bigger mandate than in 2014.
Referring to various issues including the "backlash" from upper castes on the recent amendment to the SC-ST law, Shah dubbed all the allegations by the opposition as "baseless".
The BJP president also hit out at former Finance Minister P Chidambaram for being critical of the economic achievements of the government. He asked the party cadres to apprise themselves of the facts on economy and challenge "PC and his company" on the issue.
Referring to the triple talaq issue, he said even many Islamic countries have cleared legislations on the subject and was not an issue there. "But here due to the hypocritical stand of the Congress, the bill is stuck in Rajya Sabha. We want to get this bill passed."
Earlier, the meeting deferred organisational elections till after the 2019 Lok Sabha polls, which will enable Shah to continue in the top post and lead the party in the general elections.