90 pc AIADMK workers support us, rest have 'selfish motives', claims Dhinakaran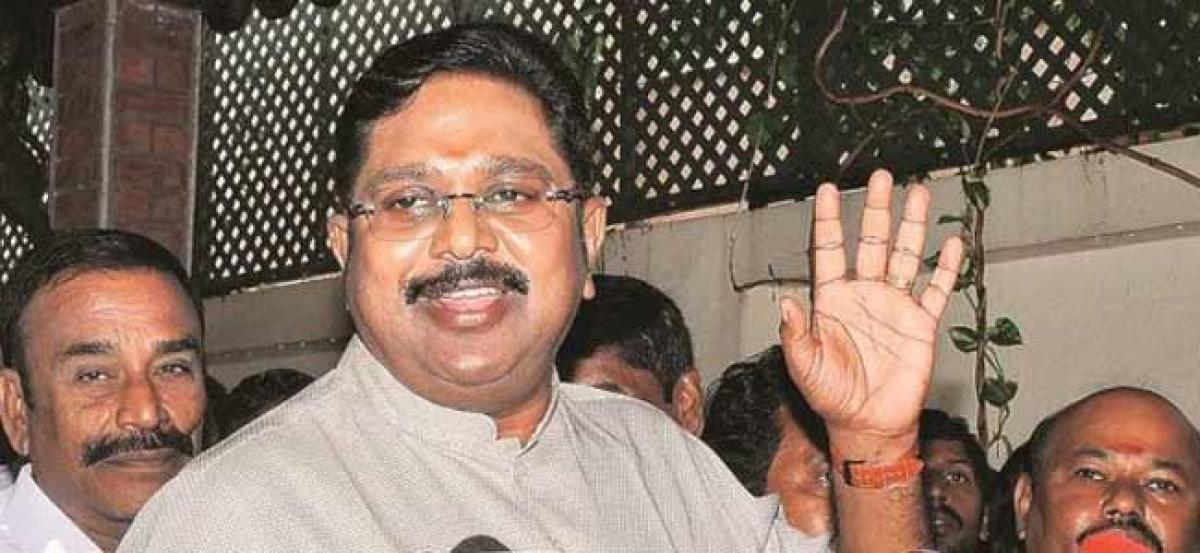 Highlights
AMMK leader TTV Dhinakaran on Tuesday launched a scathing attack on the AIADMK leadership, saying the ruling party has lost its identity and was stuck due to a few selfish people
Chennai: AMMK leader TTV Dhinakaran on Tuesday launched a scathing attack on the AIADMK leadership, saying the ruling party has "lost its identity" and was "stuck" due to a "few selfish" people.
The ousted AIADMK leader also claimed that his Amma Makkal Munnetra Kazhagam (AMMK) would 'retrieve' the ruling party.

In an apparent reference to Dhinakaran, the AIADMK dubbed him an 'overnight' leader rejected by the people.
"One cannot deny the fact that the party has lost its identity and ideology and veered away from the path laid down by Amma (the late J Jayalalithaa). It is now stuck due to a few selfish persons," Dhinakaran said without naming anyone.
He was apparently targeting AIADMK Coordinator O Panneerselavam and the Joint Coordinator K Palanisamy, with whom he is in a running feud for control of the ruling party.
Palanisamy is chief minister of Tamil Nadu while Panneerselvam is his deputy.
In a letter to partymen ahead of the AIADMK founding day on October 17, Dhinakaran said that while the late chief minister M G Ramachandran had launched it, Jayalalithaa had taken it forward and made it a popular movement in the state.
His jailed aunt V K Sasikala had stood "solidly" by Jayalalithaa during her political journey, he said.
But post Jayalalithaa's death in 2016, "hegemonic forces" had taken over the AIADMK, Dhinakaran said in the letter.
Reiterating his oft-repeated charge of the AIADMK being 'subservient' to the BJP-led government at the Centre, he said his AMMK would retrieve the AIADMK and restore it to its old pride.
The AIADMK has "lost its identity and become someone's slave," he said but did not name anyone.
Dhinakaran claimed 90 per cent of AIADMK workers were supporting AMMK and that the rest were in the ruling party due to "selfish motives."
"AMMK has been the true AIADMK. In the coming days, it will retrieve AIADMK," he added.
His victory in the RK Nagar bypoll in December 2017 was proof of people's sentiments as the voters elected him as Jayalalithaa's successor, he said.
The bypoll was necessitated due to the death of Jayalalithaa in December 2016. Dhinakaran, who contested as an Independent, had defeated ruling party nominee E Madhusudhanan by a good margin.
Meanwhile, Panneerselvam and Palanisamy said those who have emerged as "overnight leaders" have been rejected by the people.
"Those not aware of Puratchi Thalaivar's political journey and showing no respect for Puratchi Thalaivi's sacrifices, those building castles in the air about coming to power after having emerged as overnight leaders, those who tried to shake our organisation have been thrown away by the people," they said in a letter to partymen.
AIADMK founder, the late chief minister MG Ramachandran is addressed by supporters as Puratchi Thalaivar, meaning Revolutionary Leader, while his protege Jayalalithaa is Puratchi Thalaivi for them.
Those who had "underestimated" AIADMK and its supporters were now afraid of it, the two leaders added.
AIADMK was a movement that will strive for generations of Tamils, they said, recalling the late Jayalalithaa's words.
Paneerselvam had in February 2017 fallen out of favour with then AIADMK interim general secretary Sasikala and resigned as the chief minister.
Palanisamy was subsequently made his successor by Sasikala, who also appointed Dhinakaran as AIADMK deputy general secretary, before leaving for Bengaluru to serve a four-year jail term in a disproportionate assets case.
However, in August last year, the factions led by Panneerselvam and Palanisamy merged. Later, a party General Council, under the two leaders, expelled Sasikala from the party and annulled all appointments made by her, including that of Dhinakaran.
Dhinakaran has been since critical of the Palanisamy government and has repeatedly vowed to oust it.