Haryana Roadways strike continues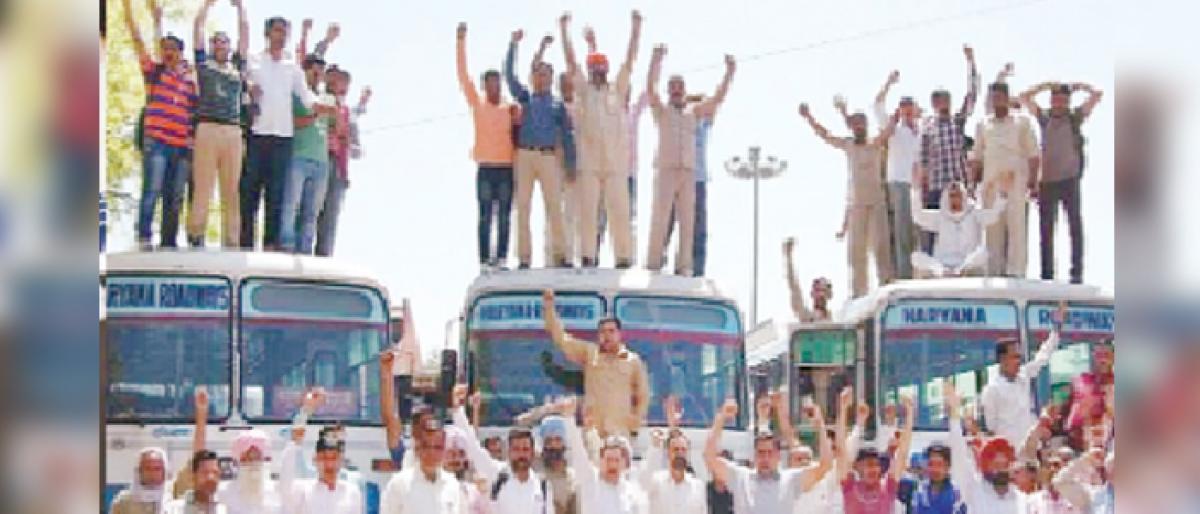 Highlights
The Haryana Roadways employees continued their strike on Friday, even as hundreds of employees from various state government departments expressed solidarity with them and went on a days mass casual leave
Other depts show solidarity
Chandigarh: The Haryana Roadways employees continued their strike on Friday, even as hundreds of employees from various state government departments expressed solidarity with them and went on a day's mass casual leave.
The employees affiliated to Sarv Karamchari Sangh in Haryana and other trade unions went on a mass casual leave on Friday.
Roadways union leaders claimed that these employees also joined the transport workers at dharna at various places in the state.
Subhash Lamba, general secretary of the Sarv Karamchari Sangh, Haryana, said "nearly two lakh employees" went on mass leave, a claim denied by officials.
"Among the departments where work was affected included the School Education Department, the Power Department, municipalities, the PWD (B&R), the Public Health Department and the Rural Development and Panchayats Department," he claimed.
He said, "A large number of employees from the Tourism Department, besides Boards and Corporations also went on mass casual leave.
However, emergency and essential services were attended by the employees who were on casual leave".
He claimed the Haryana government was bent upon privatising the roadways and asserted that the trade unions would not allow privatisation in any of the state government departments.
"The state government should immediately rollback its decision to run 700 private buses, take back cases registered against the striking transport workers under the Essential Services Maintenance Act or else we will be forced to take some big step," he said.
The Haryana Roadways employees had Thursday decided to further extend their strike till October 29 as their fresh round of talks with the government failed to make any headway.

Chief Minister Manohar Lal Khattar had earlier said that roadways employees should put forward the issues concerning employees and not "interfere" in policy matters of the government, while justifying the decision to run 700 private buses for public's convenience.
The employees are on strike since October 16 against the government's decision to hire 700 buses from private owners.
The state government had offered to reconsider its decision on 190 private buses as the tenders for the same were yet to be finalised, but remained firm on 510 buses, saying it cannot be reworked as the Cabinet had already decided on this matter and signed an agreement to this effect.
The employees' union, however, remained adamant on their demand that the tenders issued until now be cancelled under the kilometre scheme.
Under the kilometre scheme, private operators and bus owners will pay salary to drivers, bear diesel and maintenance cost, while conductors would be appointed by the government and the revenue generated from the tickets would be deposited in the state exchequer, officials had earlier said.
There are about 19,000 employees in the Haryana Roadways. The roadways, having a fleet of 4,100 buses, cater to about 12 lakh passengers daily.