Does India need a recall election system in politics?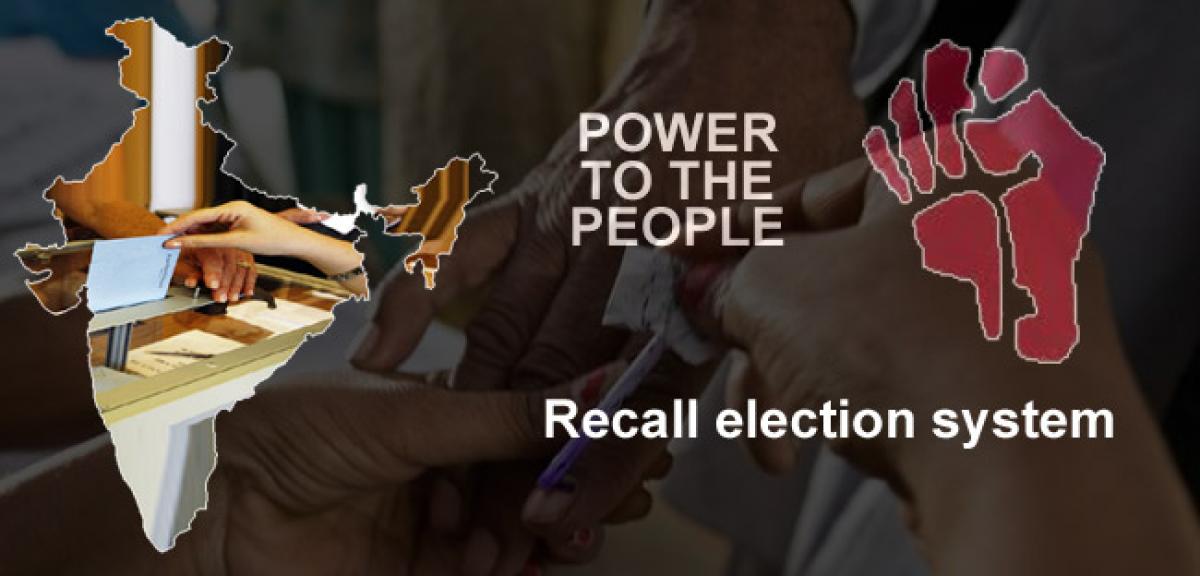 Highlights
The power of people is central to any democracy. This power comes from their right to vote which they get to exercise every five years in India to elect their representatives.
The power of people is central to any democracy. This power comes from their right to vote which they get to exercise every five years in India to elect their representatives. Everyone knows this famous quote by President Abraham Lincoln "government of the people, by the people, for the people" which has been used to describe the meaning of democracy in few words. This same power vested in people by the constitution and the democracy should also allow people to retract their votes in extenuating situations where majority of people have a remorse in their selection using a special procedure in politics called "recall election."
A recall election (also called a recall referendum or representative recall) is a procedure by which voters can remove an elected official from office through a direct vote before the individual's term has ended. India does not currently have this recall election policy in place at any level of government. People elect public servants at every level of government from local power centers like villages, municipalities, corporations to state assemblies and then to both houses of parliament to serve them to represent their aspirations. The elected officials who could be affected by such a move in India are Village Sarpanches, Mandal Officers, Corporators, Mayors, MLAs (Member of Legislative Assembly) and MPs (Member of Parliament), and others.
Most people work for a living to make their ends meet. They are held accountable for not performing up to expectations. Apart from many motivating factors to do a good job, sometimes the repercussions of not doing a good job will put fear to do a better job. If people fear their underperformance, missteps and shortcuts will jeopardize their jobs even more, then why can't the same apply for politicians. If a politician's performance is lackluster or that individual is involved in corrupt practices or is not meeting expectations, he or she should also be held accountable by constituents.
People should have a choice to say "You are fired" just like Donald Trump would say in his show "The Apprentice." In India, as much as people like to reward the politicians by casting their votes every five years they also need a way to present their displeasure during the five years. What prompted for me to write this article is a casual question by my father if I heard about this new act called "Recall Act" which led me to research this topic.
Recently in India, there have been some welcoming changes in the election system with the introduction of NOTA (None of the Above) option which allows you to choose no one on a ballot as an option. Also, the Supreme Court ruled in some cases that bars someone from holding a political office if involved in major crimes. India is at a crucial juncture of her timeline of democracy that some means of adjustments need to be done to amend the constitution to append some form of recall so that the politicians do not take things for granted and they are recalled, especially if they are involved in corrupt practices and also sometimes for dereliction of duties as public representatives. What we currently have is Representation of the People Act, 1951 which only provides for removal from office upon committing certain offences but does not cover the recall elections in general for poor performance and dissatisfaction of constituents.
In India, there is a proposed law called "Right To Recall (RTR)" that would allow citizens to replace public servants holding key posts in the government. RTR law drafts are proposed by a non-registered group called Right to Recall Group. RTR law will be implemented if majority of Indian citizens display their support via TCP (Transparent Complaint Procedure) law. This transparent complaint procedure provides transparency in recalls and will ensure that the citizens` complaint is visible and verifiable by anyone, anywhere, and anytime so that the complaint cannot be suppressed by the politicians, officials, judges, or the media. This procedure will ensure that the evidence is not suppressed. Recently, Varun Gandhi, a Lok Sabha MP has moved the bill called Representation of the People (Amendment) Bill, 2016 which proposes to recall Members of Parliament (MPs), or Members of Legislative Assembly (MLAs).
The countries which currently have recall elections are Canada, Switzerland, Taiwan, Ukraine, United States and Venezuela. While India does not currently have this in place, India is also considering to implement this program. In Switzerland and US, most recall elections happen in local jurisdictions and not at any level of government. For India, though, this should be applied at all levels of government. Typically, the procedure for a recall election in US includes: Filing an application to circulate a recall petition, circulating a recall petition, gathering a specified number of signatures in a limited period, submitting petitions to election officials for verification of signatures and when if sufficient valid signatures are presented, a recall election is held.
However, each state has different rules with respect to each of these steps. Montana for example, requires lowest number of signatures which is 10% and Kansas requires highest number of signatures which is 40% for a recall election. In countries like Switzerland and Venezuela, signatures of 10% and 20% of registered voters respectively are required to trigger a recall referendum. However, Venezuela only requires 25% of the total number of registered voters to vote to call for a recall referendum. In Canada, if enough registered voters sign the petition a by-election will be called for as soon as possible to replace the politician in question. In India, if when recall is implemented, the government needs to start with a recall signature percentage which is not too high nor too low.
In US, the overwhelming majority of recalls have targeted local officials, and only half of those recalls have resulted in the person's replacement or removal from office. At least 29 states allow local officials and 19 states allow for the recall of state-elected officials like state legislators and governors. Out of 36 recall elections for state legislators, half of them succeeded, two legislators resigned after enough petitions with signatures were submitted, seventeen recall attempts have failed and officials have stayed in office. Half (47% success - 8 out of 17) of all legislative recall elections happened in the years 2011-2013. Nowadays, it is easier to collect signatures and target likely voters using the Internet and the news media to get the word out for supporting reelection and fundraising for recall election support.
In Canada, 22 recall efforts had been launched and no one has been recalled except one was close to be recalled and the elected official voluntarily resigned resulting in reelection. My recommendation is to spread the accountability and recall through all levels (local, state, central) of government in a country like India because people's dissent might exist at all levels and the same with corruption. Looking at the above statistics almost 50% of recalls went through in U.S. and similar levels of success can be predicted in recall election if it happens in India.
This recall program could be abused with the power of money and well-financed special interest groups. Also, some politicians could use their positions to abuse the system and by making their supporters file Recall petitions on political opponents and on even those who are sincere. In some cases, this recall election might be used as a tool to influence and blackmail politicians with the fear of recall to influence decisions a certain way. To avoid abuse, in US there are high standards for removing lawfully elected state level representatives in State and Federal level laws. The Constitution does neither provide nor authorize the recall of United States officers such as Senators, Representatives, or the President or Vice President, and thus no Member of Congress has ever been recalled in the history of the United States. Similarly, In Switzerland, federal level recalls are not allowed.
Another problem with recalls is that a lot of the recall efforts costs money and some states like Wisconsin in US took the first step toward preventing voters from forcing recall elections against elected officials not accused of any legal or ethical wrongdoing. In some cases, problem with recalls is that people could generate recall petitions because of misinformation fed to them. Sometimes, it is so easy to get misinformation propagated by fake news with fake ads in TV or fake media or social platforms to malign the other person. As we see today, so many political parties have taken their battle to social media with fake news sites and stories that breakout misinformation to common man every day.
In some cases, misinformation and cropped images are being used to show how their own politician is better than his or her opponent. The problem-solving solution to this misguidance is the fact-finding media. In India, channels are not independent media anymore and most of these institutions are owned by politicians. What is reported as news in general is the view of that party or politician who owns the organization. What people deserve is an honest assessment and fact-checking media with an independent lens that only reports unbiased news.
To the question does India needs a recall system in politics, my alternative question is "Would India like to give the power back to the people"? The answer to this question is a resounding loud "YES". The power when given back to the people will let them make necessary corrections in shaping the future of their country. This will set a good precedent to future politicians that politics is not to make money but to serve people. Thus, trust grows in people and people will actively get involved in the voting process which is the fundamental right, compared to what happens now which is a poor turnout for the elections.
Just like you would get written up or get a warning for wrongdoing in your work place, a recall election is a way of warning for elected officials to give an explanation. The circulation of a recall petition is a way of alerting a representative to the fact that his or her electors are annoyed. If it brings the politicians to do the right thing that would be a good thing. Even if a petition would fail, the politicians heard what needed to be done. On the other hand, if a recall election fails, obviously, it could be funding issue or it lagged the juice to take off and it only reaffirms the position or stand taken by the politician that he or she is doing a good job and the majority support him which only strengthens his hand. India needs to implement the recall election system now. It is about time to return the power back to the people from the politicians!!!
- Avinash Puli M.S., MBA
Indianapolis, USA