Rahul's juvenile worldview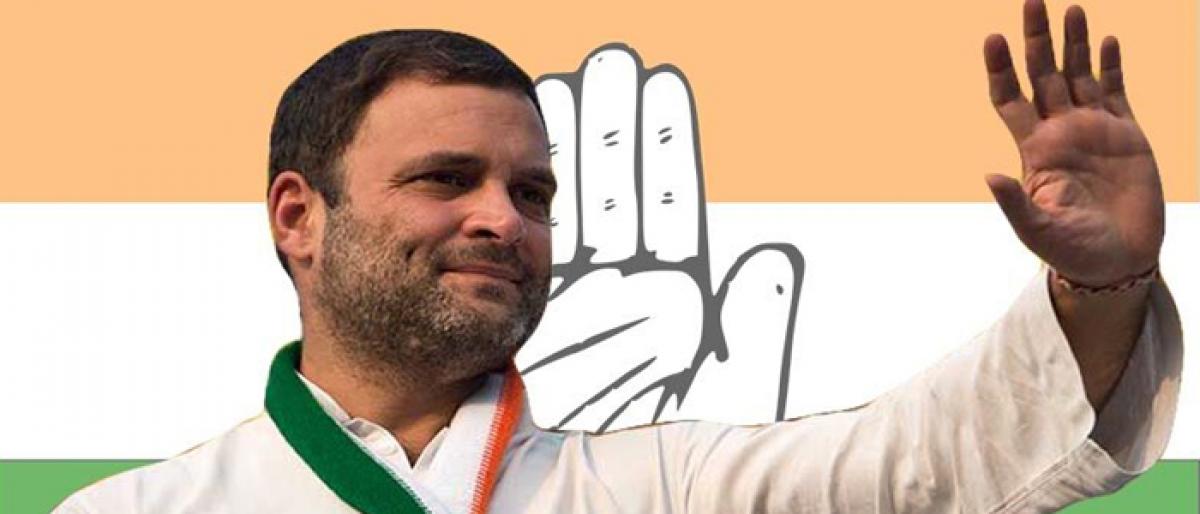 Highlights
If we want people to open their minds to truth, we need as much humility and courage to speak up as others need in hearing down While speaking up, what we say, how we say it and what we intend play a big part in where the conversation goes But, how many realise this in todays world Todays is crucial here because, television insulates us from the realities of the world in which we live while
If we want people to open their minds to truth, we need as much humility and courage to speak up as others need in hearing down. While speaking up, what we say, how we say it and what we intend play a big part in where the conversation goes. But, how many realise this in today's world. "Today's" is crucial here because, television insulates us from the realities of the world in which we live while lending a lot of colour to the same.
Rahul Gandhi's brilliance in showcasing his ignorance is unquestionable. There is no doubt about it. He has a penchant for decadence due to his pampered lifestyle. He has been not only pampered by the family but also by his party which keeps defending his worst performances without any qualms.
He was way off the mark in comparing RSS with Muslim Brotherhood or in defending his party over the 1984 pogrom.
There are serious differences in the Islamic world over the branding of MB as a terror organisation which prefers "Brotherhoodization" or 'Ikwanization." MB's offshoots have given birth to highly radical groups aiming at unifying the Islamic countries of the world. The organisation could be considered a forerunner to modern militant Islamism.
One cannot apply the same to the RSS by any yardstick. Lumpenisation of society and proliferation of fringe groups does not amount to 'Hinduization' of the society. There are no core tenets to Hinduism as in Islam to be imposed.
"Hinduism" is all about "to each their own" whereas the Muslim Brotherhood is all about "a law unto themselves" which conveys a reverence, or a sense of awe, about the entire disposition towards the predicate. Here there is the dismissal of everything in favour of the predicate.
How come no one told Rahul about this? That is what pampering is all about. All the same, those from the BJP who are taking on Rahul for his "out of accord with accepted behaviour" should also know that silence will not help them in the long run. No doubt, Rahul is juvenile in his worldview. His comprehension of Hinduism is poor and that of organisations like the RSS, even worse. He cannot even frame his questions properly in the bid to tarnish Narendra Modi. BJP will lap it all because it helps in polarisation of the votes despite the identity politics the Congress seeks to encourage.
But, there remain certain key questions. While it is true that some things are better left unsaid, too often silence stifles progress. There are dozens of reasons for our silence. Not all are speaking up for fear others will label them and that, bringing up a negative equals being a negative person. Lynchings have to be questioned and answered by not just the BJP but by every State government as those are equally responsible. "Nar Hatya" in the name of "Gau Raksha" has to be questioned.
Killings of rationalists and thinkers and journalists have to be questioned and they need to be answered. The reasons for the calm and unease prevailing in the society should be questioned and answered. Why are the dalits and farmers getting killed and why women are being ravaged on an hourly basis in the country has to be questioned. Why the BJP is giving the fringe a free hand should be told to the nation.
Rahul's way of questioning is certainly wrong. But, the defence offered by the BJP is also wrong. Agreed Rahul ought to be more literate, but the BJP needs to be more civilized. Yes, Rahul needs to be more knowledgeable. However, BJP needs to develop wisdom. Otherwise, we continue to bleed due to the insensitivity of both.