Government hospitals will be improved: DMHO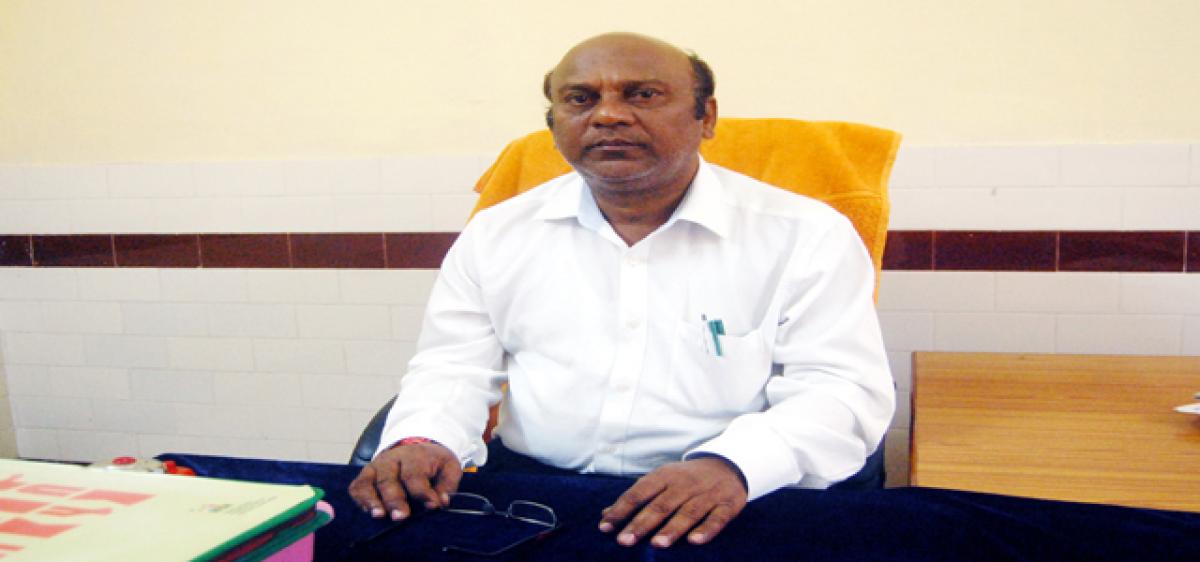 Highlights
He has excelled in computer education and currently discharging his duties as the DM and HO of the Nirmal district. Hans India approached him for a small interview to know his views, his expectations and experiences in the field and formation of our district Nirmal.  
Dr Srinivas born in Lingampally, Dandepally mandal of the then united Adilabad district. He has completed his schooling in UPS, Luxettipet and completed his professional education in a government institution only.
He has excelled in computer education and currently discharging his duties as the DM and HO of the Nirmal district. Hans India approached him for a small interview to know his views, his expectations and experiences in the field and formation of our district Nirmal.
Q: What are your steps to improve the institutional deliveries and reduce mother and child mortality rates which in the district of Nirmal?
Ans: Every lady feels blessed with motherhood and it stands our duty to give her the best treatment, care and consultation. Despite the high mortality rates, there has been a dip in this mortality ratio. Problems are faced in certain areas when we couldn't reach out on time. But, as the area hospitals and primary health centres were established, changes have been positive and visits to the hospitals by authorities have made the work be progressive and rigid in all the areas. Institutional deliveries on the other hand are very less or almost zero in areas like Bhainsa and connecting places. There are 17 PHCs and 1 CHC in rural areas. Urban PHCs render the round the clock service to ensure that the mother and baby are safe and sound with their health.
Q: What measures would you like to initiate to prevent epidemics andseasonal diseases?
Ans: Well, we organised a meeting with the coordinators with RWS and Panchayat Raj department to discuss the steps to be taken to speed up the services and ensure the best service. Especially, after what had happened in Kallur, our efforts have been very audacious and full credit should go to the people around us in the department for their selfless services. Sanitation facilities in some areas have not been hygienic which is alarming for the patients.
Q: How do you manage with the dearth of doctors and paramedics and lack of infrastructure to improve public health system?
Ans: In this regard, I must say that we have already sent proposals for the higher authorities for appointing adequate staff at the PHCs. We have various wards where the vacant positions need to be filled up like Leprosy, HIV, TB department and a separate and a special proposal has been kept in order to provide a special ward to the expectant women. There has also been deficiency of infrastructure but our department has been still working hard with the available resources for the convenience of the patients.

Q: Are you happy at the availability of medicines at Primary Health Centers and their distribution?
Ans: In fact, I have received more than expected response from various people working in the health department. Availability of medicines, process of its distribution and regular inspections have helped us a lot in achieving the expected results. Currently, vaccines for snake or dog bites are available at our area hospitals ensuring quick relief to the victims. Most importantly, we are very much in cooperation with each department ensuring that there is no relay in reaching out to the patients. Fortunately, the budget is doubled which has helped us to serve the best with IV fluids available round the clock, enough stock of medicines available at the hospitals.
Q: What is your plan to improve the attendance of doctors and paramedics and other staff at hospitals and would you like to introduce bio-metric system at them?
Ans: I must say that the staff here has been very prompt and regular with the services and timings that I hardly worry about it. Well, biometric systems shall be installed at all PHCs to ensure the attendance and maximum presence of a staff member. We have substitutes for certain areas that replace absence of a staff member and ensure no absence is observed by the people and department heads. Orders have been passed that any staff member seeking leave must inform a day in advance so that the necessary replacement is done in quick span of time.
Q: Now that Nirmal has been declared a district, what's your opinion on the same?
Ans: Frankly speaking, separation of district has helped us a lot. Particularly, we are able to give the maximum time to various centres for inspection, are able to respond in no time and solve their issues, it has helped us a lot in reaching out to people so much that one could understand I had gone for inspections to most of the PHCs for almost 20 times in the newly formed Nirmal district.
Q: What's your advice to the expecting women and to the people?
Ans: I would like to suggest the expecting women to go for a delivery in the Govt. hospitals so that they can get the maximum services with the available resources and is also economic as it saves a large amount which is paid in private hospitals. I would appeal all the people through your paper to make the optimum utilization of the facilities available at the PHCs and have a healthy life.
Q: Sir, if any issues, how can a person reach you personally, can it be through a phone call?
Ans: Well, if any issues, complaints people have to bring to my notice, they can write me down their concern and I shall ensure for a swift response for their appeal or request.

-BySatyapu srinivas reddy