'Note ban still causing hardships'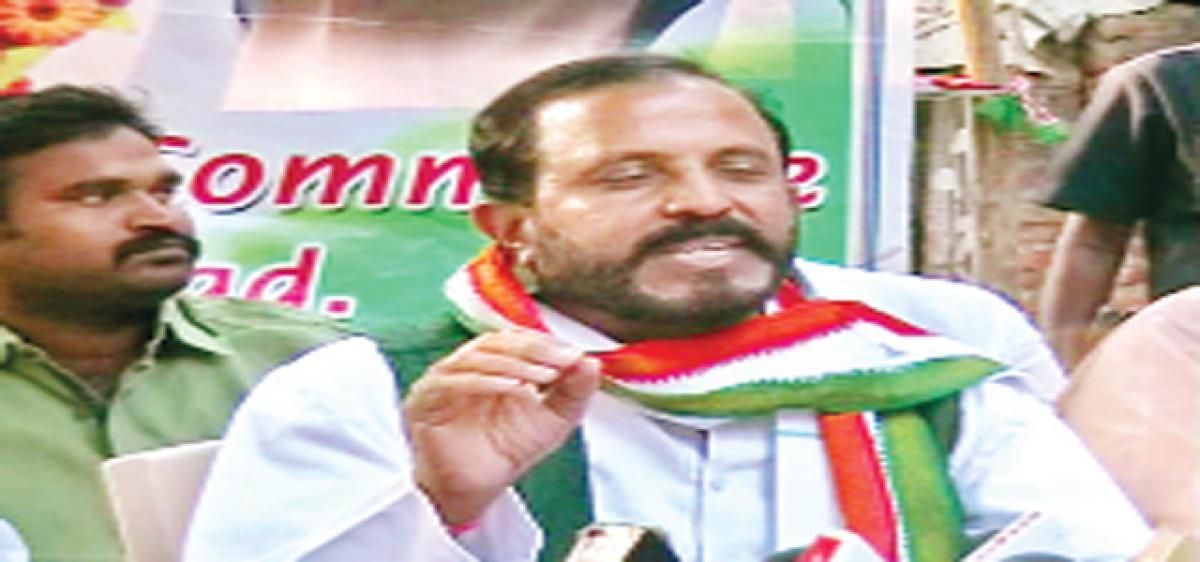 Highlights
Nizamabad: AICC official spokesman and former Nizamabad MP Madhu Yashki Goud said that the lives of the poor and the downtrodden, farmers, small traders and the middle classes were thrown out of gear following the demonetisation of the high currency notes of Rs 500
Nizamabad: AICC official spokesman and former Nizamabad MP Madhu Yashki Goud said that the lives of the poor and the downtrodden, farmers, small traders and the middle classes were thrown out of gear following the demonetisation of the high currency notes of Rs 500 and Rs 1,000.
Speaking to the media at the DCC office in the town on Wednesday, he said that the Congress on the instructions of its Vice-President Rahul Gandhi would organise Jana Aavedana sabhas (people's distress and protest meetings) on the premises of the Collectorate in the town on February 19. He said that senior Congress leader Digvijay Singh would be taking part in the distress meeting.

Coming down heavily on Prime Minister Narendra Modi for putting the people to immense hardships, he said that the Prime Minister made tall claims that they would unearth Rs 4 lakh crore of black money in the country through demonetisation but he could not give details in Parliament during the last Budget session as to how much black money was recovered.
Though the Prime Minister said that the people would not face any problems after 50 days, they were still facing lot of problems due to cash crunch, he added.
Madhu Yashki also lashed out at Chief Minister K Chandrashekar Rao, who initially criticised the note ban measure but later started supporting it when the Centre started enquiring into the illegal wealth that he amassed over the last two-and- a-half years.
KCR got scared when the Enforcement Directorate sent him notices on his money laundering activities and illegal accumulation of wealth and decided to support demonetisation to save himself, Yashki added.
Mahdu Yashki said that it was the family of KCR which prospered after the formation of the Telangana State as four members of his family got lucrative jobs.
His son K Taraka Rama Rao, daughter K Kavitha and ne;phew T Harish Rao amassed wealth running into rupees hundreds of crores illegally during the last two-and-a half years, he added.

The AICC leader also expressed dismay over the support extended to the BJP-led NDA government by the Telugu Desam and TRS though the NDA government was implementing anti-people's and anti-workers' policies.
City Congress President Keshavenu, district Mahila congress president Aruna Tara, Congress MLC Akula Lalitha, Congress leaders Gangadhar and Ratnakar were present.