Commodification of education unabated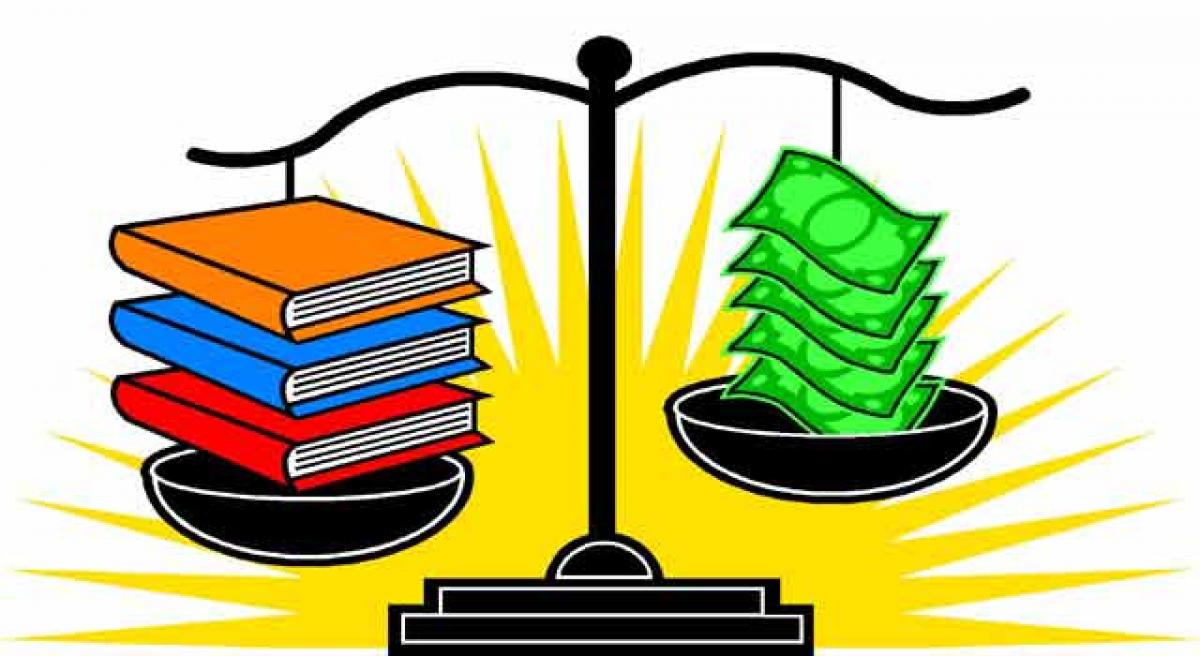 Highlights
The Indian Constitution resolved to secure justice and equality to all its citizens. Justice and equality are organically interlinked and complimentary to each other. 
The Indian Constitution resolved to secure justice and equality to all its citizens. Justice and equality are organically interlinked and complimentary to each other.
One cannot be achieved without the other. In order to achieve the avowed goals, provision of equal opportunities to all the citizens irrespective of caste, creed, religion and region has become mandatory.
Education is not only a fundamental right and it is being viewed as a conduit of social transformation. Provision of free and compulsory primary education of comparable quality to all children in an equitable manner is a statutory necessity.
Free and compulsory education is not only a constitutional binding but a pre-requisite in a participatory democracy. Accomplishments in this direction are not only far from satisfactory but the happenings that are taking place in the context of liberalisation are renegading.
Equality, quality and quantity are important core components of Indian Education. JP Naik had described them as an elusive triangle. It is disquieting to note that the chasm between quantity and quality continues to persist tenaciously in spite of pumping huge funds through national interventions like SSA (Sarva Shiksha Abhiyan), RMSA (Rastriya Madhyamika Shiksha Abhiyan).
These initiatives coupled with implementation of mid-day meal programme could address the problem of access of education to all children substantially. Schools and the other educational institutions were established within the reach of the students. The dream of hundred per cent enrolment has almost become a near reality.
But the abysmal rates of retention and agonising poor quality of education continue to pose challenges to the attainment of constitution goals of equality and social justice in the field of education.
Various studies reveal that the poor quality of education alone is the major contributing factor to the problem of dropouts. Underachievement and low achievement on the part of the children of certain marginalised sections of the society continue to haunt the system.
There are certain thought patterns ingrained in our perceptions that some learners have been uneducable and less educable and that of inferiority and inequality are inherent in caste, gender and physical disability. The belief that merit is the prerogative of the privileged few is unscientific and unfounded and runs counter to the spirit of democratic ethos.
Our greatest asset is our divergence – social, cultural and linguistic. It is to be cherished as a prized gift to unfold the inner potentialities of every learner in an atmosphere of inclusiveness, empathy and freedom. Tagore says, "we achieve our greatest happiness when we realize ourselves through others."
Emotional integration and feeling of universal brotherhood, which Ambedkar has dreamt of, will not be a reality unless the needs, aspirations and sensibilities of the children of deprived sections are taken care of and space provided for their creative expressions in the portals of educational institutions.
The ritualistic approach of providing equal opportunities in terms of equal access and representation will not suffice. What is required is the necessity of adopting a substantial inclusive approach towards equality of outcome where diversity and disadvantage are taken into account. For this, a radical paradigm shift in curriculum designs as well as pedagogical practices needs to be positioned in place of out dated archetypal ones.
It is disheartening to note that our educational institutions considered to be agents of social transformation have been perpetuating social inequalities. It is equally disturbing to note that our educational institutions have remained resistant to change and their culture is characterized by exclusiveness, rigidity and insensitivity. Fruitful learning cannot take place in such an unmotivating atmosphere which is not at all conducive to allround development of children and pernicious to the well being of society.
Children coming from marginalised sections of society tend to suffer insecurity, fear inferiority complex and low self esteem. When they enter into such schools, they may suffer cultural shock which ultimately leads to alienation and maladjustment. Continued social exclusion and alienated atmosphere both in society and public institutions often lead to defiant behavior and dissentient responses to contemporary issues.
This is what exactly happened in the tragic death of Rohith Vemula case. His problem is not the stress caused by low performance, as has been the common phenomenon in case of many suicides. He is a brilliant scholar par excellence and his death note bears a classic testimony of his budding poetic flair.
He cannot be judged by the merits of his responses to the contemporary issues. They may or may not stand to the legal scrutiny. His poetic expressions like: 'Man glorious thing made up of star dust, "My birth is my fatal accident", "I cannot recover from by childhood loneliness, and "the value of man was reduced to his near identity and nearest possibility" reveal that his is a man of sound optimism.
But was deeply disturbed by his childhood loneliness thrust upon him by the broken family into which he was born, stigma attached to his caste which remains his near identity and unsympathetic social institutions. University of Hyderabad, of course, provided an immediate occasion for his extreme step.
Another development much to the consternation of every one is the growing private sector in the context of free market and shrinking of state sector characterised by poor allocation of funds. This development has potential threat to the cause of providing equal opportunities and social justice.
It unintentionally undermines the true spirit of RTE ACT 2009 and shifts the responsibility for education from the State to the public. The blind application of market-related concepts to schools lead to commodification and commercialisation of education which has serious implications for society.
The purpose of allowing private sector to the sphere of education originally intended to introduce drive and dynamism, vigor and utility, and initiation and innovation which are likely to be absent in a bureaucrat-run state set up.
Contrary to expectations, a regime of thought, strict rigors of discipline and cut-throat competitive atmosphere have been ushered in, to the near exclusion of joy of learning and independent thinking. This situation gives primacy to the anxiety-ridden end results rather than pupil-centered activity-based processes.
To present the educational atmosphere prevailing in both state and private sectors in a succinct manner: little is laid for the construction of child's future in the state sector while the precious present of the child is appropriated at the altar of future in private sector. Thus the very purpose of education as Noam Chomsky puts it, "Train to enquire and create," is likely to be lost.
As back as in 1966 itself Education Commission headed by Kothari had studied the complex social scenario threadbare and recommended: "In a situation of the type we have in India it is responsibility of the education system to bring the different social classes and groups together and thus promote the emergence of egalitarian and integrated society. But at present instead of doing so, the education system is tending to increase social segregation and to perpetuate and widen class distinction."
He could visualise the ill consequences of the faultlines inherently built in our society and stressed the need for level-playing role of common school system where children are not drawn at one another in a cut-throat competition. Another ill consequence of increasing privatisation of education is unbearable and merciless collection of fees.
Lakhs of rupees are being collected in the name of school fees, tuition fees, donations etc. Parents are dragged to an inevitable situation where they are compelled to pay the large amounts at all costs. The problem is more appalling in southern states. There seems to be no control what so ever on these institutions.
Once there were hunger deaths. Now we are witnessing large-scale farmer deaths and the day is not far to hear about school fees deaths.
The situation needs to be reversed immediately by containing the private players in the field of education, especially the primary education and introduce trail-blazing systemic reforms before the state sector is completely eclipsed in the landscape of education.
Allowance of increasing privatiSation which is based on the philosophy of instrumentalism in the core area like education will not be in the interest of harmonious development of the society in the long run.

By:B Manmadha Reddy
The writer is a Member, Telangana State Public Service Commission