Shifting lock, stock & barrel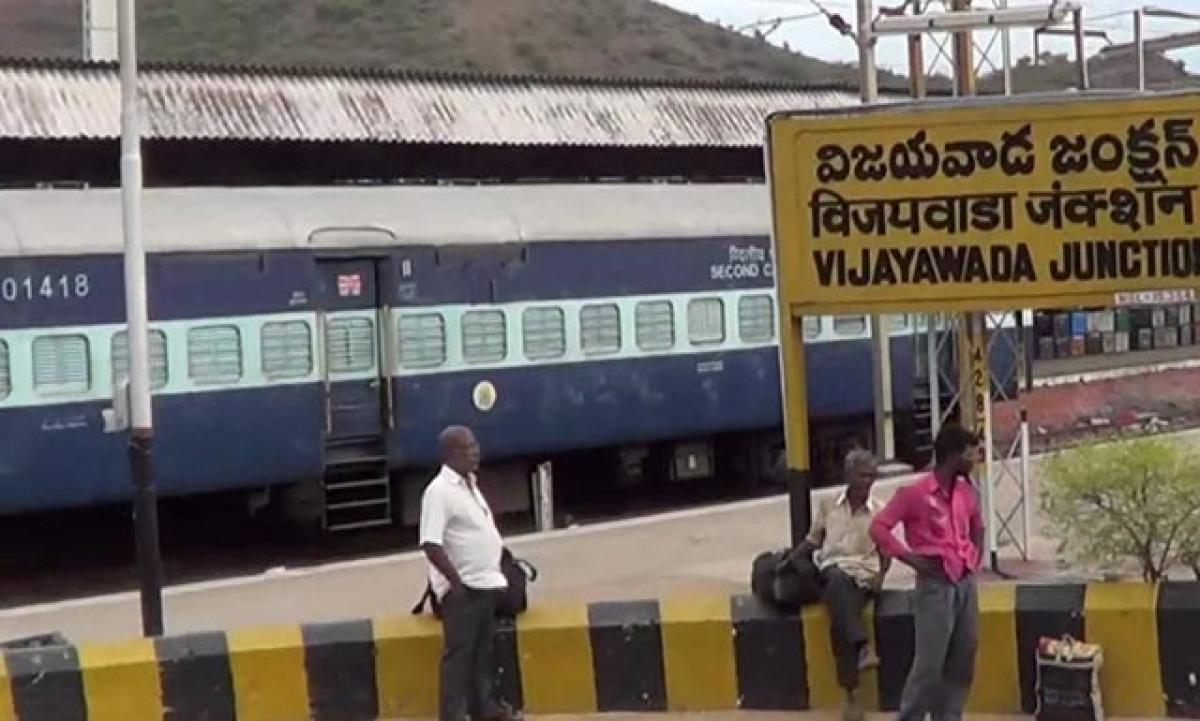 Highlights
AP officials are in a hurry to complete the works at the temporary secretariat complex at Velagapudi. The government is deeply engrossed in making...
Andhra Pradesh Chief Minister N Chandrababu Naidu who has been grappling with several problems ranging from revenue deficit to the opposition onslaught on issues like Pattiseema, Polavaram, special status to the state, the Kapu reservation issue and the fast taken up by Mudrgada Padmanbham and the serious reservations the employees had on shifting to Vijayawada and Velagapudi seems to be bit relieved as the employees are packing their bag and baggage to move over to Vijayawada.
AP officials are in a hurry to complete the works at the temporary secretariat complex at Velagapudi. The government is deeply engrossed in making arrangements as demanded by the employees. It had not only put pressure on the Centre and got cleared the issue of nativity but has also succeeded in getting a new train between Secunderabad and Vijayawada which would be flagged off by the Union Railway Minister Suresh Prabhu.
This will be the first new super fast express the AP government had succeeded in getting it from the Centre after the railway minister got elected to Rajya Sabha from AP. This has set the stage for shifting of 122 Andhra departments functioning from Hyderabad from the second week of June.
On the other hand the employees who are left with no option have also made up their mind and are in the process of packing their bags to start a new life. But there was a section of employees who were not willing to go to Vijayawada as their retirement was due in the next two years time and their children were at various stages of education.
Now that the government has come up with announcement that the railways will run a super fast train between Secunderabad and Vijayawada, they too are getting ready to go to Vijayawada and work. They have worked out plans in such a way that majority of them would be leaving Hyderabad on Monday morning and will be back here late on Friday night.
In fact, some even want to see if it was possible to do up and down every day. Go by morning train come back by evening train. The plans include drive down to the station park their vehicle catch a train to Vijayawada hop into the waiting special buses for them go to office and in evening take the special bus to station and board the train back home.
This according to their calculations would be more economical than taking a house on rent in Vijayawada. While it may cost anything between Rs 10,000 to 15,000 to take an apartment on rent, by shuttling between Hyderabad and Vijayawada would cost them only Rs 7000 a month and they will not have to disturb the family here.
Meanwhile, the owners of commercial buildings and houses are the happiest lot in Vijayawada, Guntur, Velgapudi and other areas as they hope to get a windfall in the form of high rents. The employees during the present tenure of TDP government have really reaped a rich harvest. They got a fitment of 45% as per the 10th Pay Commission.
The government has also agreed to give house rent allowance on par with Hyderabad if they shift to Vijayawada and also special shifting allowance and the government also agreed for five a day week. In Vijayawada, there are 125 English-medium schools, 14 of them missionary schools, which are the top choice for most employees. A cell has been started at the office of the Director of Schools at Vijayawada to assist employees to get admission at short notice.
While the employees have been resisting the move, senior officials have been at work digitising files for this transfer. Over one lakh files at the Secretariat, running into over 70 lakh pages, have already been scanned and are being transferred electronically. But there are still thousands of hard copy files to be shifted manually.
These files will be transported in secure containers, escorted by at least one person from the department concerned and would be delivered to the new premises the same day. Among the departments whose files are not being digitised are Revenue, running into 1,500 to 2,000 pages each, and the equally bulky files of the Vigilance and Home Departments.
But when it comes to shifting of Andhra Police Headquarters the transfer to a new office at Velagapudi isn't as simple. Nearly one lakh weapons, including grenades and ammunition have to be shifted over a period of one week from Hyderabad to strong rooms that are being built at existing police buildings, including the Andhra Special Police 6th Battalion Headquarters at Mangalagiri.
As far as the government is concerned it had done its best to see that the employees are at ease to relocate to Vijayawada. If it were in the private sector and if an IT company or any other company wanted to shift its base to another state, the employees would not have got this kind of logistic and financial support from the employers.
The TDP government which till its last tenure was considered to be not so employee friendly has now taken a `U' turn and appears to be going over board to keep the employees happy. It now remains to be seen to what extent the employees will put in extra hard work and would walk that extra mile to achieve the targets set by the government.
While this is the scenario in AP secretariat, the TRS government in Hyderabad is busy preparing various proposals to demolish all the existing buildings in secretariat once AP hands over the buildings under its control and go in for sky scrappers of 10-15 floors each with three floors of parking area.
At one point of time it thought of having a U shaped secretariat but now it seems the government is considering the proposal to have seven or nine sky scrapers. It should be odd number, the officials have been told. One thing that is common between the Chief Ministers of Telangana and AP is that they are more concerned about the Vastu aspect and are not prepared to compromise on that issue.
The TS employees are also happy because now they will have more space and perhaps an ultra modern secretariat building. Both the governments seem to be of the opinion that if they win over the employees half the battle for 2019 elections would have been won.
While the TS government wants to implement its flagship programmes like 2 BRK houses, Mission Bhagiratha and Mission Kakatiya, Kalyana Lakshmi, Shaadi Mubarak and the like effectively so that it will retain the present hold on the electorate till 2019, AP government seems to be of the opinion that while keeping the employees happy, they should complete Polavaram, lay cement roads even in interior villages, provide food security, link rivers and help the state become drought free which would help them to come back to power.
In fact AP government has already achieved 55 per cent of its targets to lay cement roads in villages in the state. If it can manage reservations for Kapu's, complete Polavaram, attract industries and create employment opportunities, it would certainly be on a strong wicket. Both the governments have one single goal win 2019 elections.
By V RAMU SARMA
Subscribed Failed...
Subscribed Successfully...