Marriage notice not empty formality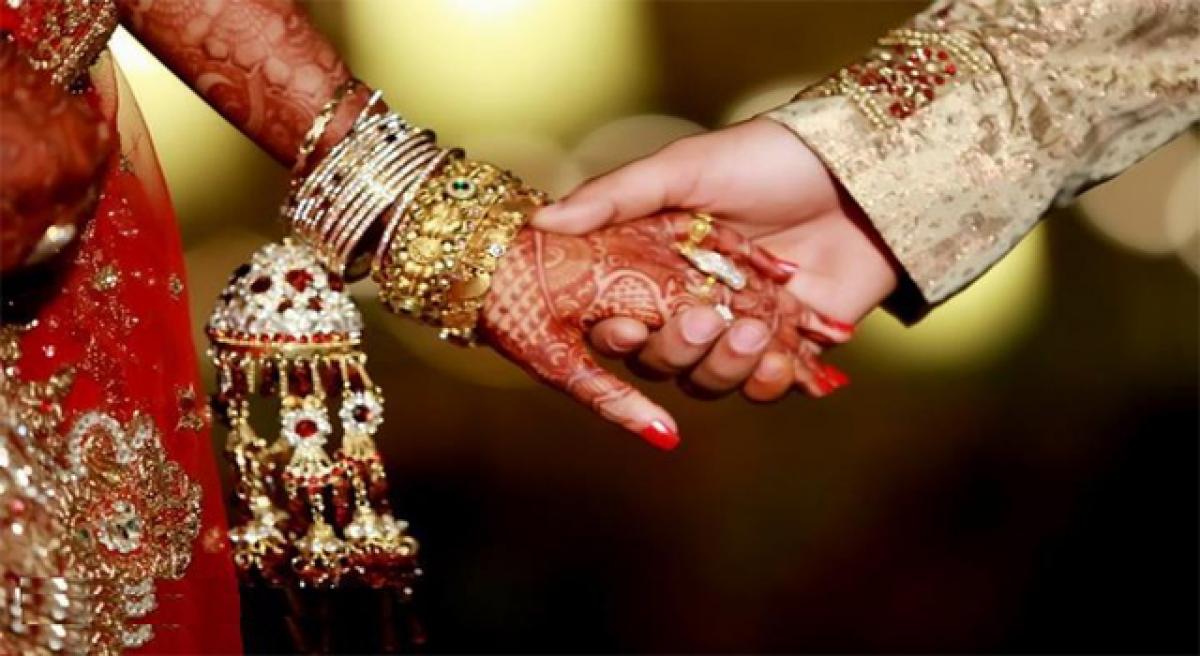 Highlights
A mother wanted copies of rules/ procedures, competence of witnesses and fee for registration of marriages, documents to be submitted for registration...
A mother wanted copies of rules/ procedures, competence of witnesses and fee for registration of marriages, documents to be submitted for registration of marriages and rules/ office order which show no requirement for sending notice of intended marriage to parents of girl before registration. The purpose of RTI lies in the last point, whether parents have right to information about the choice and date of the marriage of their sons/ daughter?
The appellant had raised concern about young girls and boys getting married without informing their parents. According to her, some of the parents are denied their right to information about the marriage of their sons and daughters. She says: "When parents bring up their children with love and care and take all possible steps for the welfare of child, giving custody, supervision, physical and psychological protection, health and safety, education etc. their relationship does not cease on children attaining majority age.
Parental authority still subsists and they should have a right to know their choice of marriage; the parents apprehend the repercussions of immature decisions, incapacity to distinguish love from fraud, leading to serious troubles to their children, their marriage and families. Why should not parents be informed about proposed registration of marriages of their children about their selection of life-partner?"
There is merit in this contention. Generally notice is an essential aspect of procedure for marriage under the Special Marriages Act, 1954. Registration serves both the purposes - as a notice to the society in general about proposed marriage and then as a proof of marriage, without necessitating parties to procure evidence for ceremonies of marriage to prove it in court of law. There are several kinds of marriages as per ancient customs and practices.
They are: "Brahmo Daivastha Daivaarshah Gaandharvo Rakshasaschaiva Paishacha Asthamotthamaha". 1. Brahmam: when parents invite a knowledgeable and good groom and gift the bride (Eg. Shanta & Rishyashringa). 2. Daivam: Gifting a bride to Rithwik in a Yagna. 3. Aarsham: If parents take couple of cows from tapasvi groom and gift bride: 4. Praajapatyam: If parents advise bride and groom to practice dharma together. (Eg. Lord Ram and Seetha). 5. Asuram: If one takes money from groom and gives bride (Kaikeyi was given like this to Dasarath) 6. Gaandharvam: If groom and bride love each other and marry without following any mantra procedure. Eg. Shakuntala and Dushyanth). 7.
Raakshasam: Winning a war and taking bride to a distant place and marrying her (Eg Raavan wages a war, and takes Mandodari). 8. Paishacham: Snatching a girl while asleep to marry. Among these methods, Brahmam is considered the best, Praajapathyam is as per Dharma and the prohibited forms are Raakshasam and Paishacham. Modern love marriages are akin to Gaandharva marriages.
The marriage being a significant turning point in life, the partners and their parents should be assured of fair, honest and valid marriage contracts to be executed for peaceful marital life. Especially when fraudulent marriages are increasing, including where NRI partners are involved, the state and law has to ensure proper registration of legal marriages with sufficient notices.
Notice is necessary to prevent marriage between persons in degrees of prohibited relationship, bigamous marriages, i.e., while a spouse is living without obtaining valid divorce, marriages without valid consent (not having age of giving valid consent), with person of insanity, or persons not attaining prescribed marriageable age etc.
If one of the parties has a spouse living, the notice about marriage of that party will enable such spouse, or any other person having knowledge about existence of spouse or sustenance marriage or relationship or agreement to marry to raise objection. The notice should be real and effective. If it is confined to a corner of the office of the Registrar of Marriages, its reach may not be sufficient and wide.
In arranged marriages, invitation card is in fact, a 'notice', Ceremonies and Baarath are declaration of valid wedlock relationship and thus a form of an effective notice and also registration. The available IT shall be used to give wide reach to the notice of marriage through the web-publication.
Any couple, whether Indian, NRI, or a foreigner who wants to marry in India has to either perform religious marriage ceremony or civil marriage registration. Even if the marriage is celebrated under the Hindu Marriage Act, Muslim Marriage Act, Christian Marriage Act or Parsee Marriage and Divorce Act. Such marriage is a legally valid marriage but it need to be registered compulsorily. For visa and immigration purposes a marriage certificate from the Registrar of Marriages is a requirement.
If groom and bride belong to different religions or countries, they have to marry under the Special Marriage Act, 1954. Those, who do not like to perform religious marriages, may prefer it under the Special Marriage Act. The 30-day notice is required to be given in India, if one partner is permanently and other partner is temporarily residing in India. Marriages between Indian and foreign national also need to be registered under this Act.
If one partner is residing in foreign country, the 'Marriage Notice' form has to be filled by the partner in India and also partner in foreign country, which has to be resubmitted by partner in India to Registration office. Parties need to submit valid documents like passport, birth certificate, death certificate of deceased spouse, if one party is widower, and if one is divorced, copy of the final decree of divorce, besides documentary evidence of stay in India for more than 30 days (either ration card or report from the SHO concerned) need to be furnished.
For instance, if an American citizen wishes to wed in a civil marriage ceremony he may be required to present to the marriage officer a 'no objection letter' from the US Embassy or Consulate, as well as proof of termination of any previous marriage, if any.
Under the Section 5 of Special Marriage Act, 1954, there is a provision for giving notice of intended marriage leaves enough scope for raising any challenge to a proposed marriage to be brought within specified period from date of notice, which needs to be affixed on notice board of the office of Sub-Divisional Magistrate in whose jurisdiction marriage is to be solemnised. The Section 9 gives power to inquire into the complaints, by summoning, requiring evidence in affidavits etc.
Giving notice, receiving objections, inquiring and deciding on objections is the judicial process and thus Marriage Officers have to give reasoned orders, and those reasons should be informed to the affected persons as per the RTI Act. Before registration of marriage, officer has to rule out illegality of the marriage based on objections and should register marriage only if it is legal. Thus, besides the Special Marriage Act, this obligation of informing the people in general is further fortified by the Right to Information Act, 2005, especially section 4(1)(b).
The state has a duty to prevent fraudulent or sham marriages or those between non-permissible relationships, or void or voidable marriages. He hoped that greater transparency by issuing a widely published notice of marriages under the Special Marriage Act will help young couple to avoid these risks.
If not issuing direct notices to the parents of proposed couples, the cyber notice on official website of the office of Registration of Marriages is within the procedure prescribed by law. At the same time, the state has a higher responsibility to protect the couple from 'honour killings', Khap Panchayats, on ego issues, and religious diktats like fatwas.
The CIC u/s 19(8)(a)(iv) of RTI Act, required public authority -the Marriage Officers/ SDMs, to ensure wide reach to the mandatory notices, by placing the same in the official website, in an easily accessible link, highlighting under the title of 'marriage registration notices' as that is mandatory duty of public authorities under Section 4(1)(d), to facilitate the interested persons (including parents or guardians) to know and raise objections, if any, to safeguard the interests of the partners to the proposed marriage. (Based on CIC decision on 1.8.2016 in CIC/ SA/A/2016 /001556 Shashi v SDM (Civil Lines)
Subscribed Failed...
Subscribed Successfully...