Quality education for all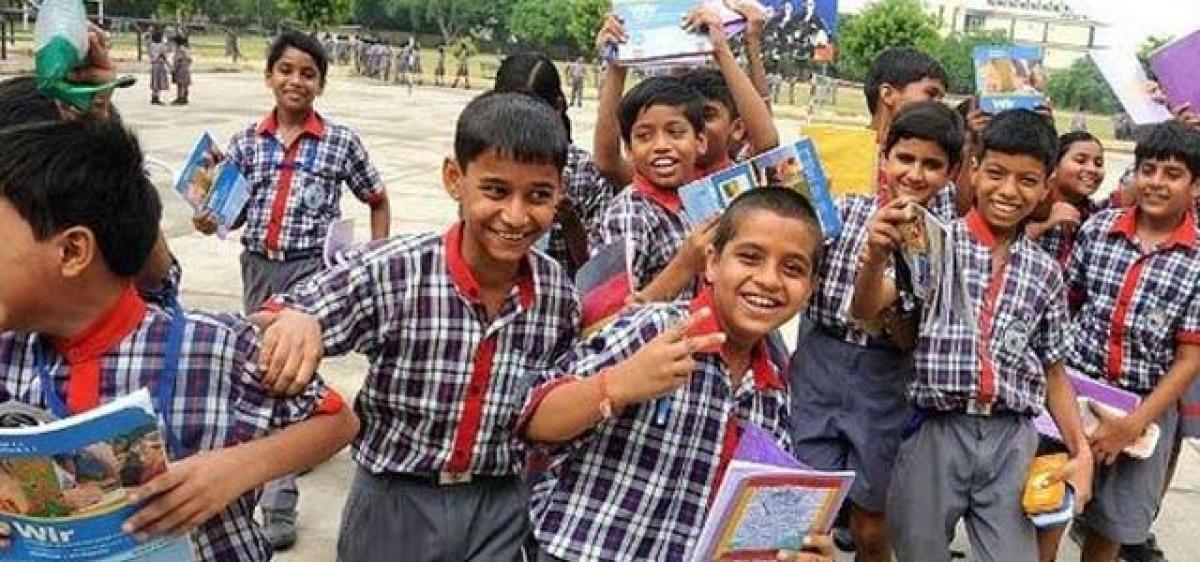 Highlights
Article 14 of the Constitution mandates all children to get equal opportunity to have good quality education without any discrimination based on...
Equality in accessing quality education is a fundamental right under Article 14 read with Right to life under Article 21.
Article 14 of the Constitution mandates all children to get equal opportunity to have good quality education without any discrimination based on caste, creed or financial status.
Giving high standard KVS education to children of public/civil servants and denying the same to other children cannot be justified as 'reasonable classification.'
The Center or States cannot treat children in two different categories based on their status, employment or income.
Without offering quality education in private sector, it is not possible to face the challenge of high-cost education commercial organisations through feeble state regulation.
Public servant's children in govt schools
Allahabad High Court directed all public servants to send their children to government schools. All India Parents Association (AIPA) also demanded mandatory enrolment of the children of public servants in government-funded institutions.
Such an order infringes the freedom of choice of parents, and hence it is not a legally sound demand. It might gain some popular support but will not help in reforming the schools or improve the quality of education.
Instead, the demand should be that Kendriya Vidya Sanghatan (KVS) which established high standard schools for the children of public/civil servants should expand same schools to offer education to all children without any discrimination. KVS is an efficient organisation in public sector offering quality education.
Right to education will be realised only when every child in India gets KVS standard education. By offering such quality education service, one can effectively compete with the commercial shops of private education. Simultaneously, the State governments need to devise mechanisms to regulate the private education.
A luxury good
Education experts expressed their concern against the "Education sector" becoming a service industry where a teacher is reduced to a service provider. With this development, commercialisation of the education sector is inevitable.
We find huge advertisements across the sky in metropolitan cities by schools flaunting international tags. Experts commented that they are latest gadgets as a marketing gimmick to entice parents. Pen and paper may not be enough for today's student, yet the luxuries of AC rooms and AC buses are not needed for education.
The commercial educating corporations converted the education into a five-star-luxury service. Are they providing best-in-class infrastructure and quality teaching faculty leading to holistic development of students?
Expectations of parents and marketing of schools together made education a luxury good. What about curriculum and imaginative thinking or social awareness. Is there any attention paid to teaching methods.
As the parents are eager to choose a school in a high profile location over a sub-standard one, the businessmen entered the fray creating more awe of the branding - national or international tags - than the education imparted.
How to regulate this luxury service?
Delhi city newspapers reported an incident in October 2016, where five students were made to spend entire day in the school library on the excuse of non-payment of fees.
The School Parents' Association (MSPA) stated students were not allowed to move out of the library even for drinking water, going to washroom or lunch, name of a student was struck off the rolls, which were denied by management. They claimed that some of parents did not pay fee at all.
Parents demanded constitution of proper parent-teacher association, refund of excess fee etc and until they are met, fee would not be paid.
The Delhi government made an attempt to regulate private education by passing three bills, but they are stalled at different levels for political reasons. Directorate of Education issued a set of instructions under the title "Chunauti 2018."
It has asked schools to have teaching timetables for entire blocks and to have dedicated teachers to work for at least 20 hours in a month to improve learning among the sections of students struggling in class.
They called the programme as Nishtha for Classes VI, VII and VIII, and Vishwas for Class IX. The students need to be divided into classes according to their abilities.
The Delhi School Education (Amendment) Bill (DSEAA) prohibited interviews at entry levels and charging capital fees which lead to hefty fines up to Rs 5 lakh and even imprisonment. Second and all subsequent contraventions would result in fine of Rs 10 lakh.
The Delhi Schools Verification of Accounts and Refund of Excess Fee Bill provided to ensure that private schools show greater accountability in fees accepted and money spent, and the breach of same will lead to fine 10 times the capitation fee charged or Rs 5 lakh whichever is more.
The repeated offences lead to imprisonment of 3 to 5 years. Through this law the Delhi government ensured that teachers of private schools get their salaries as per 6th Pay Commission and 7th Pay Commission and a committee shall be constituted for the purpose of verification of the accounts of schools in accordance with the provisions of the proposed Delhi School (Verification of Accounts and Refund of Excess Fee) Bill.
The bill also proposes that the salary and allowances payable to, and terms and conditions of employees of recognised private schools shall be on par with those in government schools.
The Committee shall consist of a retired high court judge or a retired district judge or a retired officer not below the rank of principal secretary. Quality of Class Teaching & Detention policy
Third Bill is the Right of Children to Free and Compulsory Education (Delhi Amendment) Bill, 2015. Right to education, 2009, says: "No child admitted in a school shall be held back in any class or expelled from school till the completion of elementary education."
The amendment proposes to remove this detention policy. The Delhi government explained that due to 'no detention policy,' students easily pass till class 8 but at class 9, most of them fail to pass."
They have shown the record explaining that 14, 18 and 25 per cent Delhi government school students of class VI failed in 2011-12, 12-13 and 13-14, respectively.
In class VII, 14, 16 and 24 per cent and in class IX, 12, 13 and 21 in the corresponding years. The RTE came into force in 2010, limited the government's powers to detain them in spite of the students' faring badly.
Passing percentage of Class 9 is decreasing every year. In 2013-14, 44 per cent of students of Class 9 failed to pass while 48.26 per cent of students did not succeed during 2014-15. In 2015-16, 49.22 per cent of students of Class 9 failed to pass the examinations.
The amendments to Section 8 and 16 of the Act seek to undo 'no detention policy'. The government is contemplating to hire guest teachers after assessing the requirements, to do which the principals will get a "free-hand".
The aim is to enhance skills of the weakest wards. The state is also rewarding teachers as an incentive according to the performance of their students.
The Delhi Education reforms plan to map students from class 6 to 9 and provide special focus on weakest students to enhance their learning levels.
This might help the students to pass the exams every year up to 10th class by 2018. Leaving no child behind and for that making the best and dynamic teachers to work on the weakest students with extra remedial classes is the plan of the Delhi government.
The State governments is required to plan with effective teaching programmes to increase learning levels or the Centre should come up with KVS standard education for all students, leaving a choice to rich sections to opt for private schools.
Subscribed Failed...
Subscribed Successfully...