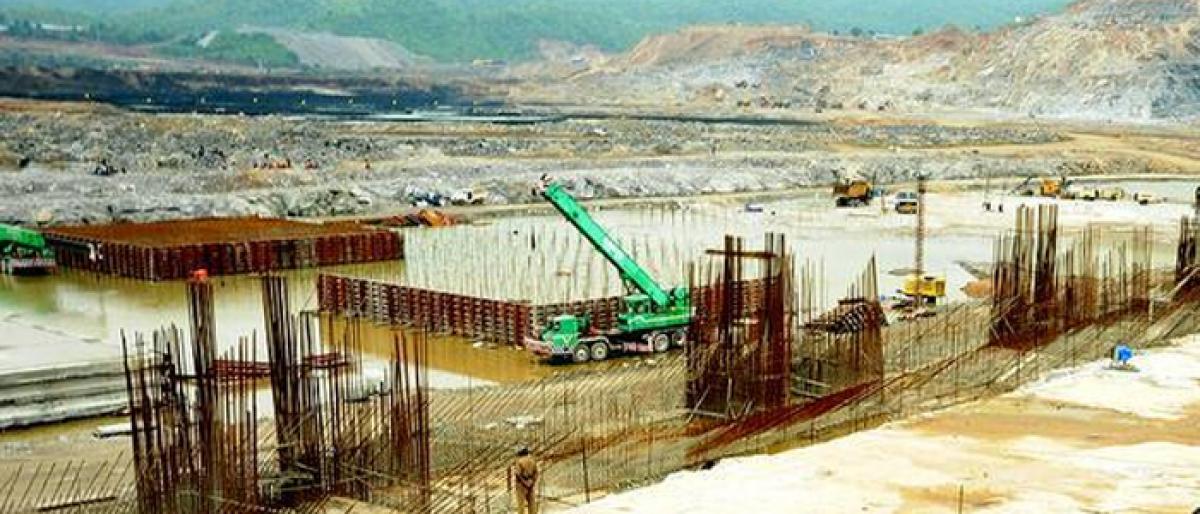 Highlights
It seems like suddenly it will all zero down to 'P' in the ensuing elections in Andhra Pradesh. Politics over Polavaram with a dash of Pavan will be...
It seems like suddenly it will all zero down to 'P' in the ensuing elections in Andhra Pradesh. Politics over Polavaram with a dash of Pavan will be the fulcrum around which elections will veer around, this time around.
Although, there is considerable time for the elections as such, the overall expectation that they could be advanced in keeping with the stated preference of Narendra Modi, an election mood has set in motion in Andhra Pradesh. Interestingly, if one goes by the prevalent atmosphere and the gathering storm, it appears that almost every party will go to the people on one common electoral plank – Polavaram project.
It is almost like a double-edged sword as each party is taking a contrasting opinion on the project. While the opposition feels that it would come as a potent weapon that can put the government in the dock and ensure tremendous political mileage for them and in turn help consolidate their stakes, the ruling party feels that if it succeeds in accomplishing the project within the deadline, it would come as an unequivocal ace up their sleeve.
Should they miss the deadline, it could still turn the tables and launch a virulent attack on the opposition parties, and hold them responsible for the delay despite the government's sincerity in implementing programmes that are meant for the welfare of the people. On that count, ruling party pundits opine that Polavaram would be a win-win situation for them.
Apart from pointing an accusing finger at the opposition for creating hurdles, the ruling party is likely to take pot shots at the Centre for not extending the kind of cooperation they should have. Hence, the focus on Polavaram, which spells political gains either way. Thus, the stage is for electoral battle with Polavaram as the war-cry. The Congress party feels that this issue could ignite its electoral prospects and help them walk into the Legislative Assembly, head held high.
As of now, they are a zero in the august House. The YSRCP, whose President YS Jaganmohan Reddy has been dreaming of occupying the Chief Minister's seat all of these years, is banking on his padayatra to dethrone N Chandrababu Naidu from the gaddi. He has already launched a scathing attack on the TDP. For the first time and that too in a hurried manner, party MLAs and leaders have been asked to visit Polavaram project site.
In its bid to reinforce the party's strident attacks against the government, YSRCP leaders have been urged to unearth loopholes. They even warned the TDP that it should not blame the Centre for non-completion of the project but should accept its failure. YSRCP is decrying both TDP's aloofness as far as the precious project was concerned and also for putting the blame on the Centre.
The YSRCP perforce took this decision as the Jana Sena leader Pavan Kalyan has come out of his hibernation and announced that he was visiting the project site. The party fears that they now have to also reckon with vote-catching abilities of the actor, who has the wherewithal to impact the poll verdict one way or the other.
Pavanism has given Polavaram issue a new twist. The way Pavan lashed out at Jaganmohan Reddy and YS Rajasekhar Reddy and charged him with indulging in large-scale corruption has left YSRCP leaders fuming with rage. They allege that Pavan is being propped up by TDP as it feels that it cannot retain power on its own.
Even if one accepts it for the sake of argument, Jagan and company should realise that this is not a new phenomenon. YSR propped up Pavan's brother Chiranjeevi, who floated Praja Rajyam Party (PRP) which helped in dividing the anti-incumbency votes, riding on which the Congress scraped through and came back to power in 2009. At that time, Chiranjeevi's campaign was loaded with punch dialogues attacking the Congress party in the state and everyone thought that it would result in the defeat of Congress party led by YSR. But 15.8 per cent of the voters sailed with Chiranjeevi and it helped cut into TDP citadels, including Kamma votes.
At that point of time they did not know that it was a political drama scripted by YSR and enacted by the Mega Star. Hence, Jagan should understand that "All is fair in war and love." What happened later is part of history. Chiranjeevi, who went hammer and tongs against Congress, merged PRP with Congress. As a thanksgiving gesture he was rewarded with a berth in the Union Council of Ministers. The actor also got the nod for his son's airline.
Pavan claimed that he had entered politics for 'political transparency, political accountability and social justice.' All the three are lacking in today's politics and there is huge vacuum is his contention. Coming out openly, he said "The PRP was founded with good intentions but my brother allowed unwanted intruders into the party and he was soon surrounded by companions who did more harm than good." Explaining why he took so much time despite being subjected to comments like "twitter hero.
A man who makes sudden appearance, speaks in a filmy tone and disappears," Pavan clarified with "I am building up a party with a strong cadre base originating from the lower and middle-class segment of society. Jana Sena will be a party with accountability." Pavan during his two-day 'Chalo Re Chalo' programme clearly indicated that his main political enemies are the Congress and the YSRCP and to some extent BJP. Referring to the Polavaram project, he said, "There is some talk now of corruption in the project.
In fact, corruption has become all-pervasive." He was also harsh on politics of succession. He appeared to be targeting Jagan and Lokesh. However, he was a shade soft on Lokesh, whose 'talent was perhaps noticed by his father.'
He said Andhra contractors, facing corruption charges, were executing major projects in Telangana. "There is really no change there [Telangana] also. Only the rulers have changed, and the same old corrupt practices are continuing," he said. One thing that needs to be acknowledged here is that Pavan has certainly made some impact on the AP political scenario. His comments may or may not fetch any sizeable votes, but they have certainly forced all major political parties to react.
While Jagan said that bringing Pavan to the forefront is a game-plan of Naidu to split the votes and achieve political mileage, the BJP said Pavan is known for being high on speed and low in feedback. Naidu glossed over the comments of Pavan on various issues, including his demand for a white paper on Polavaram and said that Pavan sincerely wants the project to be completed unlike Jagan who wants it stalled.
Pavan said that if the TDP is confident that it has done no wrong, it should not hesitate to come out with a white paper on Polavaram project. It would help the government which claims that it is doing things in a transparent manner. Whether the AP government will oblige remains the million-dollar question.
Analysts aver that Pavan's three-day 'chalo re' programme needs to be watched. One cannot, or rather, should not jump at any conclusion. It remains to be seen if he would continue this speed and remain amidst people or would he prefer to take frequent break, as he does during film shoots.
To be a successful leader one should have proper understanding of at least important issues and speak with conviction and not out of emotion. Conviction laced with emotion and solution only will attract people and will help him translate his popularity into votes or else Jana Sena will disappear after 2019 elections.
Even surveys indicate that Pavan would be able to influence only a miniscule of voters in the next Assembly elections. However, with still about a year to go for polls, he still has a great chance to emerge as a force to be reckoned with. Having a clean slate, he has an advantage over several contenders. And that is his biggest plus point.
Subscribed Failed...
Subscribed Successfully...