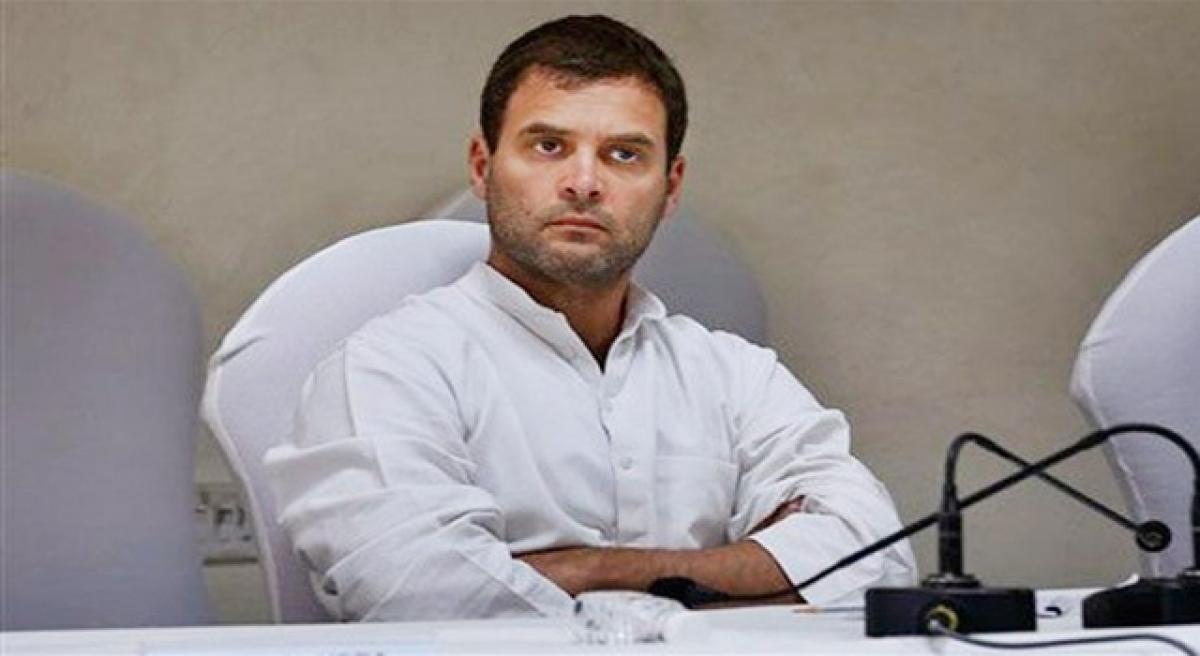 Highlights
The much-anticipated coronation of Rahul Baba is over. He has graduated into a full-fledged Congress president amid renewed hopes that he would trek a...
The much-anticipated coronation of Rahul Baba is over. He has graduated into a full-fledged Congress president amid renewed hopes that he would trek a new, and vibrant, path that will help regain lost glory, a benchmark he set for himself soon after assuming the mantle.
This will imply that he would infuse the party with new blood and gradually ease out the non-performing party stalwarts, with a select few being cast as 'advisors'. Those of whom who dared to openly oppose his style of functioning (?) and outspoken ones like Mani Shankar Aiyar could well be sent on permanent hibernation on the 'advice' of the new leadership. Bringing about a perfectly workable blend of youth and old will be his first real test.
After all, like charity, even a sense of togetherness, begins at home. He sounded the battle-cry and made his intentions clear after taking over as the party chief, which was themed around how he intends to launch a no-holds-barred fight against NDA and 'emerge' triumphant. He should realise that it would be no easy ride given the gigantic battle that awaits him.
The verdict in Gujarat should be enough to make him and his cronies to rework on their script. The good thing about the campaigning in Gujarat is that one could see a more politically mature Rahul calling the shots and a new erudition that has helped rid him of time-tested barbs. Today, he speaks about several issues confronting the nation with a hitherto unfathomable understanding that is driving the BJP managers for cover.
The latter's fear is not illogical because Gujarat reflects the adverse influence of the incumbency factor of both the State and Union Governments. On that count, December 18 will be a crucial day, particularly for the BJP, which may have to rethink on strategies going by the percentage of votes polled by the arch-rival.
On his part, Rahul faces the tough task of reinvigorating an identity-starved party that has been suffering a string of electoral debacles. For starters, he has to mount a strident campaign for 2018 State elections. Retaining Karnataka and dethroning the BJP in Madhya Pradesh, Chhattisgarh and Rajasthan will be Himalayan by nature considering the manifested problems like infighting and regional leadership crisis that exist on the home stretch. It is crucial for the Congress boss to galvanise an otherwise demoralised entity.
Ahead of the next Lok Sabha elections, Rahul will also have to decide on alliance partners (remember Uttar Pradesh) to prevent a division of the opposition vote that could help the BJP. He should learn lessons from the decimation in party citadels like Andhra Pradesh and Telangana State. Today, neither boasts of a charismatic leader who can swing the moods of the electorate, the Congress way.
The ground reality is that he faces this ordeal in almost every State. If he aspires to become more politically relevant, he has to first establish himself as an authoritative leader, who can keep his flock together and still retain the trust of the politically-conscious people, who can make or break any party.
Subscribed Failed...
Subscribed Successfully...