Gujarat lessons for Congress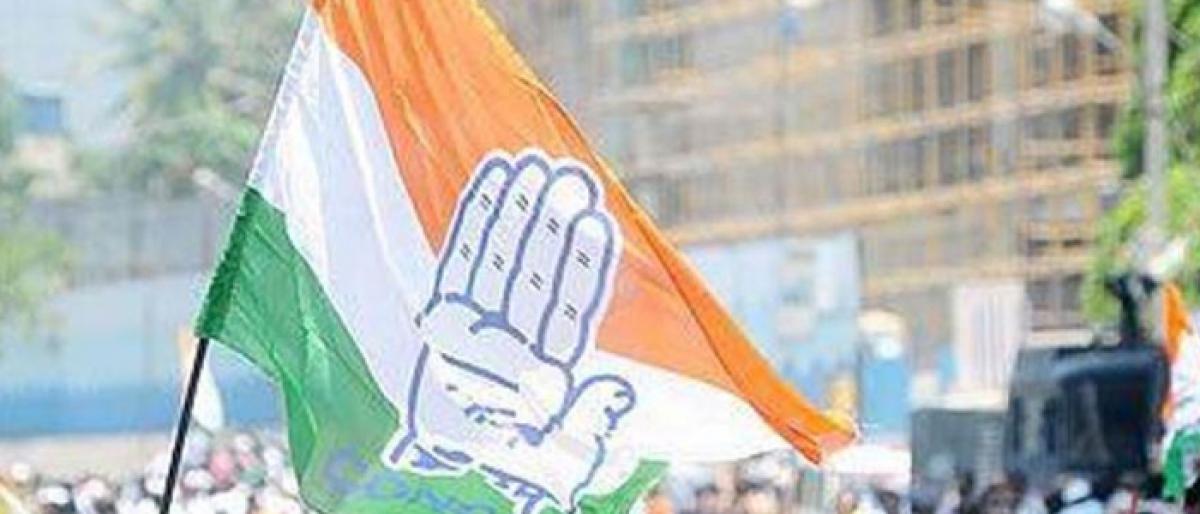 Highlights
Most of the self-proclaimed intellectuals, election scientists and poll analysts were banging the TV studio tables to highlight how close the match was between BJP and Congress in Gujarat, despite a 22-seat margin win for BJP after a prolonged 22 years in power.
Most of the self-proclaimed intellectuals, election scientists and poll analysts were banging the TV studio tables to highlight how close the match was between BJP and Congress in Gujarat, despite a 22-seat margin win for BJP after a prolonged 22 years in power.
Quite strangely and rather ignorantly, some folks are still trying to underplay the massive victory of a 6th term re-election for an incumbent BJP government, while on the other hand Congress couldn't retain Himachal Pradesh after the very first term. Such is the fairness of analysing facts and figures.
For all those false pundits and Modi-haters, the news of BJP's decisive victory in Gujarat is so indigestible that they are still reeling in post-traumatic stress of the election results and trying to find some relief, succor and solace in the rise of Congress by a few seats in its 6th successive defeat.
There are many tangible lessons Gujarat elections offer. Contrary to the opinion of studio analysts, I feel these lessons are more for Congress party. BJP did everything right to the last minute, that's why it won. Congress failed miserably at winning the popular mandate required to form a government, that how it lost.
Congress party is so desperate for a win in Gujarat, it ended up celebrating its defeat too. There's no rocket science, BJP retained Gujarat State and won Himachal from Congress. Congress party lost Himachal and failed to win Gujarat from BJP. One wonders, which failure are they celebrating as a 'moral victory'?
A few big lessons for Congress from Gujarat elections:
Movie dialogues don't win elections: 'Gabbar Singh Tax' dialogue did not make any impact in any urban area which Congress thought would hurt BJP, against the backdrop of GST implementation. In fact, it reminded the traders across Gujarat of the dark days under Congress regime where 'haftas' [extortion] were a way of life. The traders understood GST is better for their businesses than Congress backed goons who would loot their hard-earned money, if Congress were to come to power.
This memory is unique to Gujarat traders, outsiders wouldn't understand. Rahul Gandhi proved himself to be a rank outsider, when he belted out this dialogue in many rallies. It actually worked for BJP & the urban seat tally proves that beyond doubt. In fact, I strongly believe Rahul Gandhi actually gave a new perspective to traders on GST by using this dialogue, which benefited BJP.
Social media likes & retweets are not votes: BJP is way ahead in the social media campaigns in all elections since 2014. However, Congress tried to ape BJP this time around & spiked its social media strategy with inorganic likes & retweets, which at times far exceeded BJP key social media handles.
While the trends looked quite exciting for the Congress party workers, the urban voting pattern for Congress was a huge dampener.
All the twitter fireworks which were supposed to yield great results especially in the urban and semi urban areas showed no productive electoral outcomes for Congress. The lesson is on the 'wall,' strategies can be copied from BJP but will not guarantee same results. All the hype that Congress has built to show that urban youth are supportive of Rahul Gandhi ended up as a big dud in Gujarat elections.
'Temple Run' score doesn't add up: While temple run as a video game assures that every score adds up to a raise in the level of the game, in real time Rahul Gandhi suddenly running to 35 temples did not result in the spike of Hindu votes and it did not raise the level of Congress party's political game in Gujarat.
In fact, the 'Temple Run' back-fired on Rahul Gandhi as few loyal sections of the party vote bank developed a doubt about the Congress intentions. As the election results clearly showed BJP's voting percentage spiked up by about 1.25 %, it clearly establishes a fact that Rahul's temple run did not take away anything from BJP. Congress cannot swing both sides when it comes to Hindu and Muslims.
It has firmed up an ideology decades ago to appease Muslims for electoral gains and by now Hindus understand their voice has no electoral value for Congress. Rahul Gandhi's sudden temple runs during Gujarat elections only highlighted the desperation and ideological bankruptcy of a party which keeps targeting BJP over its secular credentials. I wonder what happened to the 'Award Wapsi' brigade, who did not question the new avatar of Rahul Gandhi as a 'Shiv Bhakt'? What happened to their secular voice?
'Caste Cow Boys' can divide but not win: The three 'Caste Cow Boys' could divide the electorate on communal lines, however they could not unify the popular mandate for scoring a comprehensive win for Congress. The math on the drawing board could have been very exciting for Rahul Gandhi that he has completely outsourced the elections to the three caste musketeers code-named HAJ (Hardik, Alpesh & Jignesh).
However, the lesson which Congress has to learn from Gujarat election results is that caste polarisation through illegitimate assurances will not be bought by everyone in a community. You can fool some, but not everyone. While two of them won their own seats, they could not deliver what they were roped in for by Congress. They failed at building the scale of communal division they planned for in Gujarat between communities.
Congress today is being blamed in Gujarat for trying to recreate disharmony amongst communities all over again for their petty political expediency, for which they were ousted 22 years ago. Congress has been caught red handed in this devious act and punished by the voters of Gujarat by defeating them for the successive 6th time.
Abuse and Intolerance are not Indian virtues: Congress party under Sonia Gandhi seems to have drawn some lessons from Italian Mafioso in the last 19 years of her Presidency. They use abusive language, throw tantrums, plot elimination meetings with foreigners, and express higher degree of intolerance through their vocabulary and body language. The Italian influence is showing. The degree of this influence seems to be high in the coterie more proximal to the top leadership.
Mani Shankar Aiyar certainly is the leader of this pack. However, by now it's established that abusive language on political opponents, cross-border negotiations for removal of incumbent governments and black operations will neither be approved nor tolerated by Indians. Certainly, this is not the level of political discourse the Indian voters would like Congress to lead India towards. Voters of Gujarat have responded to Manishankar Aiyar & Congress party through their vote.
Still, if Congress wishes to celebrate the punishment of Gujarati voters as 'moral victory,' BJP wishes them all success at it.
'If one doesn't regret, one is bound to repeat' – BJP wishes that Congress doesn't learn any lessons from its historic defeat in Gujarat elections and continue celebrating a false moral victory. It will ensure more painful defeats for Congress and more decisive victories for BJP in the year 2018.
Subscribed Failed...
Subscribed Successfully...