The bogey of self-respect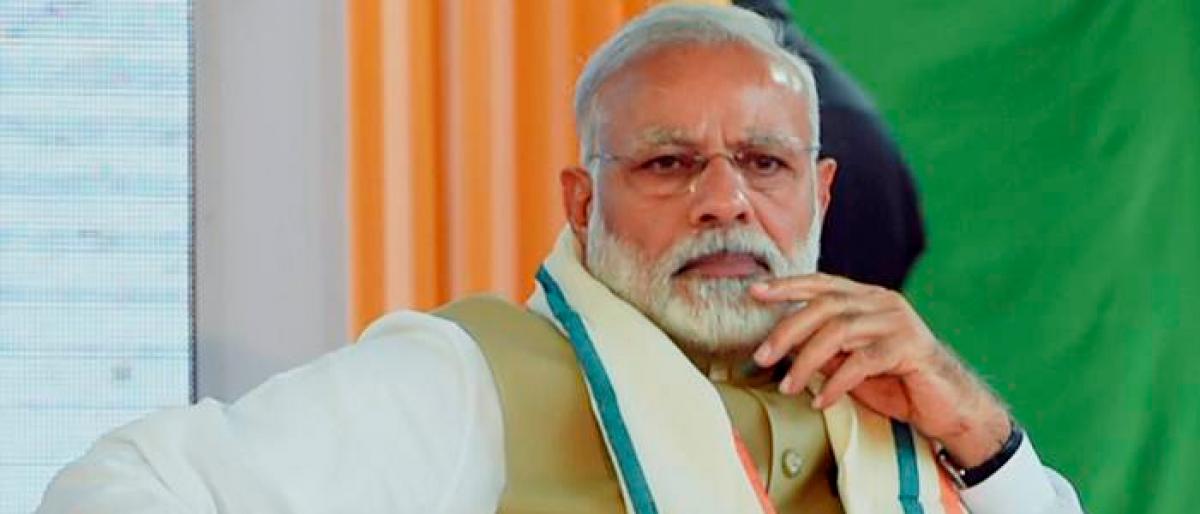 Highlights
The art of espousing causes that are likely to appeal to people and come in handy in an election comes naturally to political leaders. Whether it is...
The art of espousing causes that are likely to appeal to people and come in handy in an election comes naturally to political leaders. Whether it is the mishandling of a natural calamity such as a flood or a drought, a 'foreign hand' that is fuelling unrest in a part of the country or the backwardness of the region or a community that has been neglected by the ruling party, many issues have been used as a stick to beat the opposition with in the past by various political parties.
It is thus that the phenomena of regionalism and narrow, partisan feelings based on communities, or languages – all raising the slogan of 'self-respect' – have repeatedly raised their heads since Independence. The most recent manifestation of it was the 'asmita' slogan, adopted by Narendra Modi during the recent elections to the Gujarat assembly. His party conducted its four-month long election campaign on his plank of "I am Gujarat, I am development." Once Modi joined the fray, the party's main allegation against the main opposition, the Congress party, was that it (the Congress) had dealt a blow to the self-respect of the Gujaratis.
Towards the end of the campaign, even allegations of contracts (Suparis) to a conspiracy to assassinate Modi, hatched at a 'secret'(?) meeting in Delhi, surfaced. While the latter allegation can be tested for its veracity by an agency, committee, or by some other such mechanism, the hurting of self–respect can never be verified, since it is just a feeling.
It is impossible for anyone to establish whether it was caused by someone's action or not. There are no known parameters that can identify or measure the degree or extent of such emotions. The very concept of 'self-respect' is pejorative by nebulous.
At a time when humanity is priding itself on having entered the Third Millennium – heralding the dawn of an era driven by the forces of liberalisation, privatisation and globalisation against the background of explosive growth in information and communication technologies – it is a strange and sad experience to find that, more and more, forces that divide societies are surfacing once again.
The breakdown of the USSR, for instance, may have largely been caused by Gorbachev's concepts of Perestroika and Glasnost. What is noteworthy, however, is that, as the disintegration was taking place, the erstwhile monolithic structures that had represented age-old ethnic identities also reappeared. The conflict between the Shias and the Sunnis that has ravaged the war-torn middle-eastern countries of Iran and Iraq is another unfortunate example of how pernicious regional considerations can lead to bitter consequences. One can understand a longing for a politico-religious identity, or a linguistic or ethnic aspiration, as in the case of Jerusalem, Catalonia or Bangladesh.
A demand based purely on divisive considerations cannot, however, be countenanced by a society committed to order and justice. One wonders whether a process of dismantling of the integrity of India as one Nation will not begin to happen soon, following the rather ill-advised use of the slogan of self-respect and whether the edifice of a federal polity, created by Sardar Patel soon after Independence, will fall not apart at its seams.
One has witnessed many a regional sentiment-based uprisal in several parts of the country in the past. The most common cause of these was the grievance nursed by the people that their region was not adequately developed. The complaint usually was that educational institutions, irrigation projects or industries have not been set up in that area, that people from that region were not finding employment and that the leaders and others from the developed regions, especially those around the capital cities of the States, were adopting a step-motherly attitude towards that region. It is also not uncommon for these grievances to be accompanied by some sort of statistics. But in the case of self-respect, how is one to gather any statistics? What is to be the yardstick? With no such parameters to measure the degree of the feeling it can be used as powerful tool of criticism.
Normally, regional or sub-regional agitations are started by parties in the opposition while the ruling parties preach pacifism. NTR, started the Telugu Desam Party (TDP) in 1982 using 'self-respect' as a political weapon and trounced the Congress (I). He termed the callous manner in which Chief Ministers of Andhra Pradesh had been frequently changed by the Congress party's high-command as a blow to Telugu pride. What ought to have been an internal matter of the Congress (I) and a cause for a dethroned Chief Minister to nurse as a grievance, was astutely depicted by him as an insult to the entire community of Telugu, and to a great political advantage.
But then, NTR was in the opposition when he did what he did. The BJP is now the ruling party in the country. It says the Congress hurt Gujarati pride by 'rigging' elections of Patel and Morarji to deprive them of Prime Minister's post. Had that really happened, would not Patel or Morarji have walked out of party? In any case, they accepted to become Deputy Prime Ministers. There are many states, from where neither Prime Minister nor Deputy Prime Ministers has come. Are we to conclude that their self-respect is also hurt? And why identify national leaders like Patel and Morarji as mere 'Gujaratis'?
Take my own case for instance. Born in Chennai, brought up almost entirely in Hyderabad (but for a short stay of two years in Guntur when the High Court was located there and my father was a practising lawyer and judge in that court) graduating in Delhi and coming back to Hyderabad. Going by the criteria prescribed from time to time by the various States such as Tamil Nadu, Telangana or Andhra Pradesh, I would most certainly not qualify, today, being a citizen of any of them! When should I feel that my self-respect is being hurt by them? The answer is simple.
As a Telugu, I feel insulted when I find the people of the two states are quarrelling with each other over petty matters. As a citizen of Hyderabad, I feel ashamed and insulted when nothing is done to prevent the cruel and barbarous practice of employing children and trading in young women. And, as a citizen of India, I feel outraged and ashamed of being called a citizen of India when, after decades of being an independent country, we are unable to prevent our farmers from committing suicide on account of distress.
The time certainly appears to have come for us to change the very definition of self-respect. We all know that all life is neither black nor white. Most of it lies in the grey area – strangely enough a colour that does not find place in the rainbow! A spirit of give-and-take, and the willingness to compromise, are the hallmarks of a civilised society.
Sense of belonging to a group is no doubt essential for a social animal such as man which leads to a meaningful life. The point is that it should not be overdone. Yes, once again the need is for balance. The trick, therefore, is to find the golden mean, between an excessive attachment to the cause of a group or a caste and a total and dangerous disconnect and alienation from a language/region/community.
The balance between centrifugal and centripetal forces is precisely what keeps celestial object in orbit! Any disruption of that equilibrium can only result in the body collapsing into itself, resulting in total destruction, or being shot off into space never to be seen again!
Subscribed Failed...
Subscribed Successfully...