An amazing world of entrepreneurship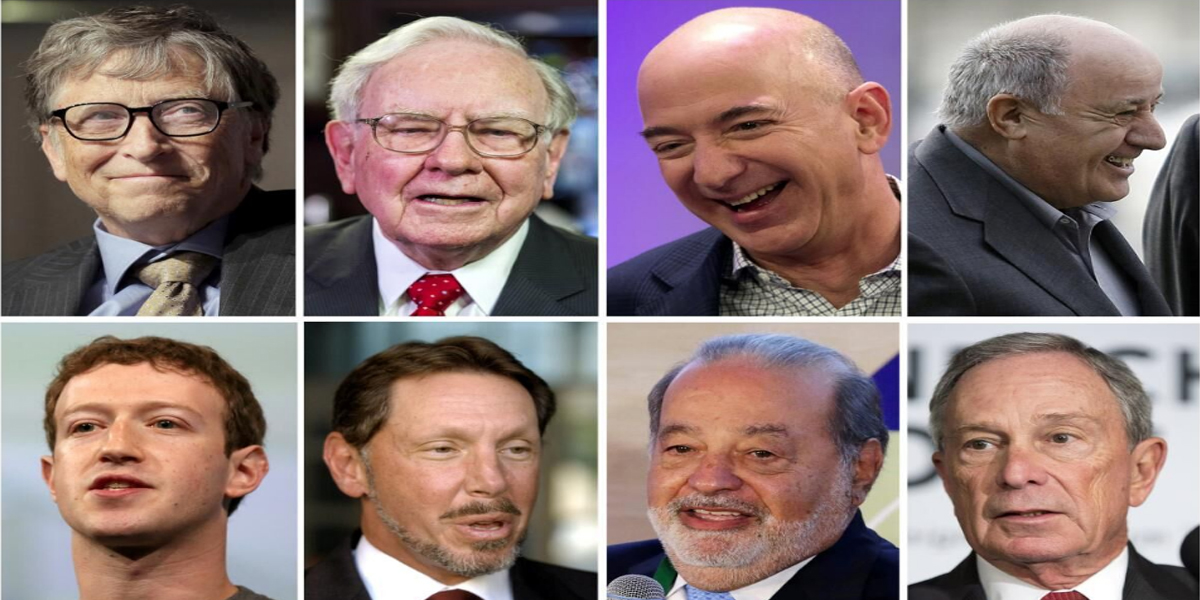 Highlights
Technology and social media are major players in the new fields of wealth creation and rise to billionaire status So are entrepreneurial skills as was in the past too Young brains are making all the big difference today THE FORBES LIST OF billionaires, year after year, opens up an amazing world of entrepreneurship at its highest levels of success Gone were the days when the Brunei Sultan, whose
Technology and social media are major players in the new fields of wealth creation and rise to billionaire status. So are entrepreneurial skills as was in the past too. Young brains are making all the big difference today THE FORBES LIST OF billionaires, year after year, opens up an amazing world of entrepreneurship at its highest levels of success. Gone were the days when the Brunei Sultan, whose gas lit up the streets in Tokyo, was adjudged the world's richest man.
The age of hi-tech changed mechanisms for money-making. Brand new avenues for wealth creation have opened up. Bill Gates, son of a farmer, came from behind, made it big with his Microsoft personal computer systems and took up position as the world's richest man in 1995, edging the Sultan out. Until 2017, Gates retained the post for most years.
Large numbers of billionaires today are from the IT-induced sectors, including the social media, using the world wide web to make a mark. Those who have started from scratch have built empires using social media platforms. The writing is on the wall: Have an idea, and there's space for growth.
New fields are opening up. Stock exchanges are at play too. It's the brain that makes a big difference, as was also in the case of stock players like Warren Buffett, who stole the richest man status from Gates in between. In the past, businesses worked more on one's entrepreneurial spirit and grasp of the markets, as did the Tatas and the Birlas more than half a century ago. The IT growth came with Bengaluru as its base, and earned a name. The Ambanis and the like entered the scene making a success out of new business techniques and diversions from textiles to refineries, oil and gas and retail business, topping them with telecommunications.
While the US has around 600 billionaires, China is home to about 350 and India lists about 100 billionaires. India with a 1.3billion population can boast of a figure equal to what Switzerland with its 84lakh population has: about a hundred. The UK has about 90 billionaires, less than what its old crown the Hong Kong has at 96, or what Russia touts at 93.
In new China, communism is just for chant, chat and lip-service. Its adoption to salient aspects of capitalist economy, like unleashing the power of market forces, worked wonders in terms of wealth generation. It is reaching a stage it can give the Americans a run for their money. India, with nearly as much population and ailed for decades under socialistic pursuits, is a different story even today.
As for the big names this time, on the Forbes list. Amazon chief Jeff Bezos at top slot has a wealth of $112billion while Bill Gates stood closer with a net worth of $90billion. Next in the list is seasoned Warren Buffett with a net worth of $84billion. Bernard Arnault, famous for his brands Louis Vuitton and Sephora, came next with a net worth of $72billion, followed by Facebook CEO Mark Zuckerberg with his $71billion. The world's wealthiest retailer, Amancio Ortega comes next with a net worth of $70billion.
At the seventh slot is Carlos Slim Helu, Latin America's biggest telecom business tzar with a wealth of $67billion. Charles Koch, chairman of second largest US firm the Koch industries, is the world's eighth richest man, he boasting of a net worth of $60billion while his brother David Koch is the ninth richest, with $60billion. The tenth richest man is Larry Ellison, who co-founded the Oracle software firm in 1977. He has a wealth of $58.5billion. India's richest man, Mukesh Ambani, is at the 19th slot while China's Jack Ma of the technology conglomerate Alibaba group stood at the 20th position.
America led the way. Star Wars creator George Lukas is at top in the American billionaires' list, he having massed up a fortune of $5.4billion – its main prop being the sale in 2012 of his Lucasfilm production company to Disney for $4.1billion. Another filmmaker Steven Spielberg is at number-two slot, with $3.7billion; media celebrity Oprah Winfrey with $2.8billion coming next, and Michael Jordan with $1.7billion mostly from Charlotte Hornets. Self-made billionaire, Kylie Jenner who runs Kylie Cosmetics, entered the list this time with a fortune of $900million net worth. A social media push had helped her grow, and grow fast, in amazing ways. Jay-Z with $900million in wealth earned $90million this year alone, and drew heavily from his holdings in the entertainment firm, Roc Nation. Another rapper, Diddy, with $820million is at eighth slot in the American billionaires list.
The just-ending year saw some 11 billionaires among India's richest 100 raising their wealth upwards of $1billion. Business tycoon Mukesh Ambani's wealth grew by $9.3billion this time, keeping him at the top slot in India for the 11th consecutive year. Diversifying ably from refineries and oil, what helped him grow his wealth was mainly the Reliance group's Jio broadband telecom service –an idea that he picked from his daughter Isha while on her visit home from the US.
Wonder-woman Kiran Mazumdar Shah, who first made a major mark in biotechnology, saw her wealth jump by two-thirds this year. This was mainly due to the rise in shares of her Biocon, which developed a global drug for cancer a year ago in association with Mylan. Coming upfront this year in India are, among others, KK Bangur of Graphite India, with its graphite electrodes business turning a huge success. PP Reddy of Megha Engineering and Infrastructure also crafted a big success story for the year. Consumer goods manufacturer Patanjali Ayurved took a hit, profits going down this year; and so did the Bhatias of IndiGo, the nation's top-rated airline facing odds over the hike in fuel prices. Yes Bank CEO Rana Kapoor also among those who took a hit.
Significantly, nearly half of the under-40 billionaires in the Forbes' list of the 400 richest made their money from social media companies, most notably Facebook and Snap. Facebook CEO Mark Zuckerberg, who debuted in the Forbes 400 list when he was just 23, is now at age 34. Entering the Forbes' billionaires list for the fourth time in a row, CEO of Snap Evan Spiegel, who introduced the snapchat, is a 28 year-old. He's the youngest on the list. Another presence, Spiegel's co-founder and chief technology officer Bobby Murphy, is two years elder to him; at 40.
The 35-year-old Drew Houston who entered the list this year made his money with the launch of Dropbox, a new idea that enabled online storage and sharing of files. With over a crore of users in payment mode, the company has reached a market capitalization of over $10billion.
The 36-year-old Divyank Turakhia, like the Ambanis, started off from a two bedroom hall (BHK) apartment in Mumbai 20 years ago. He took to computers, started off as a tech-fixer, and then started his own unit with support from his brother.
He used the net to mint money, and made it bigger with enterprises like Media.net which was an online platform for advertisement collection and sales. Having started in a small way in 2010, it was sold in 2016 for $900million. In the first year of his start alongside his brother Bhavin, the two earned a profit of two lakh; the next year, the profit soared to two crore. He followed it up with the start of a domain registration and hosting firm, Directi. It was sold for $160million in 2014. He is on the billionaires list since 2016.
This is time also for lndia's leftists to raise their eyebrows yet again. Fact is, entrepreneurs are not as despicable as they were in the past, or notably under the socialist system. The big gainers of wealth are the big philanthropists too. The Warren Buffetts, the Bill Gates, the Azim Premjis and Narayana Murthis have shown before us the better side of the rich and the famous.
- Prem Chandran