Shifting focus from Test series to T20 requires change of mindset: Anil Kumble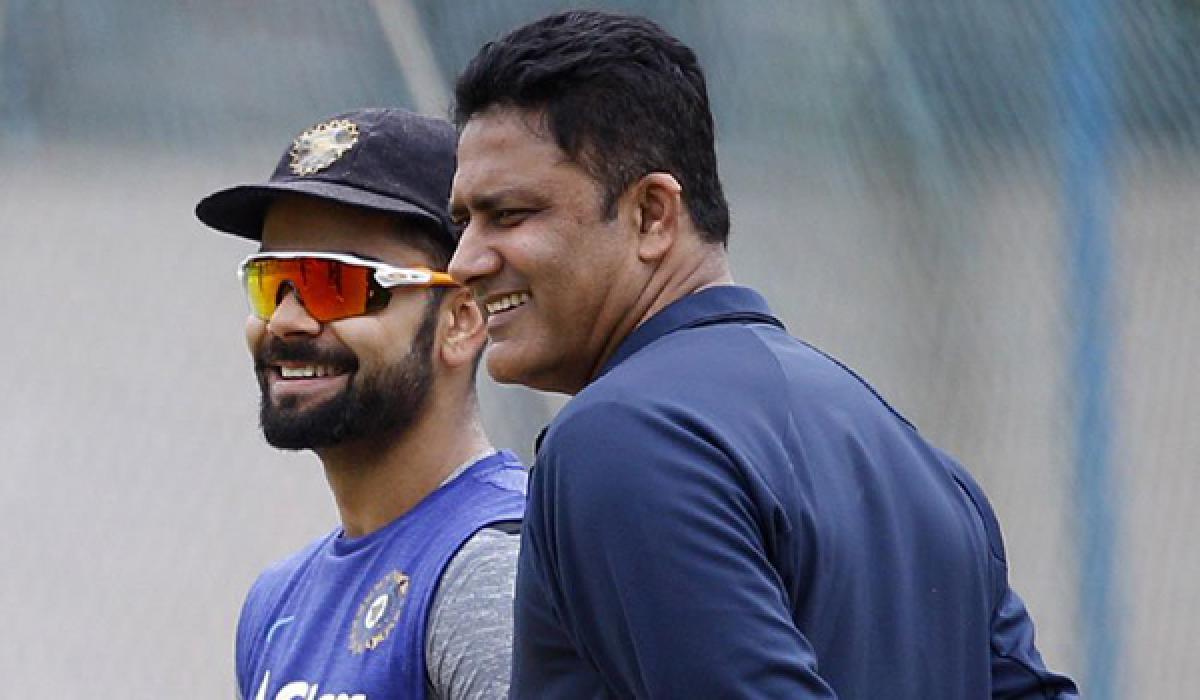 Highlights
After their Test series win against West Indies, India will face the World T20 champs at Florida for a two-match T20 series, and coach Anil Kumble believes that it will not be easy to switch focus from Tests to T20s. Kumble also added that it would be difficult to defeat the World T20 champs. The Indian Test team gave Anil Kumble a flying start to his stint as head coach by winning the Test series
After their Test series win against West Indies, India will face the World T20 champs at Florida for a two-match T20 series, and coach Anil Kumble believes that it will not be easy to switch focus from Tests to T20s. Kumble also added that it would be difficult to defeat the World T20 champs.
The Indian Test team gave Anil Kumble a flying start to his stint as head coach by winning the Test series 2-0. The team also rose to the No.1 spot for five days during the period before rain played a part to push them down back to second. After the historic win in the Test series, India will now face West Indies in a short T20 series at Florida in the United States of America. But, Kumble believes that it will be difficult to switch the focus from Tests to T20s in such a short span of time.
"It is a mindset change and not easy to switch your focus from playing a Test series and coming into a T20 mode," Kumble said at the Central Broward Regional Park Stadium Turf Ground in Florida on Thursday. "Both bowlers and batsmen need to make adjustments. It is not easy, but all of us are professionals and they have played enough T20 cricket to adjust. It is more in the mind."
India are currently No.2 in the World T20 rankings and could go down to the third spot if they lose the series 0-2. But, the head coach is not worried about the rankings and is only thinking about playing good cricket consistently.
"Well, not really. The rankings are on everyone's mind, and we keep hearing about it where you're in terms of standings. But the critical point is you (have to) play some good cricket. Yes, the Test series victory was very good. Even if you look at India's T20 record over the past six months, it has been pretty impressive, and that is something we would like to take forward in these games as well."
Unlike the Tests, the T20 series is expected to be a much closer affair between the two teams with the Windies currently holding the World T20 trophy. The legendary spinner acknowledged the difficult task at hand and said that it will not be easy for his side.
"West Indies are always a tough side and they are the World T20 champions. Also, some of the West Indian players needn't have to make the switch from Tests to T20s as they are coming straight out of the CPL. They are a quality side, and we had a tough match against them in the semi-final of the World T20. So, we are going to encounter a quality side and we are aware of that. It is going to be a challenge," he noted.
Although they have played together many a times, this will be the first time Kumble will be coaching Indian limited-overs team captain MS Dhoni, and the head coach said that he is looking forward to working with the 2011 World Cup winning captain.
"This is the first time I will be working with Dhoni. We have played together over a long period of time and we had a chat yesterday and today as well. I'm really looking forward to working with him, and the new set of boys who have joined the team, including (Jasprit) Bumrah. It is nice to be a part of the Indian dressing room again," Kumble summed up.
Credits: sportscafe.com