Vishesh's 57 leads Bengaluru Beast to semi-finals over Hyderabad Sky in South Division play-in game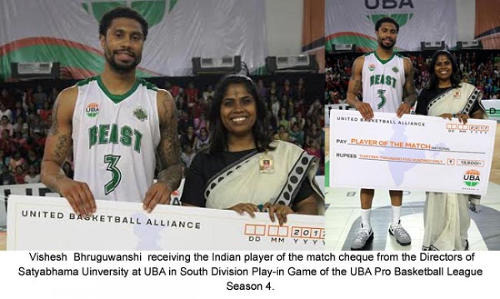 Highlights
The second play in game of the day saw two teams from the South Division battle it out to make it to the semi-finals in Goa. Bengaluru Beast exchanged blows with Hyderbad Sky to eke out a 116-113 win with a nerve wracking finish. This match was the final contest of the
Hyderabad/Chennai: The second play in game of the day saw two teams from the South Division battle it out to make it to the semi-finals in Goa. Bengaluru Beast exchanged blows with Hyderbad Sky to eke out a 116-113 win with a nerve wracking finish. This match was the final contest of the UBA Season 4 in Chennai as the semi-finals would be held at the Dr. Shyama Prasad Mukherjee Indoor Stadium in Goa from 10th March.
The packed stadium nearly blew the roof off the building when Tamil actor and producer Suriya Sivakumar (Suriya) made his appearance to watch the contest. Tevin Kelly began the onslaught for Hyderabad with a step back jumper as he looked to carry the load for Hyderabad. Vishesh and Palpreet connected on a reverse alley-oop jam which brought the house down as Bengaluru raced out to a 16-6 lead with 6 minutes left in the first. At the end of the first quarter, Bengaluru held a slim 27-24 lead over Hyderabad.
In the opening minutes of the second quarter, the combination of Vishesh and Palpreet presented Hyderabad with a difficult conundrum as they struggled to find an answer to stop them. At the end of the second quarter, Bengaluru led Hyderabad 60-53. Bengaluru were led by double digit points from their Big 3 of Vishesh, Solomon and Palpreet as they combined for 50 points in the first half.
Mahesh scored five quick points in the opening minutes of the third quarter to lead Hyderabad's charge. Boskailo's putback brought Hyderabad within 74-68 and Joginder's three decreased the lead to 74-71. Kelly drew a couple of charges on Bengaluru as the importance of each possession became paramount. For Bengaluru, Vishesh blew up in the third quarter as he had 17 points in the third quarter alone. At the end of the third quarter, Bengaluru led Hyderabad 83-79.
The fourth quarter resembled a couple of boxers exchanging punches as both teams traded buckets relentlessly. For Bengaluru, Vishesh seemed determined to ensure that Bengaluru would not go down without a fight as he answered nearly every basket by Hyderabad by driving right to the rim regardless of who was guarding him. In the final minute, Vishesh's assist to Palpreet gave them a 114-110 lead. Kelly hit a three to bring Hyderabad within 114-113 with 19 seconds left but Bengaluru inbounded the ball to Raghuram who raced in for a layup and Bengaluru were able to pull away for a 116-113 win. Vishesh also had 11 assists in a performance for the ages for Bengaluru.
Players of the Game: Chris Solomon (International), Vishesh Bhriguvanshi (Indian)
Bengaluru Beast (Vishesh Bhriguvanshi 57 pts, Palpreet Brar 27 pts, Chris Solomon 17 pts) bt 116-113 Hyderabad Sky (Tevin Kelly 40 pts, Mak Boskailo 16 pts, Mahipal Singh 16 pts)