Snehit gets India call after Natl silver lining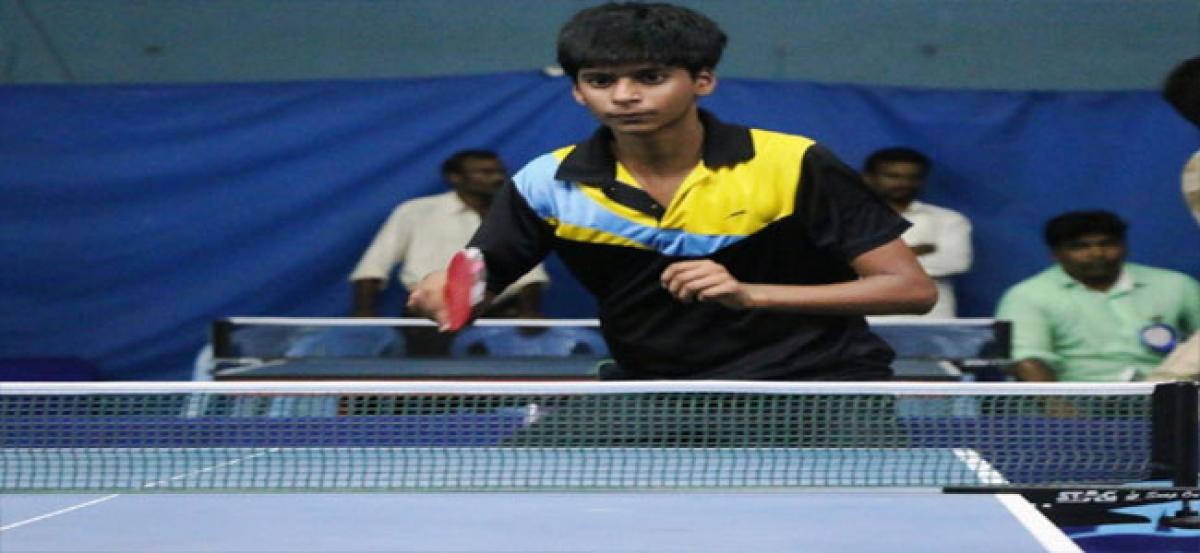 Highlights
On the face of it, they both finished runner-up in their respective categories in the 11Even Sports National Ranking (Central Zone) Table Tennis Championships at Abhay Prashad Indoor Stadium here.
Indore: On the face of it, they both finished runner-up in their respective categories in the 11Even Sports National Ranking (Central Zone) Table Tennis Championships at Abhay Prashad Indoor Stadium here.
However, they walked with their head held high, as would a champion, because they scripted a rare achievement for Telangana State, to which they both belong. There is no denying that the championship has not only elevated their status on the table tennis firmament but the feats have caught the attention of the selectors and coaches from far and wide.
If Sreeja Akula did the State proud on Thursday by making it to the women's final with some extraordinary conquests along the way, fellow-Global Table Tennis Academy (GTTA) player S Fidel R Snehit emulated her with a showing that was equally envious.
The young lad scalped several big guns en-route to Friday's finals in the Junior Boys category. It was a welcome transformation from Snehit, who graduated from a boy to a big league contender with his progress here.
For the records, the sixth seeded Snehit, who has come under the wings of the hugely respected S Raman in Chennai, lost the title clash 0-4 to the top ranked Indian Manav Thakkar from PSPB.
Incidentally, their showings have been catching the eye of the people who matter. Soon after the conclusion of the women singles final, a fine tribute to Sreeja came from an influential authority like Italian coach Massimo Costantini, who saw a bright future for the young girl.
For Snehit, appreciation has come from a different level, which comes as a befitting tribute to the young paddler, who last season became the first from Andhra Pradesh/Telangana to win a junior national singles medal in 25 years.
Impressed by Snehit's performance, Table Tennis Federation of India (TTFI) is fielding him in the Indian squad that is to participate in the Jordan Junior & Cadet Open (ITTF Junior Circuit Tournament) to be held in Amman from July 25 to 29.
"I moved to Chennai for getting advanced coaching from Raman Sir, who helped me plug some weak points. More than that he instilled a robust sense of self-confidence in me, which is paying dividends," Snehit said after the match.
He was also profound in his salutations for Somnath Ghosh, who had moulded him as a competitive player at GTTA in Hyderabad.
Meanwhile, Manav Thakkar made amends for the earlier losses to capture the Junior boys title while Yashini Sivashankar won the Junior girls crown.
If it was Selenadeepthi Selvakumar last evening-she won her maiden Youth title—it was another Chennai girl Yashini who won her second national ranking title to her kitty. In fact, it was sort of a back-to-back crown as she picked up from where she had left off in the East Zone championships at Aizawl, the concluding championships last season, when she won her maiden crown.
It was a good match in the sense both Prapti and Yashini had their chances but eventually it was Yashini who put it across in the decider, claiming many a crucial winner. This is precisely what separated the two as both fought well, without yielding an inch to the other.
Yashini was 2-3 down which included an extended game that went to her opponent. But credit must be given to the Chennai lass who kept her patience and played percentage game when it mattered the most, particularly in the decider, leaving the West Bengal girl far behind.
Just four gold medals remaining, the main draw events in the sub-junior and Cadet sections begin later tonight.
Results-Junior Boys: Final: Manav Thakkar (PSPB) bt Snehit Suravajjula (TS) 11-8, 12-10, 11-7, 11-8; Semifinals: Snehit Suravajjula bt Anukram Jain (PSPB) 12-10, 11-4, 11-2, 9-11, 10-12, 11-2; Manav Thakkar bt Shubh Goel (DEL) 11-6, 11-8, 11-7, 11-7; Junior Girls: Final: Yashini Sivashankar (TN) bt Prapti Sen (WB) 11-9, 9-11, 7-11, 12-10, 8-11, 11-7, 11-4; Semifinals: Prapti Sen bt Kushi Viswanath (KAR) 8-11, 11-6, 8-11, 11-7, 11-3, 8-11, 11-7; Yashini Sivashankar bt Manushree Patil (MAH) 5-11, 11-2, 11-4, 9-11, 11-7, 11-6.