Haryana boy to lead team India for Tri-Series in Sri Lanka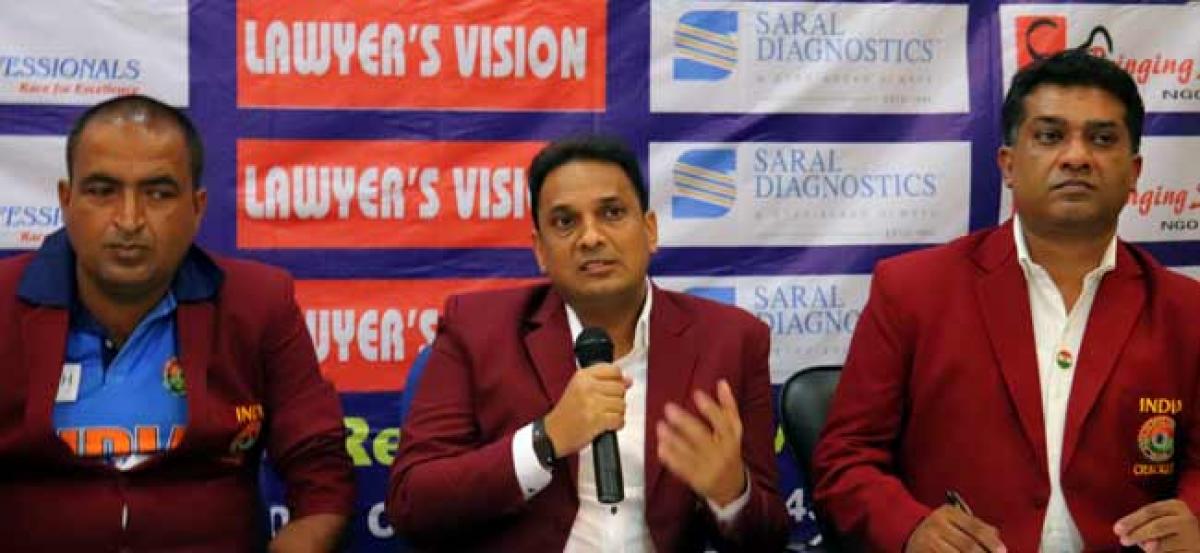 Highlights
Haryana, the state which is known of gifting many sports personalities to the country has once again proved its mettle with Ravindra Pal, under whose captainship the Indian differentlyabled Cricket team is to play Tri Series in Colombo Sri Lanka from August 23 to 25
The matches are scheduled to held on August 23, 24 and 24 in Sri Lanka

Haryana, the state which is known of gifting many sports personalities to the country has once again proved its mettle with Ravindra Pal, under whose captainship the Indian differently-abled Cricket team is to play Tri -Series in (Colombo) Sri Lanka from August 23 to 25.

Pal who belongs to the Fatehabad district of Haryana has high hopes with the Series and said, "It is a proud movement for me and for my state that I am going to represent my country in the foreign land again. It was the second such visit of the differently-abled cricketers to Sri Lanka. We first visited to Sri Lanka in the year 2014. Amazingly, the Indian team had shown their strength by winning the series with an outstanding victory in the very first visit."

"Our team has defeated Sri Lanka in various foreign tours. He said that our team has a better batsman and bowler who will easily win this series also," added Pal.
Congratulating the team, the Chairman, Indo Wheelchair Cricket Association (IWCA), Sarvesh Tiwari said "We have planned to organize another tournament, Asia Cup, at the end of the year in Mumbai. Specially-abled cricketers from almost 4 countries including India, Pakistan, Nepal and Bangladesh would participate in the week-long tournament scheduled from October 30 to November 5".

He further added the team has already participated in 25 International matches over the past one decade. And, this is the 26th International tournament for the physically challenged cricketers of India.

"The DSS has been coordinating and organizing such kind of events for the physically challenged cricket association since 2007. And, this is the first time when the team members have left for Sri Lanka", said Haroon Rashid, the General Secretary of the Disabled Sporting Society (DSS), who is also the coordinator of this T-20 cricket tournament.
"If compared the Indian team of physically handicapped would be ranked first in all respect. It has participated in almost 25 cricket tournaments organized in Pakistan, Bangladesh, Nepal, Sri Lanka, Thailand, Malaysia, Singapore and others", Rashid added.

Following are the selected players for the Series:
Ravinder Pal (Captain) Fatehabad, Haryana, Suvro Jarar (Vice Captain), West Bengal, Kailash Prasad Agra Uttar Pradesh, Mahesh Kumar Agli Hubli Karnataka, Ranjit Gurjar Karauli Rajasthan, Mukesh Kanchan Ranchi Jharkhand, Tikka Singh Channel Manasa Punjab, Guldin Ludhiana Punjab, Balraj Singh Brar Bhatinda Punjab, Suraj Kumar Mankele for Gwalior Madhya Pradesh and Shal Prakash Allahabad Uttar Pradesh, Kailash Ghanekar Mumbai Maha Nation, Ram Singh Chaudhary Jaipur Rajasthan, Durgesh Sharma Manager, Ashish Kumar Tiwari Mantar.