No Swapna this! It's REAL gold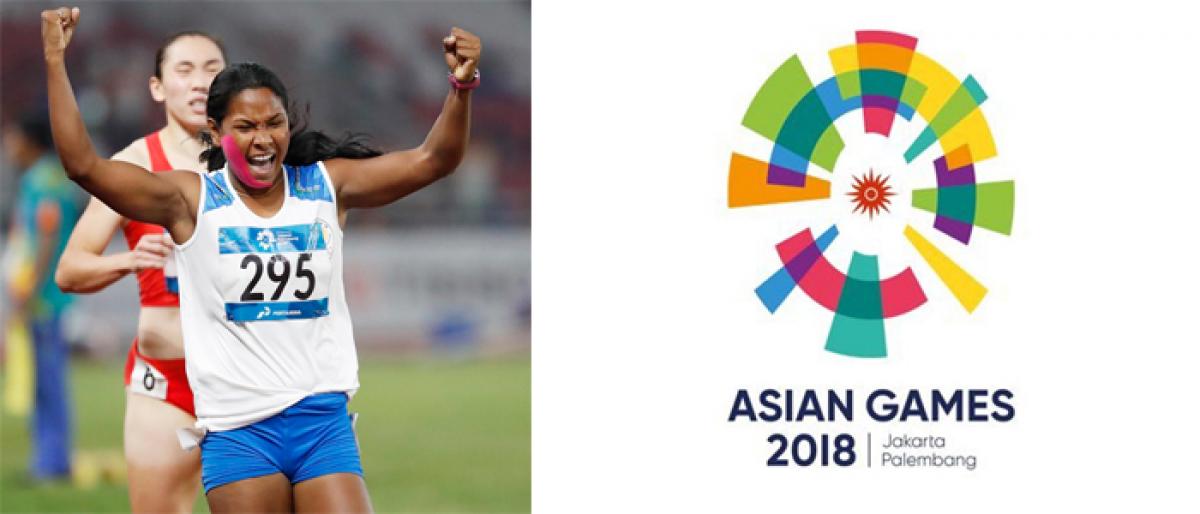 Highlights
Indian athlete Swapna Barman created history by winning gold in the womens heptathlon event at the 2018 Asian Games here on Wednesday
Jakarta: Indian athlete Swapna Barman created history by winning gold in the women's heptathlon event at the 2018 Asian Games here on Wednesday.
This is the first-ever gold for India in the event at the Asiad.
Swapna posted a score of 6026 points. Wang Qingling of China scored 5954 to take silver while Japan's Yuki Yamasaki produced her personal best of 5873 to bag the bronze medal.
The first Indian heptathlete to win an Asian Games gold, Swapna made a plea to provide her more customised shoes for her 'abnormal' feet.
Barman, who has six toes in both her feet, produced her career-best performance today by logging 6026 aggregate points from the seven events spread for two days. She competed with a tape on her right cheek to lessen pain arising out of teeth infection.
Before Barman, only Bengal's Soma Biswas and Karnataka's J J Shobha and Pramila Aiyappa had returned with a medal from the Asian Games but none of them have won a gold.
Biswas and Shobha had finished two-three at both Busan Asian Games (2002) and the Doha Games (2006), while Pramila had won a bronze at the 2010 Guangzhou edition.
Jalpaiguri town in North Bengal is ecstatic over its resident Swapna Barman, daughter of a van rickshaw puller, becoming the first Indian woman to achieve a top podium finish in the gruelling heptathlon event at the Asian Games.
After Swapna scripted history by clinching the gold at the 18th edition of the continental meet in Jakarta, people rushed outdoor, sweets were distributed, and many thronged her non-descript residence at Ghoshpara.
Mother Basana could barely speak after getting the good news.