Team Telangana creates history at National Ice Skating Championship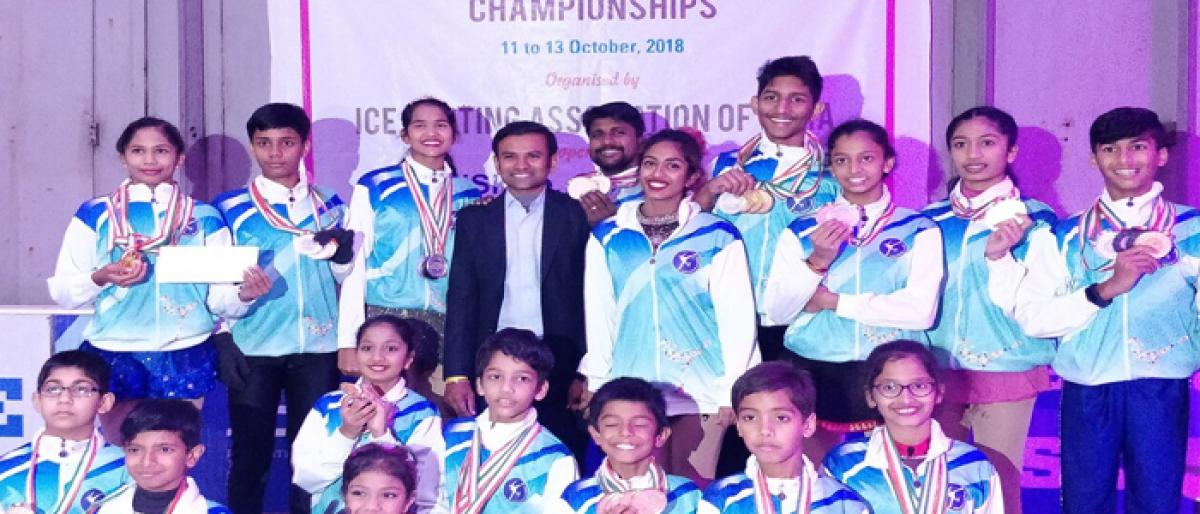 Highlights
The Telangana State creates history yet again by winning the Overall Champions Title at the recently conducted 15th national ice skating championship 2018, held at iSkate Ambience Mall, Gurugram Haryana
​Hyderabad: The Telangana State creates history yet again by winning the 'Overall Champions Title' at the recently conducted 15th national ice skating championship 2018, held at iSkate - Ambience Mall, Gurugram - Haryana. An impressive performance staged by the Team Telangana on Ice created the magic and took the audience and judges into a different world. Skaters as young as 6 years old to Senior Skaters ageing 36 years collectively put up a wonderful performance and won many medals, laurels and accolades for Telangana.
The ever beautiful and artistic sport of Ice Skating has marked some very creative performances this year at the national championship, thanks to the skaters from Telangana who have been at their creative best, thanks to their coaches who are none other than the Arjuna Awardee Anup Kumar Yama and his coaches Amar Nag Yama and Veeresh Yama who have relentlessly worked hard on raising the standard of the sport in India.
The skaters from Telangana are absolutely thrilled to take to the ice. An experience of its kind, the amazed skaters say, " Ice Skating is absolutely fantastic and this experience cannot be expressed in words. Telangana state is a warm state and there is no snow fall or ice anywhere. Experiencing Ice and feeling the slides and glides, the twists and turns, the twizzles and swizzles, the jumps and spins on it has been a lot of fun.
Ice Skating is a sport requiring the highest and fastest of the reflexes and this national championship has been a wonderful stage for us to show our skills and abilities as well as learn from our competitors. It has been a proud moment for all of us to not only win the medals and accolades but also to be appreciated for our artistic creative performances and emerging victorious over other competitors who have access to ice skating rinks all round the year. "
Arjuna Awardee Anup Kumar Yama, all happy with the team's performance says," Ice Skating is a very attractive sport. The Skaters of Telangana are highly skillful and talented. As Telangana is a warm state with no snowfall or ice, we train the skaters with a simulation method on Roller Skates, skating on concrete or stone floors and then the skaters go onto the ice directly and perform on the ice surface with blades underneath their shoes.
The biggest hindrance faced by the Telangana Skaters is that they do not have an Ice Skating Rink in Telangana and they have to compete with skaters from Jammu and Kashmir, Himachal Pradesh, Kerala, Karnataka, Delhi, Haryana, Uttar Pradesh and other states who have access to Ice Skating Rinks all over the year. Inspite of all the odds Telangana State, a state without snowfall or Ice, has topped the game of Ice Skating in India by winning the Overall Champions Title. This is really a fantabulous achievement. With an Ice Skating Rink in Telangana, we are positive of achieving Winter Olympic Medals in the near future." The 15th National Ice Skating Championship has been a successful championship for the Team Telangana and the medals won by them are as follows.