Sound of music: Representing greatly revered musical heritagec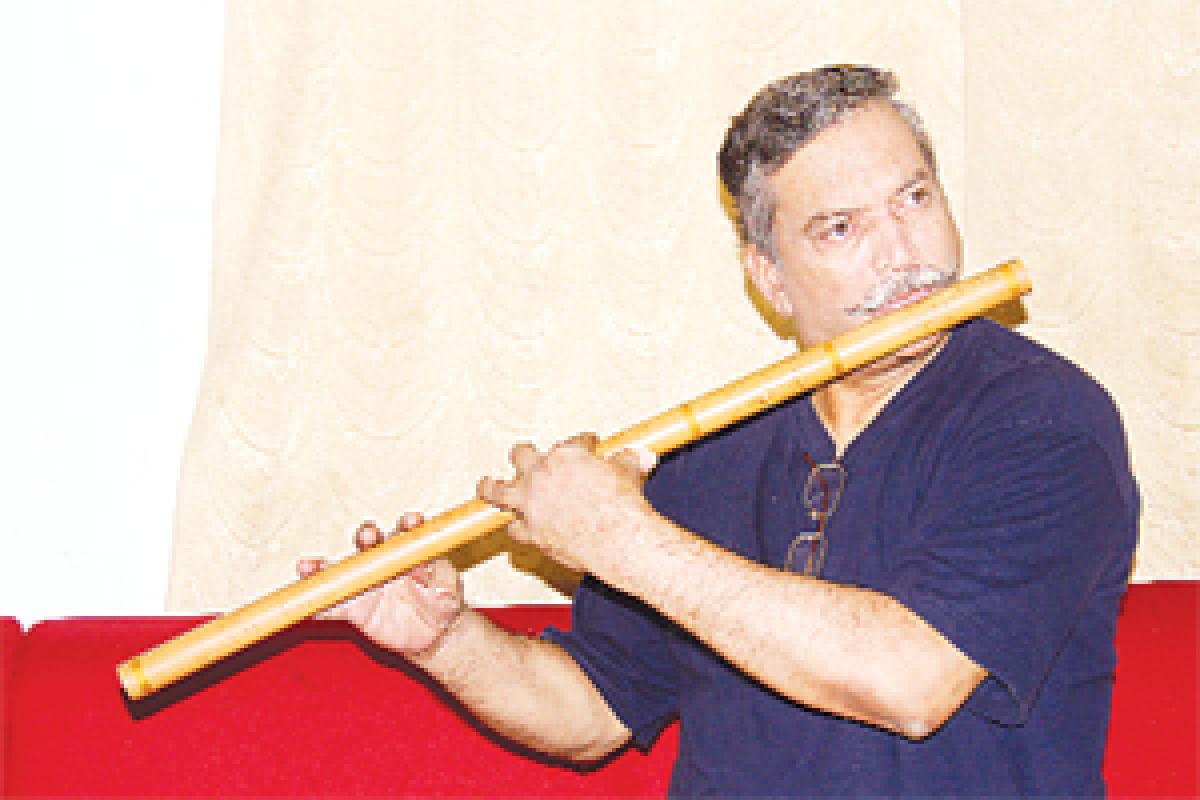 Highlights
Sound Of Music: Representing Greatly Revered Musical Heritage. Growing up, listening to warm vibrant notes, a young six-year-old one day picked up the...
Growing up, listening to warm vibrant notes, a young six-year-old one day picked up the flute that his father habitually hung on the wall of the living room and started playing. His grandfather, who was in the adjoining room heard him and thought his son had returned home early from work only to discover with astonishment his grandson flawlessly imitating his father. Noticing his son's talent Niranjan Haldipur, a senior disciple of the renowned flute maestro Pannalal Ghosh revered as the father of the Hindustani bass flute, initiated his son into this art before taking him to his own teacher. "Panna babu" as he was affectionately called, loved children and took the young boy under his wings teaching him with love and patience. Today, Pandit Nityanand Haldipur ranked among India's leading flute players with his own distinctive style represents the essence of a greatly revered heritage from Pannalal Ghosh to the highly reclusive genius, Annapoorna Devi.
In Hyderabad at the invitation of SPICMACAY (Society for the Promotion of Art and Culture Among Youth), where he performed at the all night music and dance festival, Nityanand Haldipur recalled his musical journey, the contribution of his gurus and his love for the beautiful bamboo instrument that continues to define his life. Born in a deeply spiritual family in Bombay, the soothing sounds of the flute were an early pervading influence. Love and regard for the guru was instilled in him by his teacher through the very first 'bandish' that he learnt from him.
"Guru bina kaise guna gaave,
Guru na maane tho gun nahi aave."
(How can one attempt to learn without the guru when nothing can be gleaned without his benevolence?)
Imbibing the fine nuances and techniques from his guru, he continued to learn from him even after he moved to Delhi on an assignment. The death of his guru had left a void that couldn't be filled but he resumed learning from Pandit Chidanand Nagarkar and later his uncle Pandit Devender Murdeshwar. A brief period in his youth saw him give up the flute, concentrating on sports like volley ball and football. He returned to music with great effort after he developed facial paralysis due to an accident while he was in junior college around 1968. "I picked up the flute and struggled hard to get my lips together and blow. I was like a person possessed and kept trying and trying till I got the first sound from the flute. It was a very difficult phase and I still remember the joy I felt when I first played for 40 seconds after my illness," recalls Nityanand.
After dabbling in various businesses from hair dyes to medical equipment, he met a Sufi saint Dinakar Rao from the Saraswat community. The saint urged him to take his flute playing seriously and blessed him that he would find a guru who would hone his talent. Although he had met the reclusive Annapurna Devi, doyen of the Senia-Maihar gharana and daughter of the legendary Ustad Allauddin Khan Saheb (Baba) the fountainhead of the gharana in 1974, through a friend it was only in 1986, that his persistence paid off and she accepted him as her disciple.
"I call the fourteen year period between my first meeting and final acceptance as her student as Vanvaas (banishment to the forest)," he chuckles.
The illustrious daughter of Ustad Allaudin Khan, Annapoorna Devi was a surbahar player par excellence and the first wife of late Pandit Ravi Shankar. She apparently drew more applause at performances where she and Pandit Ravi Shankar played together and took a vow never to play in public in order to save her marriage. She kept her vow although her marriage could not be saved and became a recluse after the death of her only son. The lady hasn't moved out of her apartment in Mumbai for close to four decades and there are very few people who have been able to reach out to her. Joining her group of privileged students like Aashish Khan, Kokila Rai, Pandit Nikhil Banerjee and Hariprasad Chaurasia and others Nityanand says being with her added depth, maturity and a subtle quality that has given a new dimension to his understanding of music.
"I was dumb stuck the first time I heard raag Yaman from her. It was a divine experience that words cannot describe. I realised then how little I knew of this raag, which was close to my heart," says Nityanand.
The polished tonal grace, lucid expressions that tug at the heart, elegance in rhythm and style and the beautiful calm that marks each of his performances are but a reflection of her grace according to him. Experience the divine and play not for the public but for the one within everyone, was the advice given by Annapoorna Devi who never carried any bitterness despite giving up public performances. Her words have been a strong influence on him and he closes his eyes and experiences the music from the depths of his soul unmindful about eye contact or interaction with the audience during all his concerts. While applause is always heartening , being a "Stithapragnya" (unaffected by pleasure or pain) has helped him immensely.
"I am not affected when I see people talking or walking out mid-way through the concert now because I am totally absorbed by and immersed in my music," says the top grade artist of the All India Radio, who served as its staffer for 22 years. Having performed at several venues in India and abroad, Nityanand has received critical acclaim for his eclectic performances imbued with a fascinating variety of rhythmic patterns and a rich repertoire of ragas that cover a wide canvas. Although he regards each of his concerts as memorable, however, the standing ovation that he received at the 'Festival of India' in France in 2004 is a cherished experience for him.
Recipient of several honours including the famed Sangeet Natak Akademi award for his contribution to Indian classical music, he believes that innovation within the basic framework of music is welcome. The quiet, soft spoken musician is however saddened by the fact that there is more emphasis on the artiste than on the art in the current scenario. He shares his knowledge with his students whom he teaches without any fee. Nityanand feels he is an eternal learner who needs to practise a lot more...as there is much to learn from the ocean of music.
A striking aspect to me apart from the beautiful music emanating from his flute is the care and concern that he shows towards his 90-year-old Guru Annapoorna Devi who is afflicted with Parkinson's disease. Taking care of her treatment and upkeep is a responsibility that he shoulders with pride and a deep sense of gratitude.
"As I learnt so much from her, this is the least I can do for one of the greatest musician of our times," he says. The flutist who closes his eyes in prayer as if in obeisance to God as he plays reflects the beauty, grace and strength of the guru- shishya parampara that embellishes Indian classical music.
Aruna Ravikumar
Subscribed Failed...
Subscribed Successfully...