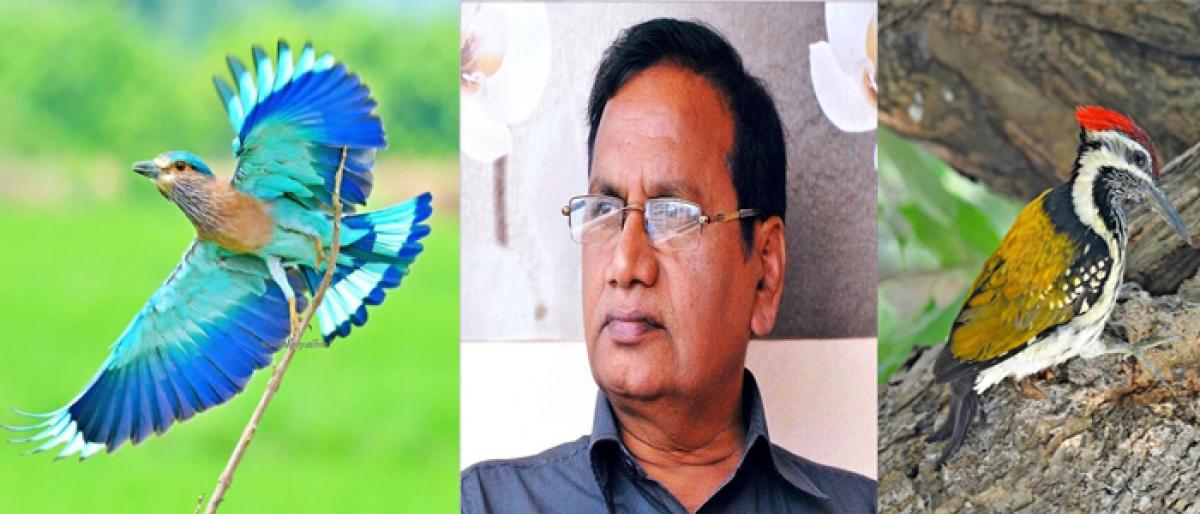 Highlights
In a quiet corner of a suburban area of Hyderabad sits a photographer shooting birds on the trees around his house and notching up millions of views and many appreciative remarks
In a quiet corner of a suburban area of Hyderabad sits a photographer shooting birds on the trees around his house and notching up millions of views and many appreciative remarks.
Yes, photographer V Venugopala Rao has recently achieved 7.2 million views of his Flickr page which contains his photos! His Facebook posts about photography and other issues are so widely liked that the founder of Facebook Mark Zuckerberg even sent him a message of appreciation.
Venugopala's interest in photography began in 1974 when he was posted in Balasore, Orissa and fascinated by the monuments around, he began clicking pictures of the same.
"My first forays in photography were at temples and with an analogue i.e. reel camera. I visited and took photos of the Lingaraja temple in Bhubaneswar, Sun Temple at Konark and the Jagannath Temple, Puri.
Around 1975, I shot pictures of Vizianagaram and its surroundings including the fort and also Arasavalli Suryanarayana temple, all in Andhra Pradesh. Later, after switching to digital cameras in 2008, I first shot images of Mumbai."
He began shooting regularly wherever he found opportunities and whenever he found time off from his official duties. He worked as a testing officer at DOT and BSNL before retiring four years ago.
Incidentally, he is popularly known as Venugopala BSNL. Ever since then, the 65-year-old has been shooting more regularly.
He also conducts photo walks, all free of cost, for groups of budding photographers and enthusiasts. Moreover, anyone who wants to learn photography is welcome to train under him, also free of charge.
Engineers especially software engineers, doctors, teachers and people from different fields who are photography enthusiasts have come to his home and benefitted from his lessons.
In the beginning, it was always all about monuments and temples, he explains. It was only later that he began specialising in birds. He reveals: "I was especially fond of ruins.
However, all this changed after I met photographer KVJR Koteswara Rao, whom I regard as my guru in photography. He told me that monuments will exist for centuries. It is the beauties of nature and especially bird life that is gradually disappearing and that is what should be documented for future generations.
So, I turned my attention towards birds." Venugopala adds that he has another photography guru in well-known bird photographer Dr Jagan Pannala. All three of them are members of a well-known group of photographers called Telangana Photographic Society (TPS, formerly APPS) where they often share their photographs and offer tips to fellow members.
Venugopala adds, with a laugh: "Thanks to Jagan and Koteswar, I have now become a bird photography addict! My bird pictures will probably become more precious in the decades to come when we will see less and less of these feathered friends thanks to urbanisation."
Around his retirement time, Venugopala developed a back problem and was advised to lead a sedentary life. "So, I began shooting photos of birds who frequented the trees especially the peepul trees in the area around my home in Serilingampally. This was once a forest-like area which is now losing its greenery and gradually becoming a concrete jungle."
Since he was not allowed to go out of the home on doctor's orders, he began placing a chair in the balcony and photographing birds.
"Sometimes I shoot from my bedroom window too."
In this way, over the past few years, he has shot thousands of pictures which have garnered much appreciation. He has also been jokingly nicknamed 'Balcony Birder' by his friends for his ability to sit in the balcony and shoot so many varieties of birds which are so widely admired.
He has a rare picture of an Indian Roller known in Telugu as Palapitta, which is the State bird of Telangana. "I am happy to gift it with all rights and free of cost to the Telangana government for their official use. I hope they will accept my offer."
Today, the bookworm and music lover, spends his time reading, shooting pictures for himself and teaching others as well as helping out at a charitable institution he is involved with. He is becoming a role model for many senior citizens by demonstrating through example how it is possible to have a happy and productive life even after retirement and mobility problems.
Subscribed Failed...
Subscribed Successfully...