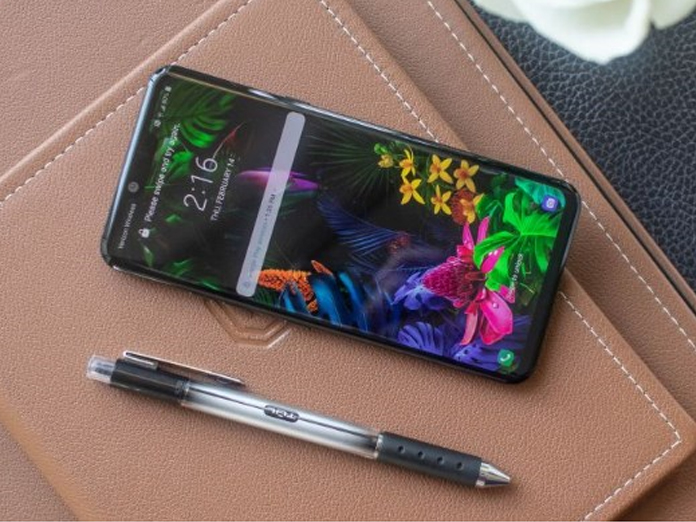 Highlights
Theres a good phone the LG G8 beneath my waving palm Its a new silly trick, a new method to unlock the smartphone that diverts from LGs potential greatness
HIGHLIGHTS
The LG G8 has Hand ID to unlock the phone and mid-air gestures to control volume like things
LG G8 hole-less speaker gets rid of the top speaker grill with new vibrating sound
Video portrait mode makes its debut with LG G8
There's a good phone the LG G8 beneath my waving palm. It's a new silly trick, a new method to unlock the smartphone – that diverts from LG's potential greatness.
Its main feature is to unlock the phone by reading the blood in your palm's veins, to control music it triggers gestures, answer calls, wave off alarms, all everything without touching the screen.
A futuristic way to authenticate and control your phone is to set up 'Hand ID' on the LG G8.
But it shouldn't distract your attention from another revolutionary technology inside LG's flagship Android phone of this year, similar to video portrait mode and a vibrating Crystal Sound OLED for a hole-less display.
The real innovation is LG G8 has no top speaker hole, and its vibration gives a wider source of audio via a seamless screen. It's a novel idea found in LG's high-end OLED TVs and tech that the nearly-bezel-less Samsung Galaxy S10 doesn't have, but needs.
Configuration
LG is also first to video portrait mode, having the Snapdragon 855 chipset. It clicks what you like about portrait mode for photos and applies the same background blurring effect for less distracting video.
The configuration of the LG G8 is 128GB of internal storage with 6GB of RAM, expandable memory with a microSD card slot. That is higher than 64GB of storage in the LG G7. If you're an audiophile the 32-bit Hi-Fi Quad DAC also makes it a good value. The only real major difference is its RAM is shy of Samsung's 8GB in the base S10 model.
Battery
The 3,500mAh battery and QuickCharge 3.0, looks to be longer-lasting and faster-charging than the battery in the S10.
The LG G8 doesn't change phones. It doesn't get folded, it doesn't have a fancy punch-hole camera to extend the display from top to bottom, and there is no in-screen fingerprint sensor. What it has are new audio and camera tricks, and a 'Hand ID' feature you should probably ignore.
Display and design
The LG G8 has a 6.1-inch OLED display with a notch, similar to the size and top cut out of the G7, but not the display type. The phone that was launched last year had an LCD screen touting Super Bright mode.
What's impressive is LG's Crystal Sound OLED technology. It eliminates the top speaker in favour of emitting sound through the same micro-vibrations found on LG's high-end OLED TVs.
Its vibrations weren't big enough to feel distracting, but enough to produce clear sound from a distance. At the top, there's a sweet spot where you can hear a caller best.
Crystal Sound OLED is much more than just interesting tech. It offers a solution that could drive us to a 100% screen-to-body ratio one day, without relying on a poised-to-break pop-up selfie camera. We guess this idea will be used again by LG, and even others may copy.
LG says its phone is more waterproof. We're familiar with waterproof phones where water becomes lodged in speakers and then calls sound muted till everything is dry. This will not be an issue with this holeless vibrating speaker.
Colours
LG G8 will be available in three colours: Carmine Red, New Aurora Black, and New Platinum Gray, and includes a 3.5mm headphone jack.
Hand ID
The LG G8 is promoting new unlocking and gesture controls with its Time of Flight Z-axis camera. It was a bit tough to get the phone to unlock with the new technology of Hand ID.
LG calls it Hand ID, works by shining an invisible IR laser at your open palm to read the blood pattern in your veins. You need to hold your palm six to eight inches away from this device of a front-facing camera and slowly move your hand backwards.
It can be a helpful way to unlock the LG G8 when it's placed on a table and the fingerprint sensor on the back is inaccessible. But it was difficult on the first attempt. The whole idea looked to be more disturbing than picking up your phone.
LG said we could not register more than one hand. So you need to decide on your favourite hand.
LG's Hand ID and Samsung's in-screen fingerprint sensor seem like technology ripped from the future. But in 2019, they also make us miss more reliable front-facing sensors a lot.
LG G8 ThinQ price and release date
The LG G8 price hasn't been disclosed yet. It's not a too long time but phones have got more expensive from that time and LG flaunts a lot of new tech in its handset. For sure, it won't be low-priced.
It'll be less expensive and come later out than the simultaneously announced LG V50, which resembles the LG V40 on 5G steroids. But don't know when exactly either phone will release. LG prefers to launch in South Korea first, so guess other countries to get it by April.