Drought and despair loom over Palamuru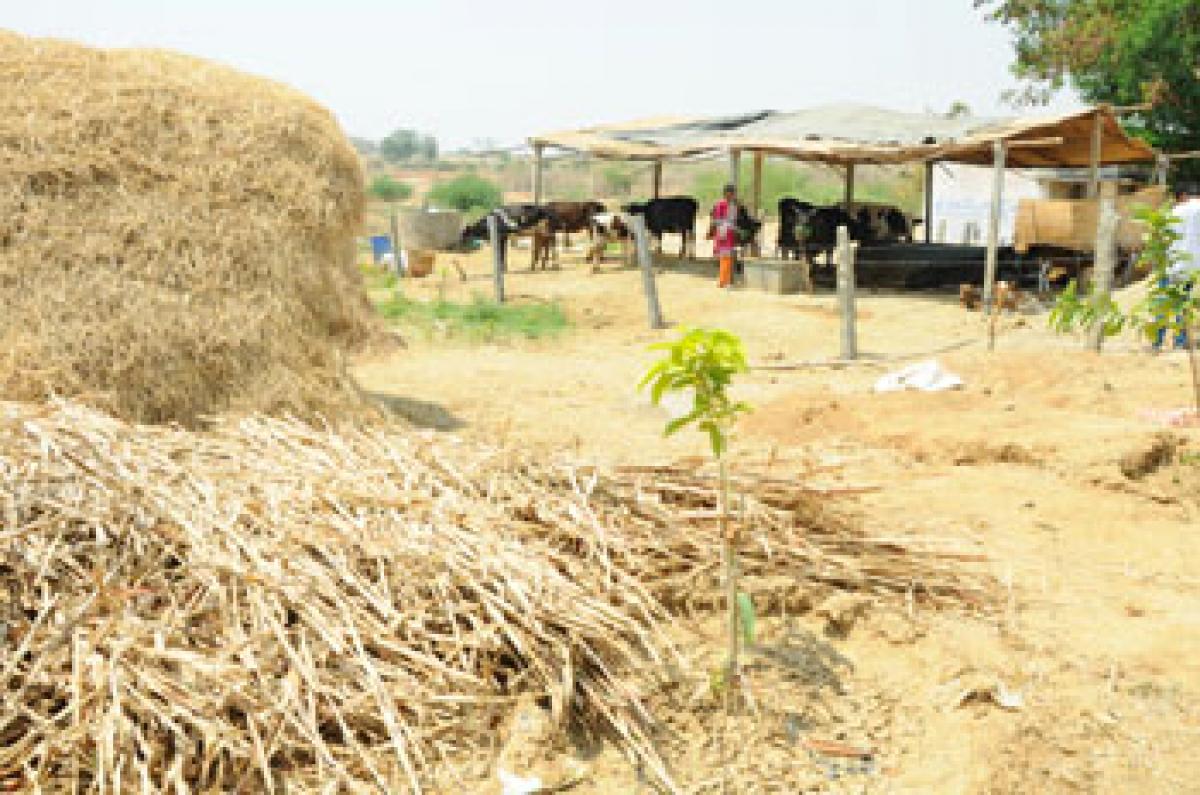 Highlights
Bandari Yadaiah, a marginal farmer in the village, told The Hans India, "Yield of cotton fell to 1.5 quintals per acre against a normal yield of 10 to 15 quintals. We lost the maize crop totally.
Distress signals
Even as the Telangana state legislature witnesses a political slugfest between the Treasury and Opposition benches over the prevailing aggravating conditions of drought, its manifestations like acute scarcity of water and fodder, distressed sale of cattle, migration of people, falling incomes, depressed employment, parched lands, vanishing crops etc, loom over the rural landscape of Mahbubnagar, the district known for perennial drought and migration.
But, B Venkat Reddy, Sarpanch of Mannanur village in Midjil Mandal says, "We have not seen such an acute drought during our times. The villagers are really scared of approaching summer. The Met data predict scorching heat this season." The severe shortfall in rainfall has resulted in huge crop losses. The yields have substantially come down seriously undermining the income security of the rural folk, he added.
Bandari Yadaiah, a marginal farmer in the village, told The Hans India, "Yield of cotton fell to 1.5 quintals per acre against a normal yield of 10 to 15 quintals. We lost the maize crop totally. " The drought induced agrarian distress is driving the poor peasantry to the brink of ruin. With a hope for relief clearly seen in her eyes, Laxmamma, a middle aged woman who lost her husband a fortnight ago, narrated her heart-rendering story.
Her husband Ippali Balaiah (45), who owns four acres of land, committed suicide by consuming pesticide. "My husband committed suicide as he could not find a way out of mounting debts due to consecutive crop failures. My daughter is deaf and dumb. The adverse season has made our lives more pathetic. Both God and the nature are cruel to us," said Laxmamma full of desperation.
Her 12-year-old son studying eighth class dropped out of the local government school after the death of his father to join his elder brother to work as mechanic in Hyderabad. The plight of farm animals is much more pitiable. The Mannanur village has about 3000 cattle to support the farm income. "About 70 percent of the cattle are already sold out for slaughter houses due to non availability of fodder and water.
More would also follow in another 15 days as things turn worse", said, Kuchakanti Balachandra Reddy. When we visited the village, an auto was kept ready to transport cattle to the slaughter house. "This is the daily scenario in the village. We could not feed us. How could we feed them." said Devathala Anjaneyulu a tenant farmer. To save the cattle, in fact, the government supplied fodder seed.
But of no avail due to acute dry weather, remarked, C Mallikarjuna Reddy, a big farmer. Villagers took up dairy to supplement incomes. But, the drought conditions have shattered their hopes, added Sarpanch Venkat Reddy. The village has 300 agricultural borewells. But all except 50 are now functioning that too with reduced capacity.
The nature alone is not responsible for this. "Indiscriminate sand mining in the nearby rivulet Dundubee vagu resulted in drying up of these borewells compounding the plight of the villagers who are now waiting for even drinking water. The government has spent Rs 20 lakh on revitalising the village tank under mission Kakatiya.
But, it would be useful only if there are good rains." said a local TRS ward member Mugi Jagadish Goud. "If the sand mining was stopped at least 150 out of 300 borewells would have been in operation despite severe drought", observed Balachandra Reddy.
The farmers are unanimous in urging for comprehensive drought mitigation measures like steps to recharge ground water table, providing fodder for the cattle, drinking water for people and the cattle, more nonfarm employment activity under rural jobs scheme as immediate measures. The chronic drought can only be addressed by bringing surface waters to the agricultural fields.