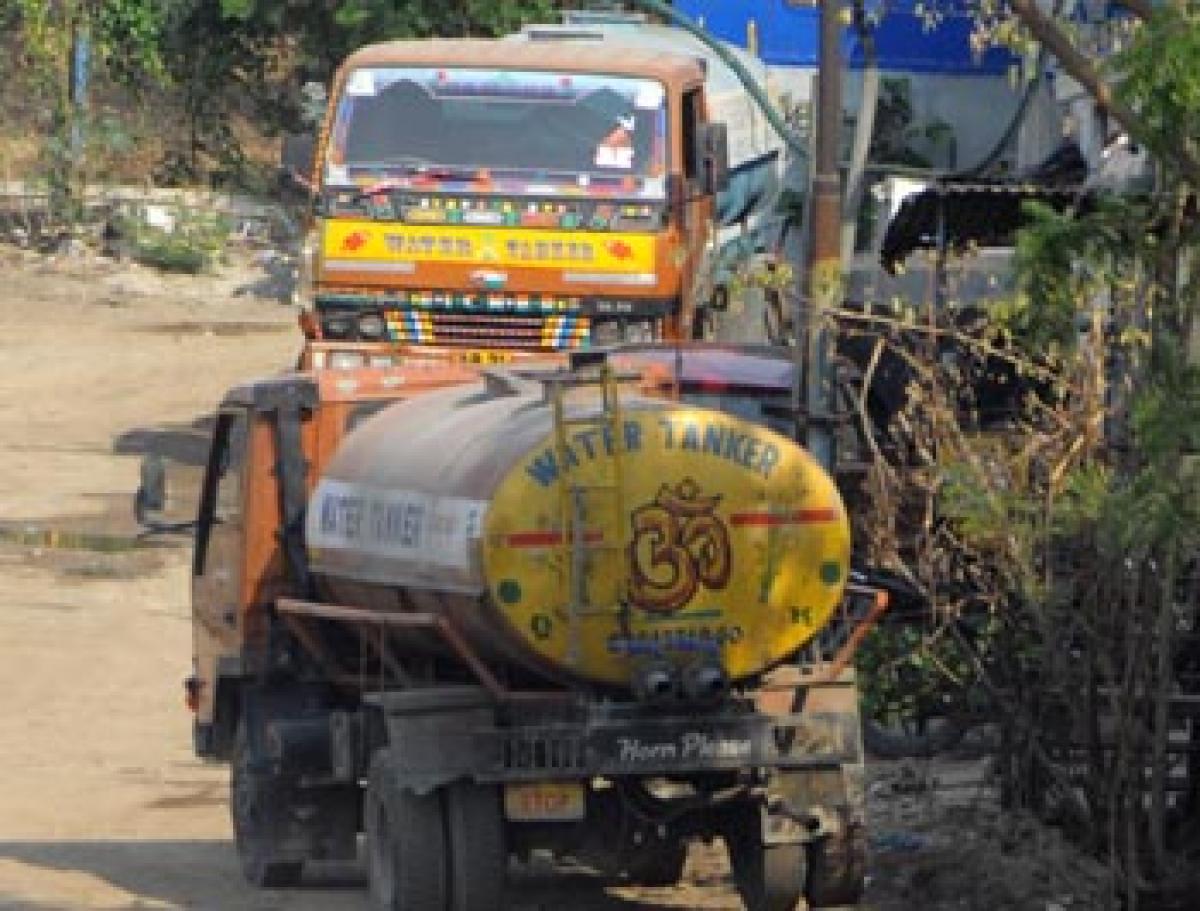 Highlights
Massive operations of illegal drawal and sale of water by water mafia right under the nose of the state administration have come to light. 
Illegal drawal & sale worries citizens but not this govt
Hyderabad: Massive operations of illegal drawal and sale of water by water mafia right under the nose of the state administration have come to light. Taking advantage of water shortage in the city, several illegal water suppliers are raking in moolahs to the extent of Rs 2000 per tanker to supply water to hospitals, residential apartments and hotels. The water is mostly highly contaminated.
The mafia is not leaving any source untapped. Their operations extend to Husain Sagar as well as to government bore wells. This is not only resulting in posing danger to citizens' health but also resulting in drying up water resources defeating the efforts of the government to conserve groundwater.
What is interesting is that though such illegal activities are going on at stone's throw distance from the GHMC headquarters and the water mafia has been violating Water, Land and Trees Act -2002 (WALTA Act), the authorities have not taken any action. The water mafia is selling as much as 10,000 kilolitres of water every day to hotels, residential apartments and hospitals in the vicinity.
From Amberpet to Chaderghat stretch, these private persons have dug up as many as 14 bore wells on the banks of the Musi River and are supplying this untreated water for commercial and domestic purposes. There are as many as 35 bore wells in catchment areas of the Neknampur Lake in Rajender Nagar and as a result water sources in adjoining areas like Vanmor Nagar have dried up. About 15 bore wells were dug in Sunnam Cheruvu by the water selling mafia. Similarly, there are six bore wells in Banda Cheruvu in Malkajgiri.
In Neknampur, E Vithal who has been fighting against the illegal bore wells, said that he had complained to the Ranga Reddy District Collector and local MRO but perhaps due to political pressure no action was being taken against them. A local political leader in Bholakpur division has in fact converted a community hall into a filling centre and sale point for water cans for Rs 30 per each from a government bore well.
In Musheerabad, where the community hall has been converted into illegal water plant, M Dasarath a local resident said that one Venkat Reddy was running the business and was using community bore well for commercial purpose. He said they had lodged several complaints with officials but there has been no action. Residents claim that despite several complaints, the revenue officials concerned did not take any action against the illegal activities.
When contacted, Golconda mandal revenue officer Vamsi Mohan said that in March this year he had written a letter to the Hyderabad Metropolitan Water Supply and Sewerage Board and GHMC officials to come for a co-ordination meeting to curb the water mafia and initiate action against them.
But none of them have responded till date, the revenue official lamented. Commenting on the issue, Communist Party of India (Marxist) city secretary M Srinivas pleaded with the government to initiate action against the water mafia and protect citizens from consuming highly contaminated water.