Animal Husbandry in Bangaru Telangana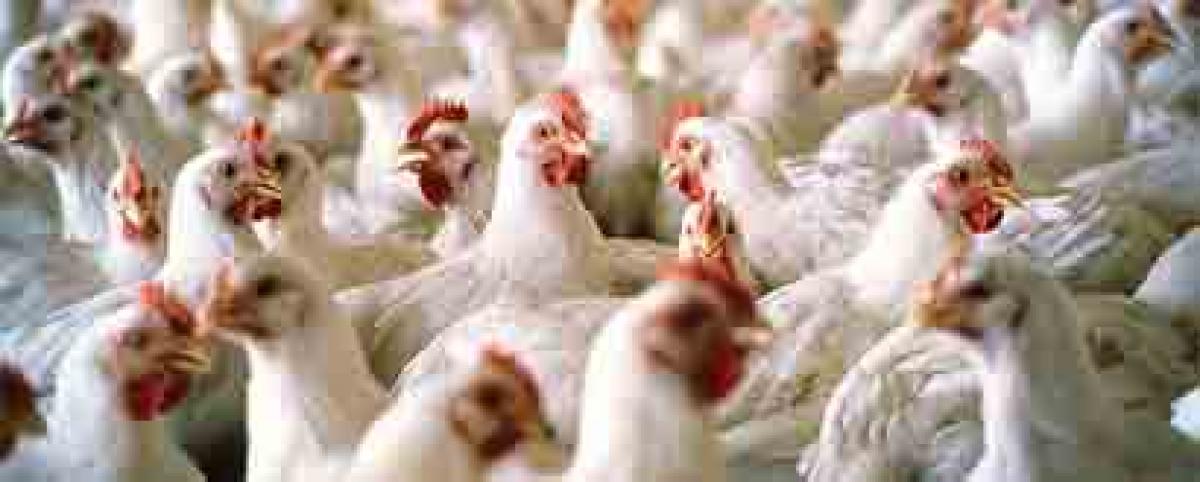 Highlights
Animal Husbandry provides an additional income and employment to the farmers, especially in times of drought. This sector provides direct livelihood opportunities to about 29 lakh families in Telangana.
Animal Husbandry provides an additional income and employment to the farmers, especially in times of drought. This sector provides direct livelihood opportunities to about 29 lakh families in Telangana. The value of livestock produce is estimated to be Rs.25293 crore at constant prices and the livestock sector contribute is likely to be 5.9% to GVA in 2015-16.
Telangana is blessed with rich livestock resources, especially cattle and sheep population accounting for 5.52% of Country's population. As per the Livestock Census, 2012, Telangana stands 10th in livestock population, 2nd in sheep population, 13th in goat population, 4th in poultry, 13th in bovine population and 15th in pig population. The State produced 505 lakh MTs of meat, 1061 crore of eggs and 4207 lakh MTs of milk in 2014-15. Production of milk, eggs, meat during 2012-13 to 2015-16 (November) is given in Table below.
Table: Production of Milk, Eggs, Meat in Telangana
| | | | | | |
| --- | --- | --- | --- | --- | --- |
| Item | Unit | 2012-13 | 2013-14 | 2014-15 | 2015-16 (Up to Nov-2015)* |
| Milk | 000' MTs | 3951 | 3924 | 4207 | 2056 |
| Eggs | Crore. Nos. | 942 | 1006 | 1061 | 560 |
| Meat | 000' MTs | 429 | 446 | 505 | 264 |
Major Schemes for Development of Animal Husbandry
(i) Cash Incentive to Dairy Farmers: Milch animal rearing is an important economic activity for about 22 lakh among small and marginal farmers in Telangana providing sustainable income especially in lean seasons. Due to increase in the cost of feed ingredients, reduced fodder sources, increase in labour cost etc., there is a high fluctuation in milk rate, making it an un-profitable economic activity.
Further, increase in the gap between demand and supply of milk, has become a chance to middle men involved in milk marketing to adopt malpractices such as adulteration of milk and also production of synthetic milk which are unsafe to human consumption.
With a view to encourage the farmers to produce more milk, the Government of Telangana has been providing a cash incentive of Rs.4 per liter of milk to dairy farmers supplying milk to the State Dairy Federation from 1.11.2014. All the milk producers who are supplying milk to the State Dairy Federation through village Milk Producers Co-operative societies (MPCS), Milk Producers Association Centres (MPAC) and Village Dairy Development committees (VDDC) are eligible for under the Scheme.
As a result, milk procurement by the Vijaya Diary increased from 1.18 lakh liters per day (before announcement of the Scheme) to 5.58 Lakh liters per day during the year 2015-16 (see figure below for details).
Note: 2015-16 figures are upto Jan-2016.
Table below shows month wise milk procurement, amount spent towards cash incentive and number of farmers benefited with implementation of cash incentive scheme. In 2015-16 (up to end January, 2016) about 1,121.4 lakh litres milk is procured from farmers providing an incentive of Rs. 44.9 crore. It has benefited about 86,515 farmers in January, 2016 alone.
Table: Procurement of milk under 'Cash Incentive to Dairy farmers Scheme' in 2015-16
Month

Quantity of Milk Procured (in Lakh Litres)

Amount Paid to dairy farmers towards cash incentive (In Rs. Crore)

Number of dairy farmers benefited

Apr-15

68.2

2.7

52,878

May-15

77.6

3.1

53,413

Jun-15

83.7

3.3

57,454

Jul-15

89.1

3.6

57,462

Aug., 2015

95.9

3.8

61,608

Sep., 2015

125.8

5.0

73,649

Oct., 2015

159.0

6.4

80,842

Nov., 2015

147.4

5.9

83,233

Dec., 2015

136.5

5.5

87,752

Jan.,2016

138.1

5.5

86,515

Total

(from April, 2015

to Jan, 2016)

1,121.4

44.9

-
(ii) Power subsidy to Poultry Industry: Telangana State is the leading State in Poultry industry in the country. The State produces over 3.5 crore eggs per day (i.e. 25% of country's production) and l/10th of countries broiler meat production. Keeping in view the crisis faced by the poultry sector, due to the abnormal increase in feed prices and steep fall in egg and broiler prices, Government is providing power subsidy to the poultry sector (layer farms, broiler farms, breeder farms, hatcheries, feed mills & egg powder plants) at Rs.2 per unit from 01.12.2014.
(iii) Animal Health Activities: The department has taken up strengthening of existing institutions to improve quality of Animal Health Services by providing facilities for surgery, disease investigation and treatment. Polyclinics were established at district headquarters to address this issue. Every Mandal has been provided with a veterinary graduate to effectively render Animal Health Services, support production program and for prevention and control of livestock diseases.
(iv) Feed and Fodder Development: High yielding and nutritious fodder is essential for scien¬tific and economic management of livestock, particularly for cross breeds. It is aimed to popularize and propagate ,the high yielding fodder crops among the farmers on available arable and non-arable land, as scientific feeding of livestock is essential for increased productivity of milk and mutton. To intensify this activity, improved varieties of fodder seeds have been supplied to farmers with most encouraging results. 1482 MTs of fodder seed has been supplied during the year 2015 and 74100 acres of land is brought under fodder cultivation with the expected production of 2.99 Lakh MTs of superior quality dry fodder.
(v) Mass Sheep and Goat Deworming Programme:
Sheep and Goat population in Telangana districts is about 175.50 lakh sheep and goat population and over 2.50 lakh families are benefited by rearing of sheep and goat. Extensive sheep and goat management is practised in the state. Trans-nomadic life style is being adopted by the shepherd community. Due to depleting feeding resources, sheep flock migrate from one place to another place in search of green fodder. Due to grazing habit on ground, parasitic worm load is one of the common problems in Sheep management leading to poor growth and production loss.
Worms generally lay eggs on grass blades and shrubs and are easily consumed by the Sheep during grazing. Such parasites are also responsible for transmission of diseases among the Sheep population leading to heavy mortality. Worm load is also responsible for lamb mortality at early age leading to heavy loss to Shepherd community. Three rounds of Mass Sheep and Goat Deworming Programmes are being planned for the year 2015-16 at free of cost covering entire sheep and goat population in the State in a campaign mode.
G.Rajendera Kumar