KCR sensed anti-incumbency wave: N Uttam Kumar Reddy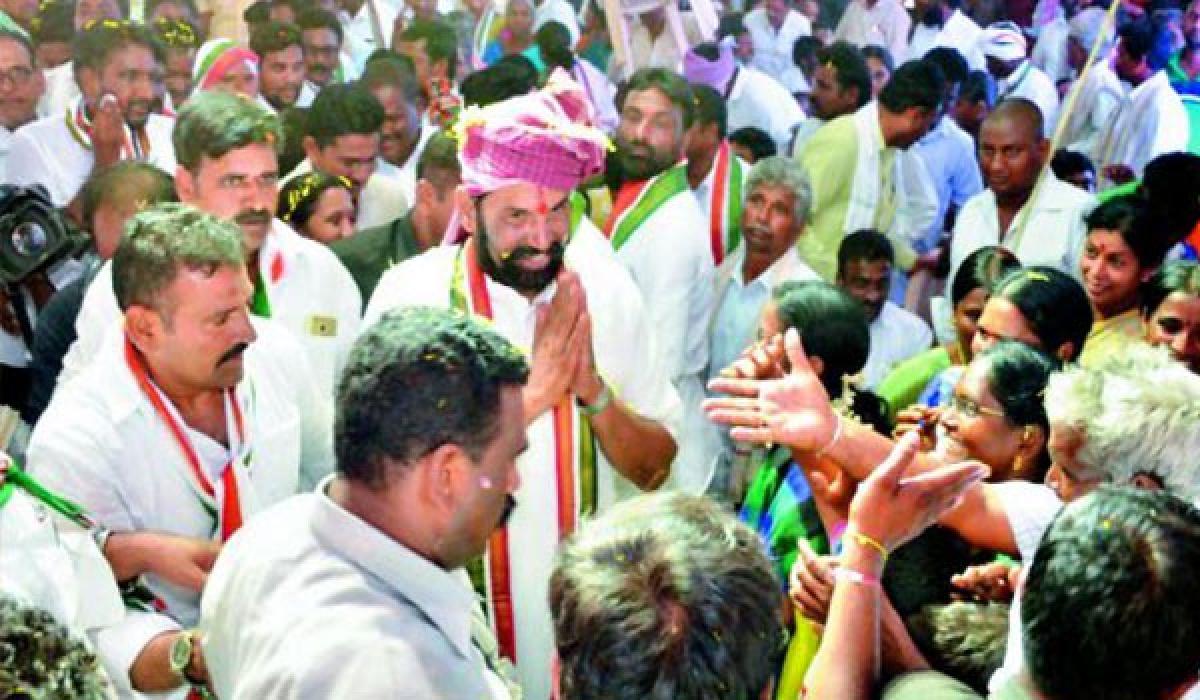 Highlights
Launching caustic remarks at Chief Minister K Chandrashekar Rao and his party, TRS, the Telangana Pradesh Congress Committee (TPCC) president N Uttam Kumar Reddy stated that Warangal meeting clearly indicated that KCR has sensed rising anti-incumbency wave against his government
TPCC chief demands payment of fertilisers subsidy from this Kharif itself
Mattampalli (Huzurnagar): Launching caustic remarks at Chief Minister K Chandrashekar Rao and his party, TRS, the Telangana Pradesh Congress Committee (TPCC) president N Uttam Kumar Reddy stated that Warangal meeting clearly indicated that KCR has sensed rising anti-incumbency wave against his government.
"With three years of dismal performance and a huge burden of unfilled promises, KCR is presently living in fear. He must have sensed the rising dissent among public against his government. Therefore, he now wants to dilute the anti-incumbency factor by making another round of false promises at Warangal meeting," Uttam said, while addressing a meeting organised by farmers of Mattampalli mandal on successful completion of several developmental schemes, including lift irrigation projects. The TPCC chief said the fanfare with which TRS organised the Warangal meet clearly indicates that KCR wants to regain touch with people, which got lost due to his hollow promises.
ers lost four consecutive crops and failed to get better prices for their produce during this Rabi season. Over 3,000 farmers committed suicide during TRS regime and not a single family got the compensation of Rs 6 lakh under GO 421. Shockingly, no TRS leader visited the family of distressed farmers, who committed suicides. Having caused all the damage during the last three years, KCR is now talking about empowering farmers," he said.
The TPCC Chief said the Chief Minister's announcement of fertiliser subsidy was just an election gimmick. He said if KCR was really serious, then he should pay the fertilizer subsidy from the Kharif season beginning next month. He announced that the Congress party would launch an agitation seeking immediate implementation of the promise. Uttam further condemned the Chief Minister for not clearing the crop loan waiver dues in one take and said that the instalment-based waiver did not help the farmers.
Taking a jibe at 'Gulabi Coolie', the fund raising drive of TRS, Uttam said when Minister KTR could raise Rs 7 lakh by selling ice-creams, he should have sold chilli, turmeric and onion to help the farmers, who are in distress for not getting remunerative prices for their produce. He described the TRS celebrations as "shameless" and said the ruling party has no concern for the farmers. Stating that KCR had prevented from addressing the centenary celebrations of Osmania University to avoid heckling, Uttam said KCR cheated students and youth, who played a pivotal role in State's formation.
"KCR has nothing to say as he had failed to provide jobs and also damaged the entire education system," he said, adding that as against the promise of giving one job to a member of each household, the Chief Minister had failed to provide a job for even one member of a village. Exuding confidence that his party would return to power in 2019 elections, the TPCC Chief announced that if voted to power, Congress would waive off crop loans up to Rs 2 lakh in a single take.
He also announced payment of bonus in addition to MSP for all crops. He said the Congress would create lakhs of jobs and all unemployed youth would be paid a monthly stipend until they get a job. He also said all Indiramma houses would be upgraded into double room houses and also waiver of loans for more than six lakh women Self Help Groups.
Interested in blogging for thehansindia.com? We will be happy to have you on board as a blogger.