Mogullapalle receives highest rainfall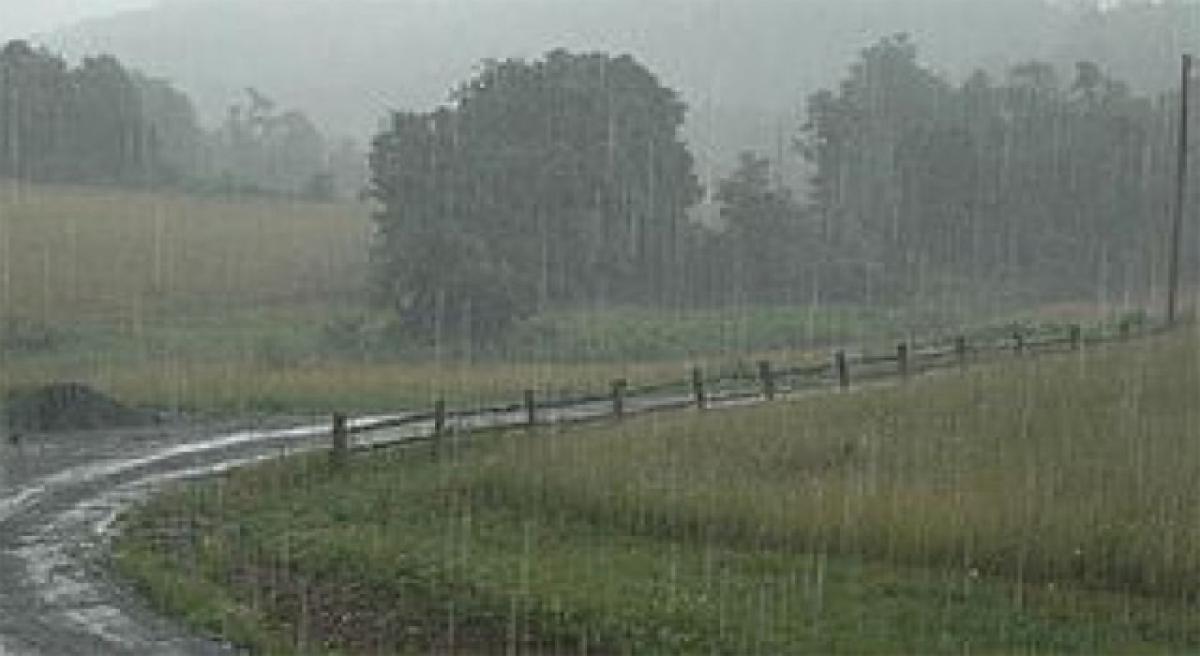 Highlights
As the southwest monsoon continues to be active in Telangana State, heavy rain occurred at isolated places in Jayashankar Bhupalpally district on Monday, with Mogullapalle recording 10 cm of rainfallThe Met department bulletin said rain occurred at most places across the State
Bhupalpally: As the southwest monsoon continues to be active in Telangana State, heavy rain occurred at isolated places in Jayashankar Bhupalpally district on Monday, with Mogullapalle recording 10 cm of rainfall. The Met department bulletin said rain occurred at most places across the State.
The chief amounts of rainfall (in cm) were: Sirpur (Komaram Bheem district), Tekulapalle (Kothagudem), Bhupalpally six each, Yellandu (Kothagudem), Sultanabad (Peddapalle), Nallabelly (Warangal Rural), Kothagudem, Perur (Bhupalpally), Shayampet (Warangal Rural), Chandrugonda (Kothagudem), Venkatapur, Mulug (both in Bhupalpally), and Ramagundam (Peddapalle) five each.
There was 4 cm rain each in Jagtial, Dichpalle (Nizamabad), Mancherial, Asifabad (Komaram Bheem), Parkal (Warangal Rural), Burgampadu (Kothagudem), Luxettipet (Mancherial), Khanapur (Nirmal), Yedapalle (Nizamabad), Julapalle (Peddapalle), and Nizamabad.
Three cm each was recorded in Chinthakam (Khammam), Utnur (Adilabad), Julurpad (Kothagudem) , Kaleswaram (Bhupalpally), Bhadrachalam (Kothagudem), Makloor, Navipet, Bodhan (all in Nizamabad), Atmakur (Warangal Rural), Mallial (Jagtial), Thimmapur (Karimnagar), Adilabad, Boath (Adilabad), Chennur (Mancherial), Dummugudem (Kothagudem), Karimnagar, Manthani (Peddapalle), Dharmapuri (Jagtial), Nandipet (Nizamabad), Huzurabad (Karimnagar), Aswapuram (Kothagudem), Konijerla (Khammam), Mudhole (Nirmal), and Govindaraopet (Bhupalpally).
Two cm each of rain occurred in Pegadapalle (Jagtial), Hasanparthy (Warangal Urban), Gudur (Mahabubabad), Sarangapur (Jagtial), Enkuru (Khammam), Narsampet (Warangal Rural), Ibrahimpatnam (Ranga Reddy), Metpalle (Jagtial), Jakranpalle, Varni, Bheemgal (all in Nizamabad), Khanapur (Warangal Rural), Machareddy (Kamareddy), Kammarpalle (Nizamabad), Mulakalapalle (Kothagudem), and Kothagudem (Warangal Urban).
The forecast said light to moderate rain or thundershowers are very likely to occur at many/few places in the State from July 10 to 13. No large change during the period July 14-16 is the weather outlook.

Interested in blogging for thehansindia.com? We will be happy to have you on board as a blogger.