Compound wall comes up on empty land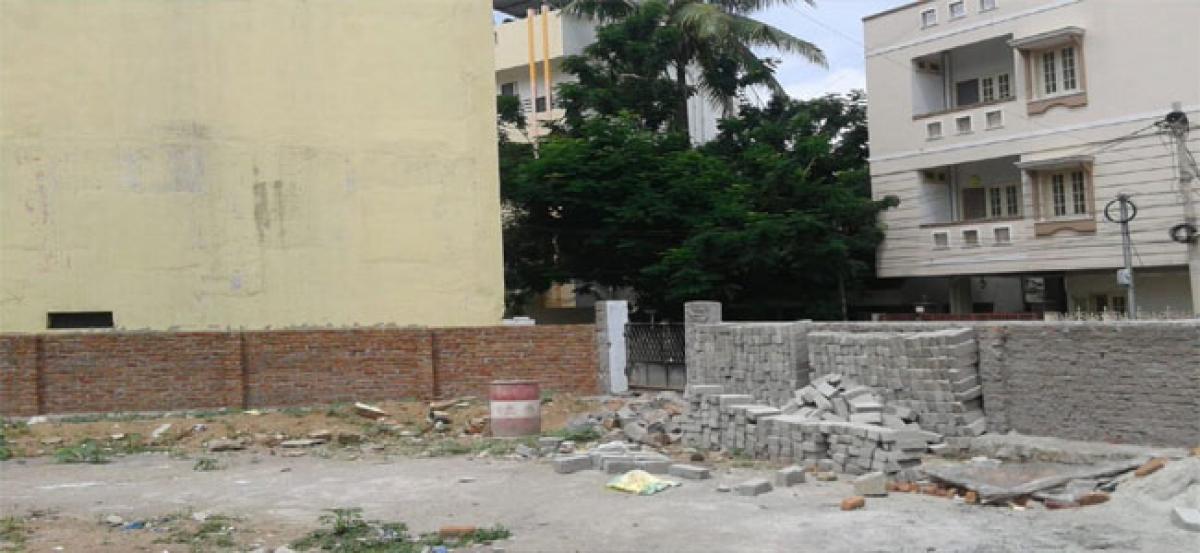 Highlights
With no legal information available about a few empty spaces in the city, the public is in ambiguity whether the land belongs to the government or a private party It is high time for the Greater Hyderabad Municipal Corporation GHMC to launch land inspection to put an end to such controversial issues
Marredpally: With no legal information available about a few empty spaces in the city, the public is in ambiguity whether the land belongs to the government or a private party. It is high time for the Greater Hyderabad Municipal Corporation (GHMC) to launch land inspection to put an end to such controversial issues.
For instance, the locals claim that 140 square meters of land at Vivekanand Nagar, Marredpally, belongs to the government and condemn the illegal construction of compound wall. "It's been a month since the compound wall was constructed. We have been fighting for the past 10 years to protect the government land for the construction of a community hall or a playing park. The issue was taken to the notice of office of Tahsildar in July complaining that one, Deepak Kumar, a private party, has claimed ownership of land illegally. Meanwhile, 15 to 20 days ago the issue was also posted on twitter to GHMC Commissioner. However, no response received," said P L Nagesh, Chairman, and Secunderabad Ganesh Temple.
He further said that as per the TSLR record, the land no45, Block G, ward no 118 of Marredpally Village belongs to the Secunderabad Municipal Corporation and questioned the Municipal authorities, how the municipality give permission knowing the land belongs to the government. However, MR Deepak Kumar, claiming to be the land owner, said, "The land belongs to me. I won the bid when the land was kept in auction by Housing Board. Only after taking permission from the Municipality I have constructed the compound wall. But, since then I am being targeted by some unknown persons who have filed complaints against me as if I encroached the land."
A Srinivas, Inspector of Police, said," According to the produced land documents, the land belongs to Deepak Kumar. For the past 10 years the issue remained unresolved as the locals claim that it is a government land meant for the construction of the community hall as per the promise given by the MLA Sayanna. If in case, it was encroached then the MRO would have taken action long back and would have directed Town Planning officials to demolish the wall."
"We have given a letter to the Housing Board about the issue and are yet to receive response from them. Once the land documents are received after verification we would take action," said CH Prakash Reddy, Assistant City Planner.
BY Sushma Nagaraju