KCR to kick-start campaign from Husnabad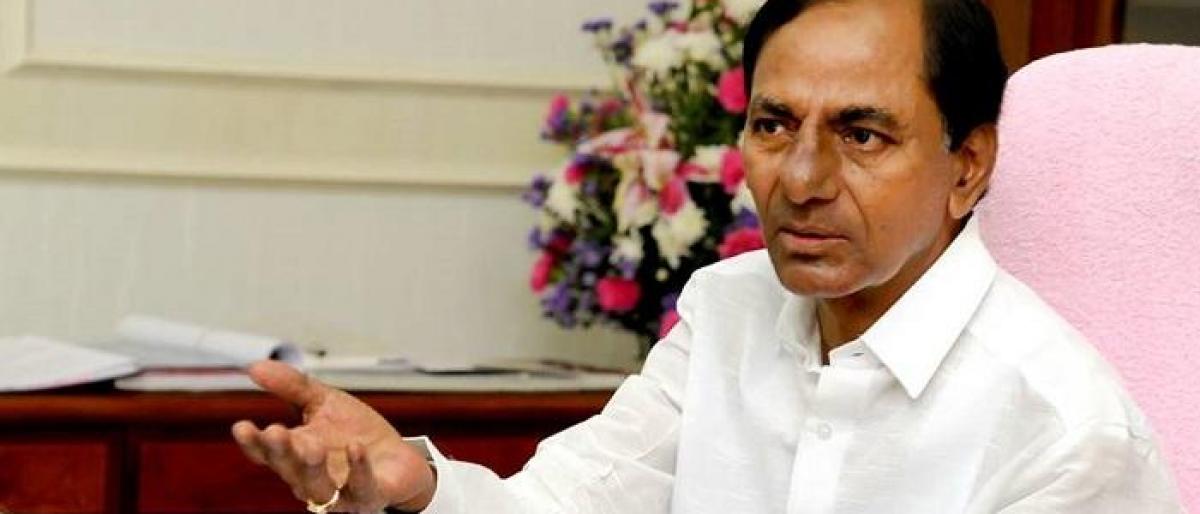 Highlights
Chief Minister and Telangana Rashtra Samithi President K Chandrashekar Rao will sound poll bugle in yet another public meeting at Husnabad in Karimnagar on Friday According to sources, the TRS chief will be kickstarting the election campaign from his own erstwhile Karimnagar district, which is considered to be symbol of good luck for him since the Telangana agitation
​Hyderabad: Chief Minister and Telangana Rashtra Samithi President K Chandrashekar Rao will sound poll bugle in yet another public meeting at Husnabad in Karimnagar on Friday. According to sources, the TRS chief will be kick-starting the election campaign from his own erstwhile Karimnagar district, which is considered to be symbol of good luck for him since the Telangana agitation.
Sources said this meeting is only a beginning and in the coming days he would address a number of meetings in constituencies. The Chief Minister entrusted the Finance Minister E Rajender and Irrigation Minister T Harish Rao the responsibility of arrangements for the public meeting and the party is said to be preparing for a crowd gathering of 1 lakh.
Rajender said the Chief Minister believes that whatever programme that is taken up in Karimnagar would prove to be a success and it is a well-planned by the Chief Minister to kick- start the public meeting from Husnabad. He said the Chief Minister would address 100 such meetings in the coming 50 days covering two constituencies in one day. The meeting is named as 'Prajala Ashirvada Sabha.'
The Chief Minister would explain to the people the development of the State in all respects during the last four-and-half years. The meeting would take place at Husnabad at 2 pm on September 7. Sources said the local leaders have been asked to assemble the people from mandals.
The party leaders said about 15,000 people would be gathered from Husnabad mandal, 10,000 each from Bheemadevapally, Akkanapet, Koheda, Saidapur and 6,000 each from 6,000 from Elukaturty and Chigurumamidi mandal.
As part of the preparations, the Ministers started planning for the meeting. The party has appointed leaders as in-charges for mandals including Vinod Kumar, Satish Babu, Sudhakar Reddy for Husnabad, E Rajender for Saidapur, R Balkishan for Koheda, G Kamalakar for Chigurumamidi, P Madhu for Bheemadevarapally, Vidyasagar Rao for Elukaturty.
In an interesting development, Nizamabad MP K Kavitha on Tuesday declared candidate for Jagtial constituency. Kavitha on Tuesday said M Sanjay Rao is the TRS candidate from Jagtial. Usually Chief Minister would announce the candidates. But Kavitha declared the candidate for Jagtial constituency.