Stupidity of Pranab Mukherjee to have attended RSS event: Owaisi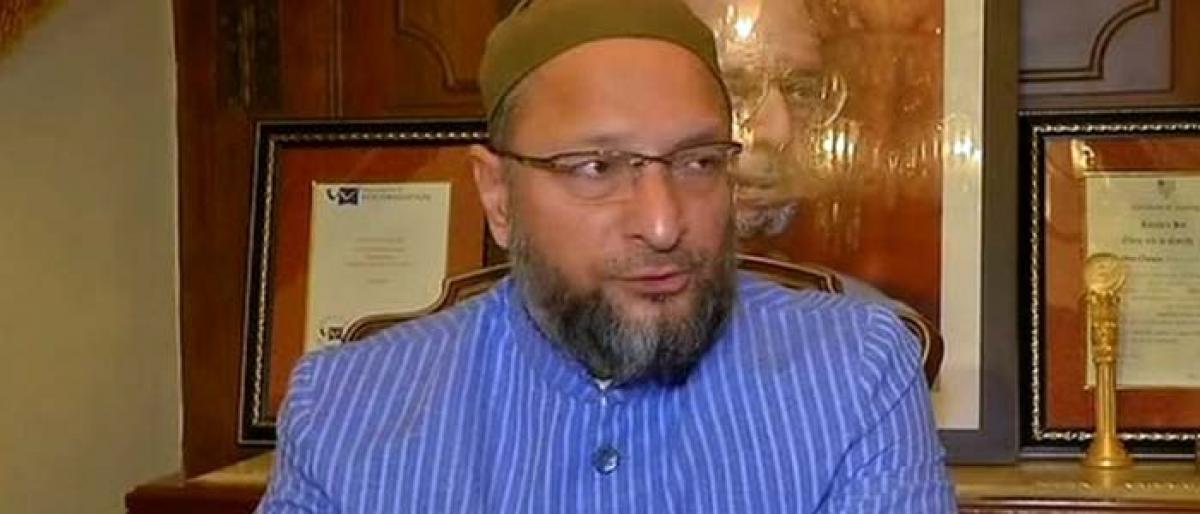 Highlights
Taking his criticism for RSS, a step further, AIMIM president Asaduddin Owaisi on Thursday slammed former President Pranab Mukherjee for attending an RSS event in the past
​Hyderabad: Taking his criticism for Rashtriya Swayamsevak Sangh (RSS), a step further, All India Majlis-E-Ittehadul Muslimeen (AIMIM) president Asaduddin Owaisi on Thursday slammed former President Pranab Mukherjee for attending an RSS event in the past.
On being asked about RSS's reported invitation to Congress president Rahul Gandhi to attend its event, Owaisi criticised Mukherjee and said, "After understanding RSS ideology we have been fighting against it. If anyone else wants to repeat the stupidity and immaturity that Pranab Mukherjee has done by going there, they will bring ruin on themselves. RSS believes in Hindu nationalism and the majority of this country has faith in Indian nationalism. If anyone wants to understand RSS they must read books by their prominent leaders. As much as I am concerned, no such question arises. I have always been against RSS and its ideology and will always be."
The former President in June this year attended the Third Year Sangha Shiksha Varga (SSV) event organised at RSS headquarters in Nagpur and addressed the RSS workers.
He also said that RSS follows an ideology which has created hatred since the assassination of Mahatma Gandhi. "RSS has ensured that minorities are not treated as equal citizens by believing only in Hindu nationalism," he added.
Owaisi also reacted sharply to Prime Minister Narendra Modi's statement to his party workers in which he had said that "We are the light and opposition is the darkness and it is for you to choose in the upcoming elections."
"Prime Minister has created enough darkness by ensuring that the prices of petrol and diesel go beyond common people's means. This is having a cascading effect on the poor people and on every item of food. The Prime Minister has created darkness in the future of the youth by not living up to the promise that he had made to the youth of country that he will provide them jobs. He has created darkness in the name of cow wherein people are being lynched in the name of a cow protection, whether Dalits or Muslims. The light will only come when BJP is removed from power. As of now, there is only darkness of hatred and darkness of anger in the minds of youth because this government has failed to deliver."
When asked about fugitive liquor baron Vijay Mallya and his latest antics, Owaisi referenced Bharatiya Janata Party MP Subramanian Swamy's assertions and said, "If a BJP Member of Parliament Subramanian Swamy is using innuendos to attack an important minister of his own party. Why isn't Swamy openly saying who downgraded that lookout notice? Why is he afraid of uttering that name? What is stopping him to go to the court of laws?"
Interested in blogging for thehansindia.com? We will be happy to have you on board as a blogger.