Mahakutami, Congress to leverage social media to max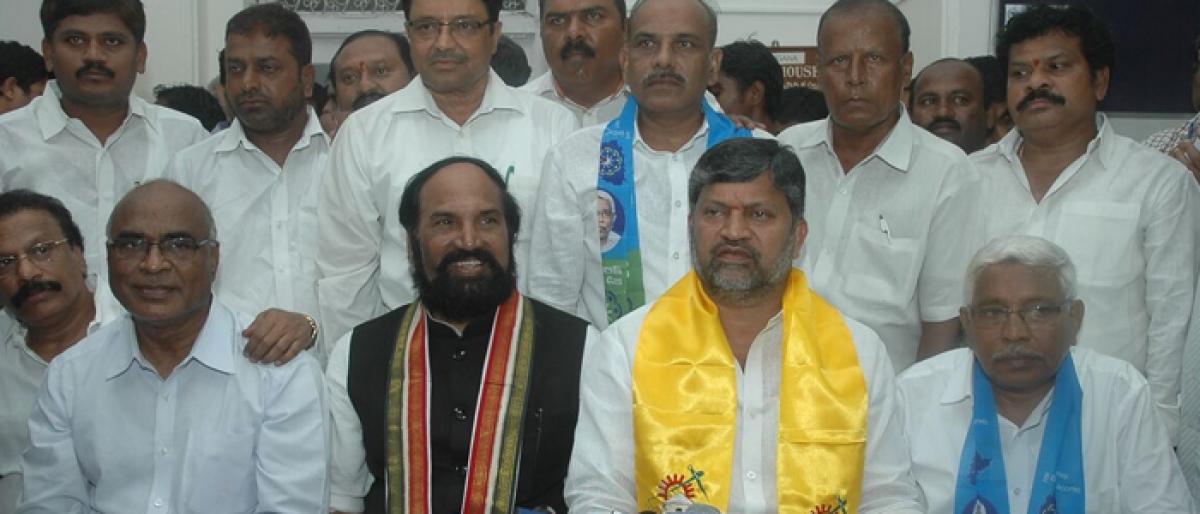 Highlights
Mahakutami allies, especially the Congress, have decided to leverage the social media to maximum extent possible to gain in the ensuing elections as they are not getting encouraging coverage in the conventional media owing to the alleged pressure tactics of the TRS government
​Hyderabad: Mahakutami allies, especially the Congress, have decided to leverage the social media to maximum extent possible to gain in the ensuing elections as they are not getting encouraging coverage in the conventional media owing to the alleged pressure tactics of the TRS government.
With four Opposition parties -- Congress, TDP, TJS and CPI -- coming together for a joint fight under Mahakutami umbrella, chances of creating separate handles and accounts on the social media to propagate vision and plans of the alliance is also on cards. This will be in addition to the campaigning on their own and separate accounts of each party as well as individual accounts run by key leaders.
Compared to the four alliance parties, the Congress is way above the rest in terms of using online fora to reach out to a bigger "virtual" audience. Leveraging the social media by the Congress underwent a complete overhaul after Rahul Gandhi took over the reins of the party.
Many state units toed the technology path and TPCC (Telangana Pradesh Congress Committee) is no exception. The Telangana Congress has its own handles on Facebook and Twitter. TPCC chief Uttam Kumar Reddy, general secretary Dasoju Sravan among others have their own accounts on which they regularly post news, updates, speeches and views about the Congress plans and TRS government 'misrule', etc.
Also, press conferences are being streamed live on Facebook by some of the leaders. Former MLA A Revanth Reddy has his own Youtube channel, where his team is posting visual clips of his press conferences, speeches and addresses in public meetings. With elections nearing in Telangana, clips are being posted on a regular basis. Also, there is a large number of tech-savvy Congress supporters in different fields who are working behind the scenes to reach out to people. They voluntarily took up the job of posting news and activities of TPCC and its leaders on Facebook and Twitter.
Paper clippings and postings are being tagged to Rahul Gandhi and other AICC leaders so that they can keep track of happenings in Telangana.
Eliciting his views, Dasoju Sravan said the Congress and other Opposition parties have no alternative but to depend more on social media to reach out to masses and tell the truth. He alleged that pressure tactics on the conventional media giving more coverage to the ruling party at the cost of activities of other parties. "Social media is a free media and no cogs are attached to it. Also, it can be used free of cost and can be accessed by everyone. Smart phones are being used by people of all sections, not just educated or working class and majority of them have Facebook accounts and also surf Youtube videos," he said.
Of the other alliance parties in Mahakutami -- Telangana Jana Samithi (TJS) has its own account on Facebook and Twitter. Regular postings and live streaming of press conferences are being done, which is not bad for the six-month-old party. However, a majority of the TJS key leaders are yet to switch to this online technology. As regards the Telugu Desam Party, the story is different.
While the AP TDP which is in power is very proactive with minute-to-minute postings on its party handle to go with extensive usage of the social media by Chief Minister Chandrababu Naidu and his Cabinet ministers, the T-TDP unit presents a different picture. Party and key leaders have accounts, but the postings are not regular. The T-TDP has lost its majority MLAs to TRS because of defection and understandably the party's affairs and activities in Telangana are limited for a while now.
CPI is also found wanting in usage of social media for campaigning. Now that all these four parties are likely to form Mahakutami, joint campaign on the social media is a possibility, according to TPCC leaders. "We will discuss this subject once common minimum agenda is worked out," they said.