A dream trip for lifetime in Tandur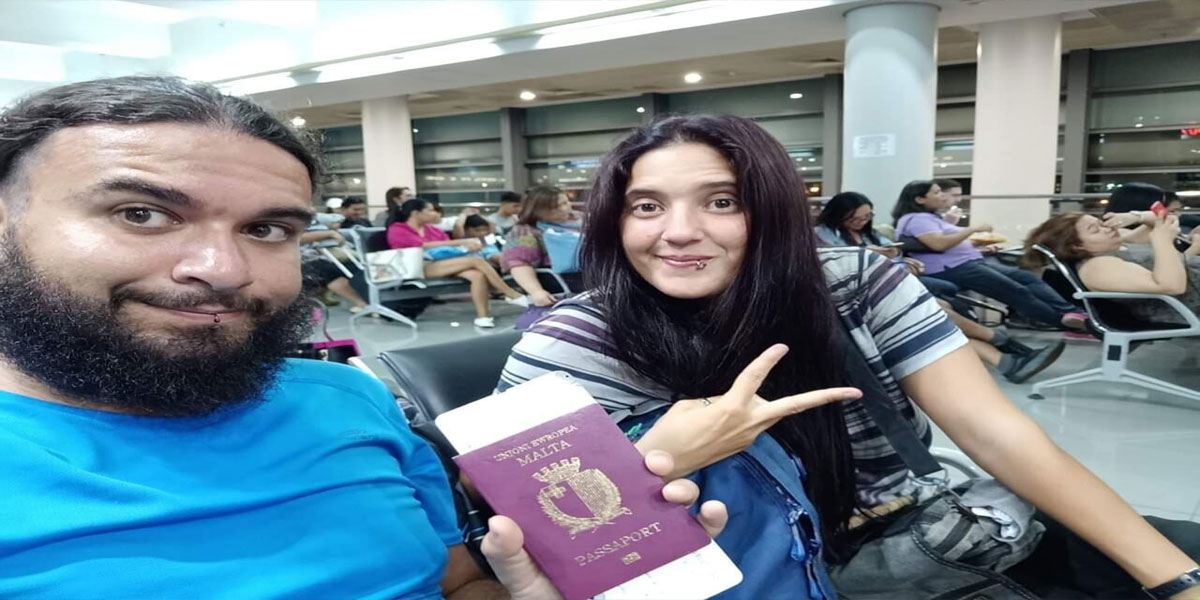 Highlights
A Maltese couple who has been living their dream for four years is now touring India Theyhave just left Telangana, carrying with them great memories of the places they visited and the people they interacted with to cherish forever After meeting each other via social media, they found that their likes and plans are same
Tandur: A Maltese couple who has been living their dream for four years is now touring India. Theyhave just left Telangana, carrying with them great memories of the places they visited and the people they interacted with – to cherish forever. After meeting each other via social media, they found that their likes and plans are same. After united with marriage, they embarked on a mission to tour the world. The adventurous couple Kirsten Brincat and Leon Parnis, aged 27 and 31 respectively, quit their jobs in Malta and set off to Australia, way back in February 2015.
Passing through Telangana, they visited the house of Jollu Praveen Kumar, an adventurist tourist biker himself, in Tandur.They thanked him for hospitality and the clothes he offered.They stayed in Tandur on Friday, Saturday and left for South Indian tour on Sunday. The couple wore the clothes in local style and impressed the people around. They spent three days in the town and attended several functions like marriages etc. Local people showed keen interest in taking selfies with them. The foreigners urged youth to keep away from bad habits and work for the development of country. Speaking to The Hans India, Leon informed, "Though we are from a middle-class family, we could realise our dream. It is materialised with the cooperation from my wife Kristen."
They say they are amused by the reactions of the people they have come across. Some said they were simply surprised with their decision. "Some people felt that we are lucky to do whatever we like. Some people said we were stupid and crazy for leaving good jobs," they said. They admit that the amount of money spent on travelling could have been a good investment had they simply settled down at place of their choice following wedlock, but, the smitten by wanderlust, they refused to let go of their ambition to go around the world.
Kirsten and Leon travelled 30,000km in Australia. They took up odd jobs like cherry-picking and distributing phone books etc. They left for New Zealand after their happy sojourn in Australia. But they had a bitter experience when they were robbed of their wallets, passports, documents and electronics. But they were undeterred by the loss and the shocking incident. They pushed ahead. They even took up jobs like housekeeping and worked in hostels and farms. Their resolve paid off and soon they could earn enough money to procure necessary documents and carry on their journey to savour the sights and sounds of the world.
The couple said they had good time in Malaysia, Singapore, Indonesia, Myanmar, Thailand, Cambodia, Philippines, Vietnam, Laos, Sri Lanka. They reached India and spent two months here and went onwards to Nepal. But, they were soon back and are happy to be resuming their journey in India once again."We travel within a shoestring budget. We prefer nine hours train journey to short time trip which is expensive. Even we prefer walking with our backpacks. We use public transport than private. Slower is cheaper," they said.
The couple is amazed at the diversity of India and the rich tapestry of social traditions and mores they came across. They said they were particularly surprised to find so many temples across the country. Kristen said that she read the Maha Bharat and she found 'Kurukshetra' scene as very exciting.They appreciated the hospitality they received here in India. "The people in India are friendly and the hospitality is awesome. They culture is very rich," they praised. But they expressed their agony over use of plastic in this country. "We found plastic and trash everywhere. We wish people should take care of incredible India," they said.
They have crossed the Australian Desert, jumped the highest tandem skydive in the world, rode the rollercoasters in Universal (Singapore), visited Lord of the Rings film locations, snorkeled with wild mantas, sharks and turtles, lived in cars, worked on farms in sunshine and rain, the God's own land (Kerala in India), beautiful plains of Anantagiri (Vikarabad) and the town popular for its own brand of slabs (Tandur).
It's been more than 1,400 days away from home for them. But, their enthusiasm still seemed intact and there were no signs of any fatigue. They are updating their travel updates in their website (www.kurzleon.wixsite.com) under an apt title of 'Dream trip for lifetime.' After South India tour, they are planning to visit Nepal and from there they will head to Malta.