Medaram Jatara: Amenities still a far cry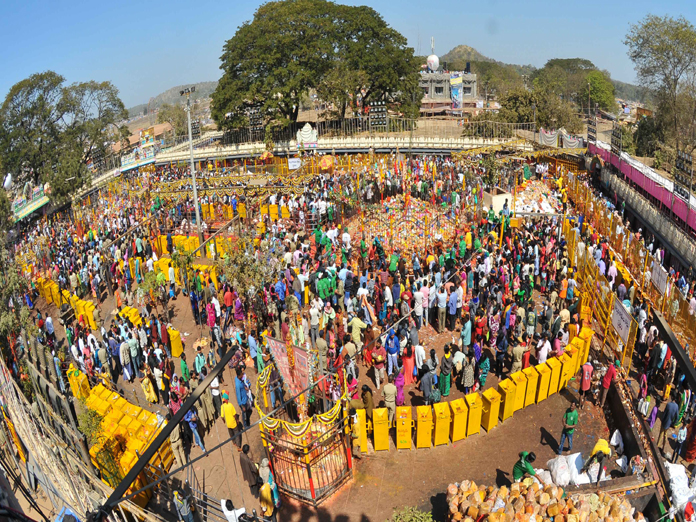 Highlights
Medaram Jatara is no more a biennial and an exclusive affair of the tribals as it has been continuously drawing devotee footfall round the year
Medaram (Bhupalpally): Medaram Jatara is no more a biennial and an exclusive affair of the tribals as it has been continuously drawing devotee footfall round the year.
Even though Sammakka-Saralamma Jatara, touted as Asia's biggest tribal fair, is a biennial event, the time has changed especially since the Telangana Movement that impassioned people to embrace the very essence of local culture and tradition more fondly than ever before. Since the new millennium, Medaram Jatara has been witnessing a huge turnout from all corners of the globe.
Although devotee patronage to Medaram grew in numbers over the years, the successive governments never came up with a plan to provide infrastructure and amenities on a permanent basis. Ahead of every biennial Jatara, the government sanctions funds in a customary manner and the administration rush through makeshift arrangements.
Chief Minister K Chandrasekhar Rao who attended Jatara last year promised to change the face of the Medaram before the next biennial Jatara. He told the officials to prepare a comprehensive development plan with an outlay of Rs 200 crore for Medaram Jatara.
Against this backdrop, the administration had prepared a development blueprint that cost around Rs 184 crore and sent it to the government. It is learnt that major portion of works that were proposed by the Revenue, Irrigation and Tribal Welfare departments account Rs 115 crore. So far the proposals remained a non-starter with the government failing to release funds.
The major works proposed by the officials include, construction of a mini reservoir to address the drinking water problem permanently, bathing ghats and beautification, land acquisition near Jampannavagu and Oorattam, 11 KV electrification, transformers, street lighting etc.
Speaking to The Hans India, the Archaka Sangham president and former ex-officio member Siddaboina Jagga Rao said: "The major problem is water and sanitation. Even before the start of mini jatara, no less 5,000 devotees a day are turning up at Medaram. On public holidays, the number is anywhere close to 10,000. We are expecting a crowd of six to seven lakh during the four-day mini jatara this year."
With the four-day mini jatara is scheduled to begin on February 20, Joint Collector K Swarnalatha, who held a review meeting with the officials over the conduct of Medaram Jatara recently, told officials to focus on ensuring facilities such as drinking water, makeshift bathing ghats and changing rooms.
Notwithstanding its popularity, Medaram Jatara has failed to attract the attention of the Central and State governments. With the government opting for makeshift arrangements every year, the problems faced by the devotees will remain same during this mini jatara also. There is an imperative need for the administration to provide drinking water, changing rooms and shelter for cooking.