Azad Tek Fest 2019 at MANUU from today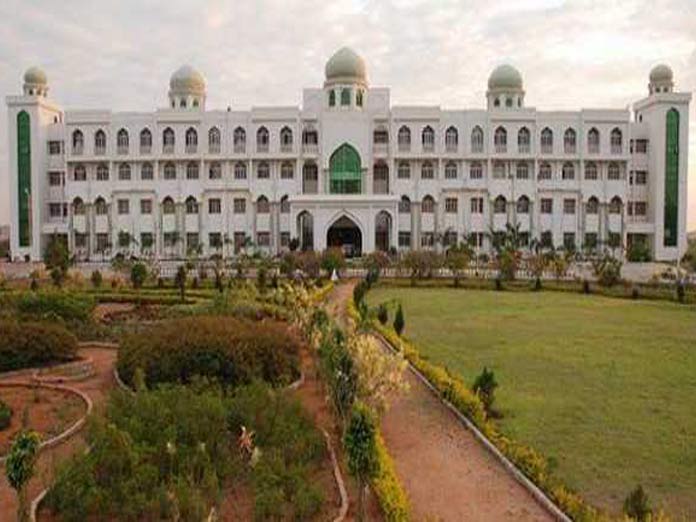 Highlights
Maulana Azad National Urdu Universitys students from Polytechnic and Industrial Training Institute are organising Annual Azad Tek Fest 2019 on February 27 and 28 in connection with National Urdu Science Congress
Hyderabad: Maulana Azad National Urdu University's students from Polytechnic and Industrial Training Institute are organising Annual Azad Tek Fest 2019 on February 27 and 28 in connection with National Urdu Science Congress.
The Fest will be inaugurated by Dr Mohammad Aslam Parvaiz, the Vice Chancellor, on February 27, at 2.30 p.m. at Polytechnic Building. Dr Qazi Siraj Azhar from University of Michigan will be the Chief Guest.
According to Dr Mohd Yousuf Khan, the Coordinator, during the fest the students from various trades and courses will exhibit their innovative projects and showcase the skills. Around 50 projects of polytechnic and 20 from ITI will be part of exhibition. All are requested to visit and motivate the students.
Film festival opens
at MANUU campus
Hyderabad: The award winning film "Pihu", directed by Vinod Kapri, was screened as the opening film of the Indian Panorama Film Festival on February 25 at Maulana Azad National Urdu University. (MANUU). The Film festival is being organised by Instructional Media Centre (IMC), MANUU and Directorate of Film Festivals, Ministry of I&B.
The national awardee Vinod Kapri inaugurated the film festival. Mr. Kapri spoke about the importance of films in educational institution as a part of academia. The film Pihu will change your thought process, he remarked. Question and Aswer session with the director followed.
Speaking on the occasion, Dr. M. A. Sikandar, Registrar said this is a beginning of a new era in academia for manuu fraternity and students. Do watch films not just for entertainment but from educational point of view, he advised the students. Rizwan Ahamd, Director, IMC, described festival as an effort to present cinema as a strong medium for education.

It will also help in nurturing the student community in a better and healthy way. Dr. Mir Hashmath Ali, Production Assistant of the Media Centre, convened the inaugural session. The critically acclaimed films like Coffin Maker (27th Feb.), Listen Amaya (28th Feb.) and Newton (1st March) will be screened as part of the festival.