Chinnarayauni Cheruvu in its death throes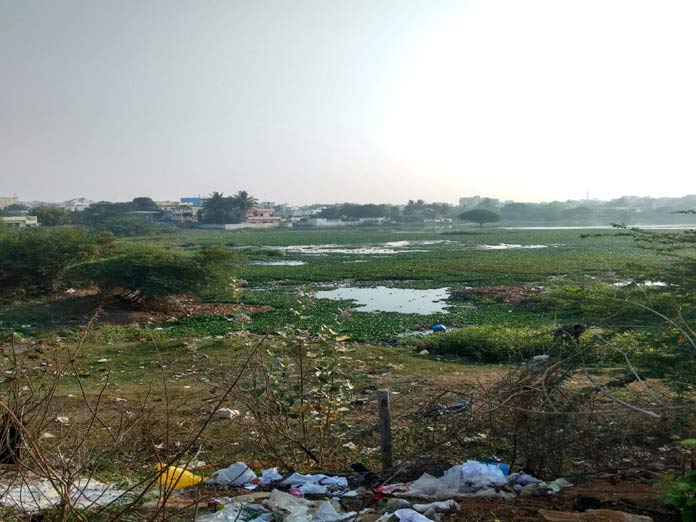 Highlights
Chinnarayauni Cheruvu in Old Alwal is surrounded with all trash and also the lake is filled with water hyacinth plant, usually seen in an unattended lake There is a lot of foam accumulated near the lake, which has become a major concern for locals residing over here
Alwal: Chinnarayauni Cheruvu in Old Alwal is surrounded with all trash and also the lake is filled with water hyacinth plant, usually seen in an unattended lake. There is a lot of foam accumulated near the lake, which has become a major concern for locals residing over here.
Though the government has already given the order to the authorities to implement Swachh Bharat programme to clean the city and beautify it, it is still a distant dream for the dwellers of Old Alwal, who have been complaining of trash dumping near the lake and also due to this the color of the water has changed.
Many locals over here said that because of sewage water discharged into lakes, it is resulting in mosquito menace and the putrid smell emancipating from the lake is of serious concern said by K Abhijeet. He also said that many outsiders unaware of any bodies notice stealthily throw domestic waste in polythene bags near the lake. The waste piles up and gives a nasty look apart from this the locals are using this lake for defecation.
The residents over here said that GHMC officials should issue an order against the people or can be penalized for doing this act.
C Vijaya Shanti, local corporator of Alwal, said that they had received a complaint, and that the health and sanitation department would very soon clean the 27-acre lake. She also said, "we have instructed the engineering wing officials to remove the hyacinth plant from the lake and also asked the entomologist officials to spray chemical Difluorobenzenea and ACM powder to stunt the growth."