Precious water goes waste at rly station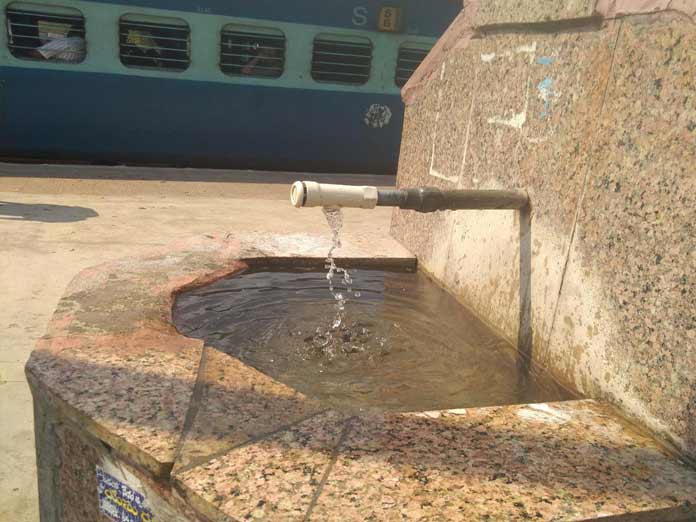 Highlights
The tap water has been flowing continuously for the past 10 days at Bolarum Railway Station The nonmaintenance and defective taps, besides the officials apathy are the cause for the precious water going down the drain The issue was raised with the railway officials, but no action has been initiated yet, according to Santosh, a passenger
Bolarum: The tap water has been flowing continuously for the past 10 days at Bolarum Railway Station. The non-maintenance and defective taps, besides the officials' apathy are the cause for the precious water going down the drain. The issue was raised with the railway officials, but no action has been initiated yet, according to Santosh, a passenger.
Though it is a small station, but many important trains halt here and the wastage of huge quantities of drinking water is a cause of concern for all. The government spends huge amounts of monies on purifying and supplying water to every part of the city. During summer, residents face scarcity of water with major lakes getting dried up. Water is supplied once a week or sometimes more than a week, many localities order water tankers to unable to cope up with the water shortage. In such a scenario, water going waste continuously is a crime and officials must be punished for not taking up the repair works on priority basis. Even those passengers leaving public taps open should be punished by penalizing them.
As summer is approaching, vacation is planned by the families and they will face hardship if the problem in this station is not solved.
When various national and international authorities have been raising concern over the scarcity of the source of drinking water and several activists are trying their best to prevent the level of underground water falling. The railway officials should take care of this issue, and solve the problem. This overflowing water issue is a very common sight in the twin cities and also if this issue prolongs it will lead to crisis and hardship to household members.
Subscribed Failed...
Subscribed Successfully...