Army aspirants provided shelter at KUDA complex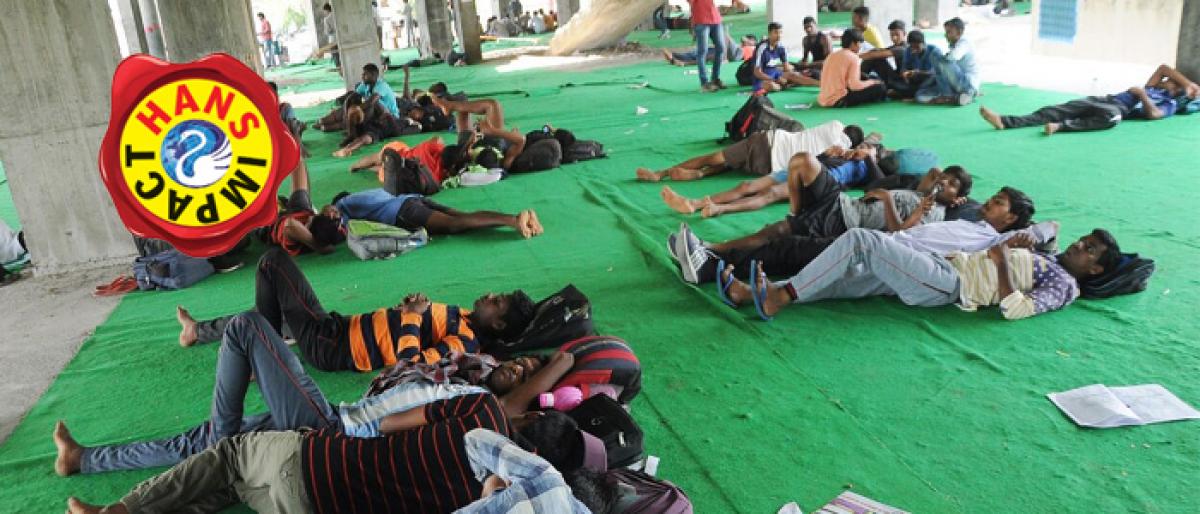 Highlights
The district administration has at last responded to the plight of candidates attending the ongoing army recruitment rally at JNS Grounds in Hanamkonda. It might be noted that the candidates who were arriving here from 31 districts of Telangana to attend the rally were forced to sleep on pavements and traffic islands in view of insufficient accommodation facilities. The Hans India in its May 24 ed
​Warangal: The district administration has at last responded to the plight of candidates attending the ongoing army recruitment rally at JNS Grounds in Hanamkonda. It might be noted that the candidates who were arriving here from 31 districts of Telangana to attend the rally were forced to sleep on pavements and traffic islands in view of insufficient accommodation facilities. The Hans India in its May 24 edition highlighted the issue.
In a statement here on Friday, the nodal district employment officer M Mallaiah said that free accommodation had been provided to the candidates at Indoor stadium, tennis court, KUDA complex being constructed opposite JNS Grounds.
Carpets were provided at the complex where nearly 6,000 candidates could rest. Similarly, with the help of MEPMA PD subsidised food was also being supplied with the help of SHG women and 20 mobile toilets were provided around the JNS Stadium.
A total of 10 water drums provided to ensure water supply along with an addition water tanker at the stadium. Similarly, 30 cool water containers were kept at medical camp, Mallaiah said and added that all these steps were taken under the supervision of DRDA PD T Ramu.
According to him nearly 4,000 candidates were attending army selections everyday. On Friday, the fourth of the selections, a total of 3600 candidates attended the rally of which a total of 400 candidates were qualified for medical test.