Ace choreographer stirs up controversy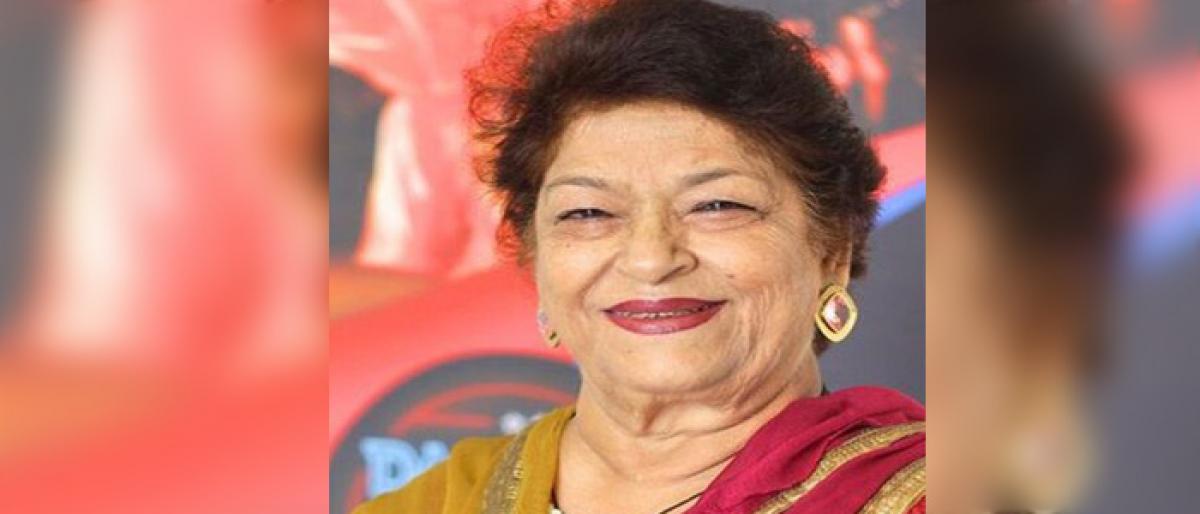 Highlights
Veteran choreographer Saroj Khan has defended the casting couch culture, saying the Indian film industry \"at least\" provided jobs and did not abandon women after raping them.
Veteran choreographer Saroj Khan has defended the casting couch culture, saying the Indian film industry "at least" provided jobs and did not abandon women after raping them.
In comments that come in the wake of the #MeToo campaign, which calls out sexual offenders, Khan put the onus on the woman and said the casting couch was not a new phenomenon. Even people in the government indulge in it.
The 69-year-old choreographer said in response to a question from a journalist in Sangli on Telugu actor Sri Reddy stripping in protest against the casting couch culture in the Telugu film industry. "I have already said I am sorry. But you don't know the question that was asked... And now there's so much ruckus," Khan told in the interview as a video of her interaction with the media did the rounds of television networks and social media.
"This has been happening since time immemorial. Somebody or the other tries to get cosy with every girl. Even people in the government do it. Why are you after the film industry? At least the industry provides employment. After all, it isn't as if you are raped and abandoned. (Yeh chala aa raha hai baba aadam ke zamaane se. Har ladki ke upar koi na koi haath saaf karne ki koshish karta hai. Government ke log bhi karte hain. Tum film industry ke peeche kyun pade ho? Woh kam se kam roti toh deti hai.
Rape karke chhod toh nahi deti)," Khan is heard as saying in the video. The National Award-winning choreographer, famous for songs such as "Ek Do Teen" and "Choli ke Peeche", added that the onus of staying safe and avoiding such situations was on women and pressed the media not to target the film industry.
"It's up to the girl - what does she want to do? If you don't want to be caught, you won't. When you are an artiste, why will you sell yourself? Don't say anything about the film industry. It's like our mother-father. (Yeh ladki ke upar hai ki tum kya karna chahti ho. Tum uske haath mein nahi aana chahti ho toh nahi aaogi. Tumhare paas art hai toh tum kyun bechoge apne aap ko? Film industry ko kuch mat kehna, woh humaara mai-baap hai)," she said.
Last year, Hollywood spoke out against sexual misconduct after disclosures about media mogul Harvey Weinstein. The incident had a domino effect, with many questions being raised about sexual harassment and abuse at the workplace, particularly the entertainment industry. Though filmdom was slow to react to Khan's comments, Sri Reddy, whose protest triggered widespread debate on exploitation of women in the entertainment industry, said she had lost "respect" for the choreographer.
"Saroj Khan madam, you are an elder, so I should respect you. But I have lost respect for you because what kind of a tradition are you encouraging? Also, being an elder, you have to show the (right) path to actresses. How can you say that we have to be like that. It is giving wrong indication that you have to be a slave to heroes, producers... " she told a television channel.
Others were more guarded in their comments. Bollywood biggies, producer Vidhu Vinod Chopra and actor Ranbir Kapoor, evaded a direct answer. "It is an amazing question. What do you think our view should be?" Chopra shot back when asked to respond at a teaser launch of his latest film "Sanju".
Kapoor, who was also at the same event, said he had never faced it. "If it is there, it is the worst kind...," he said. Actor Rajkummar Rao, who has made a name for himself with varied roles in middle of the road cinema, also declined to make a direct comment.
"I don't know man. I don't know the exact context of why she said that. I have to really read and then probably I can make a comment. I have been very lucky that I never had to face casting couch," he said.