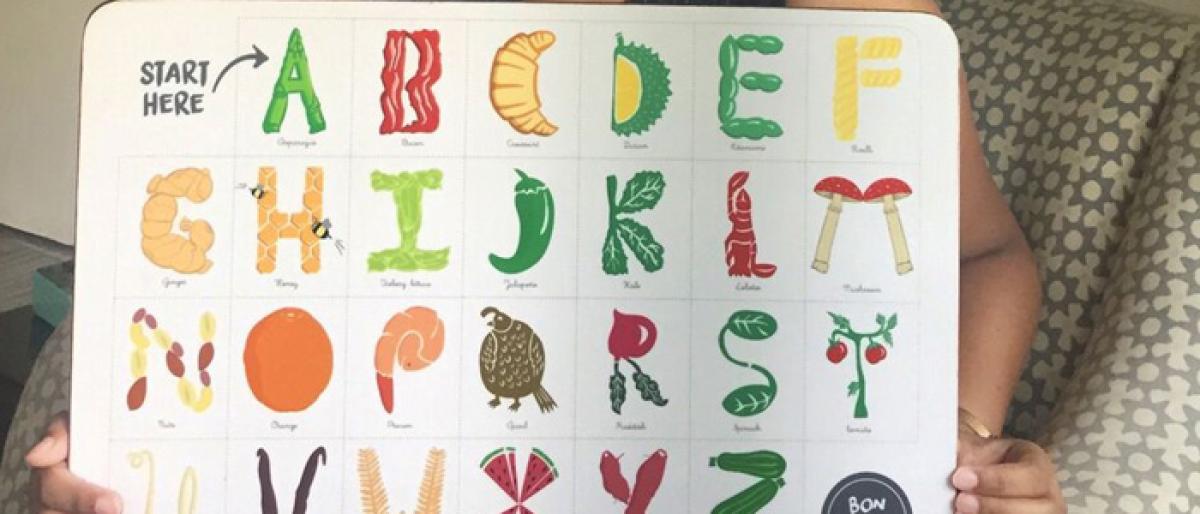 Highlights
Vydika and Shravya, two curious youngsters, from Hyderabad wanted to make an impact in lives of people by creating a mode of communication through a visual medium. In this pursuit, they have started 'Little Mill', a one-of-its-kind concept for designing tableware such as coasters and table mats. The uniqueness of this is that these coasters are informative, interactive and conversation starters du
Vydika and Shravya, two curious youngsters, from Hyderabad wanted to make an impact in lives of people by creating a mode of communication through a visual medium. In this pursuit, they have started 'Little Mill', a one-of-its-kind concept for designing tableware such as coasters and table mats. The uniqueness of this is that these coasters are informative, interactive and conversation starters during meal time.
Speaking about the concept Vydika shared, "It started with Gastro Pictionary, which carries a series of events. I started working as an art director at Republic Ad agency in Mumbai. I had a communication problem with my maid who spoke in Marathi and Hindi and both the languages were difficult for me to understand, which become a problem as I had to instruct my maid about the food I wanted to have. Soon I started to sketch all the ingredients on a board, which made our communication easy."
"After a few days, I quit my job and moved to New York where I continued to concentrate on Gastro Pictionary and tried doing as a concept, which soon turned into a products that include alphabet mats, vegetable mats, etc. Usually, people have food in a hurry to cope with their work; I thought this concept would intrigue people to eat food at the right place."
Vydika informed that they have three collections of table mats – one is the learn to eat alphabet mat, the second mat is for summer veggies and winter veggies for adults and the third is the herbs and green vegetables, which is also for adults. "Apart from tablemats we also have coasters for cocktails, mocktails and coffee. All these products are designed by me, each of these tablemats and coasters has a matte or glossy finish."
Vydika and Shravya believe in form and function while designing the product and focusing on the aesthetics they made sure that this tableware is engaging. Regarding the response from the customers, Vydika said that their first exhibition at Kalaachakra last year had a great response from the customers and that is when she decided to take this pet project seriously. "Since the first batch of stock was all handmade by us, we figured that we need to find ourselves vendors, who will produce in larger quantities.
So we took around nine months to research on the process of production and the materials. We also added more concepts to our products. We have officially launched our website www.littlemill.in only around a month ago and we are not only selling online on our website but also on Amazon. So far the response is pretty decent. We are also going to be available in a few stores in Mumbai very soon."
"Our brand has a more international appeal so we plan to sell in cities abroad too. We are currently available at a store called Big Blue Trunk in Singapore. We hope to soon be in boutique stores and museum gift shops in San Francisco, New York, London and Hong Kong too," she informed.
Vydika stated that it was a tad bit difficult for the duo to start their own business. "For creative people (both Shravya and I) to start a business was somewhat difficult initially. But when your passion lies in something so specific and when the need was born from such a personal experience it helped us drive straight into a business. And that process was actually pretty amazing. We had a few hiccups when it came to production and finding the right people to execute our production process. And I am sure we will have a few more at each step of the process."
About designing other home decors apart from tableware Vydika said, "Initially we started off with tableware, but now we have plans to take up dinnerware, stationery, etc. We would also want to take our business forward by showcasing our products in the exhibitions and other gift shops. We want to get into retail business soon and be recognised as Little Mill."