Flying high: Ajmeera Bobby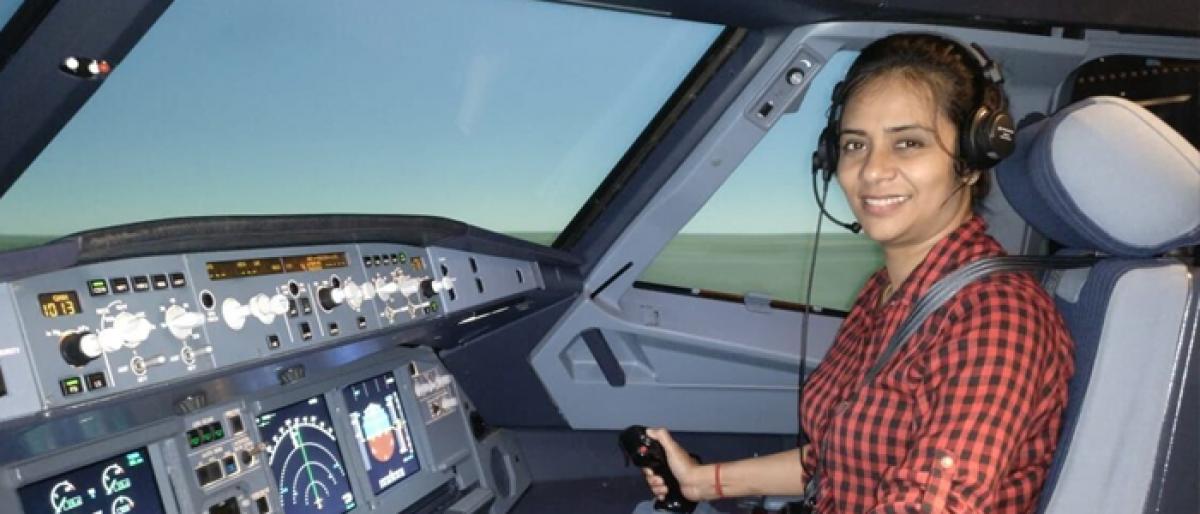 Highlights
Ajmeera Bobby, daughter of a retired teacher, has become the first woman from Banjara tribe to become a commercial pilot She has successfully completed the difficult training module of commercial pilot licence in the US and also pursued another course related to pilot training from Jakarta, Indonesia She is not only the first woman from the tribal community to become the pilot in the State, now
Ajmeera Bobby, daughter of a retired teacher, has become the first woman from Banjara tribe to become a commercial pilot. She has successfully completed the difficult training module of commercial pilot licence in the US and also pursued another course related to pilot training from Jakarta, Indonesia. She is not only the first woman from the tribal community to become the pilot in the State, now she holds the record of becoming the first tribal woman pilot in the country.
Her first stint with aviation happened when her aunt (her father's foster sister) visited India from Dubai. "After my Class X my aunt from Dubai visited us and we went to pick her up from the Begumpet airport. At that moment, after seeing the aeroplanes, I was determined to enter the aviation sector because neither my family members nor friends ever ventured into it," she recalls. Like any other parents, Ajmeera Bobby's parents too persuaded her to either become an engineer or a doctor.
"My parents relocated from Dandepally to Mancherial and they enrolled my younger brother and me in Carmel Convent High School. I excelled in studies. After my Class X, my parents pursued me to take up BiPC or MPC so that I can either become a doctor or and an engineer.
However, I did not want to pursue either, but due to peer pressure, I chose BiPC. After that I told my father that I do not want to become a doctor and joined University College for Women, Koti, to pursue BA. Subsequently, I did MA in Sociology from Osmania University.
After my Masters' my father advised me to prepare for civil services so that I could secure a government job." However, she enrolled herself in MBA in Osmania University. "When I was in my second semester, I was in hostel, and I always used to talk about flying, aircraft, aviation, etc and after listening to me constantly yapping about the same thing day by day one of my friends informed me about an advertisement in newspaper for the position of an air hostess.
I successfully completed the interview and I joined Air India as an air hostess and I also topped that test. But my parents were not happy with the job. However, I joined it as I thought that the job will provide me with some knowledge about how to become a pilot," says Bobby.
While pursuing her job as an air hostess she joined Rajiv Gandhi Aviation Academy. "I was not able to manage both job and studies. I decided to quit working as an air hostess and concentrate on studies. However, I was unable to incur the expenses without the job. And I thought seeking help from Telangana Government.
I met Azmeera Chandulal sir, Tribal Welfare Minister of Telangana and he took me to Telangana Chief Minister K Chandrashekar Rao sir. When I told him about my dream, he told me that Telangana needed achievers like me and helped me in realising my dream. Then I said to myself that I can start my journey again. I will always be indebted to K Chandrasekhar Rao sir," says an elated Bobby.
Telangana Chief Minister K Chandrashekar Rao in 2015 extended financial aid of Rs 25 lakh to Ajmeera Bobby to fulfil her dreams of becoming a commercial pilot.
Recently she got the pilot license training from Dean International Flying School in Miami, Florida, USA.
"I got commercial pilot training licence in USA and Jakarta. I joined 250 hours by a private flying academy of Dean International School Flight School in the US. Then I underwent in type-rating of Airbus 320, higher technical qualification, from another private institution in Jakarta in Indonesia.
I had been taught multi-engine operation and flying of Cessna 170, a light and single-engine aircraft. She cleared a test conducted by the Directorate General of Civil Aviation (DGCA), a regulatory body in India for civil aviation. This is a certificate will help me in securing a job in the Indian aviation sector."
About her first flying experience, she says, "It was very exciting, and I had butterflies in my stomach when aircraft was rolling and taking off. I still remember I was frozen for a moment suddenly when doors of the pilot cabin were opened due to improper locking. While our captain taught us how to handle the situation and to be confident by opening windows."
About her future, she says, "I am planning to start an aviation school for providing training to socially marginalised students. I would like to conduct career talk shows and road shows in tier-II cities across the State."