Talent extraordinaire: Nafees Begum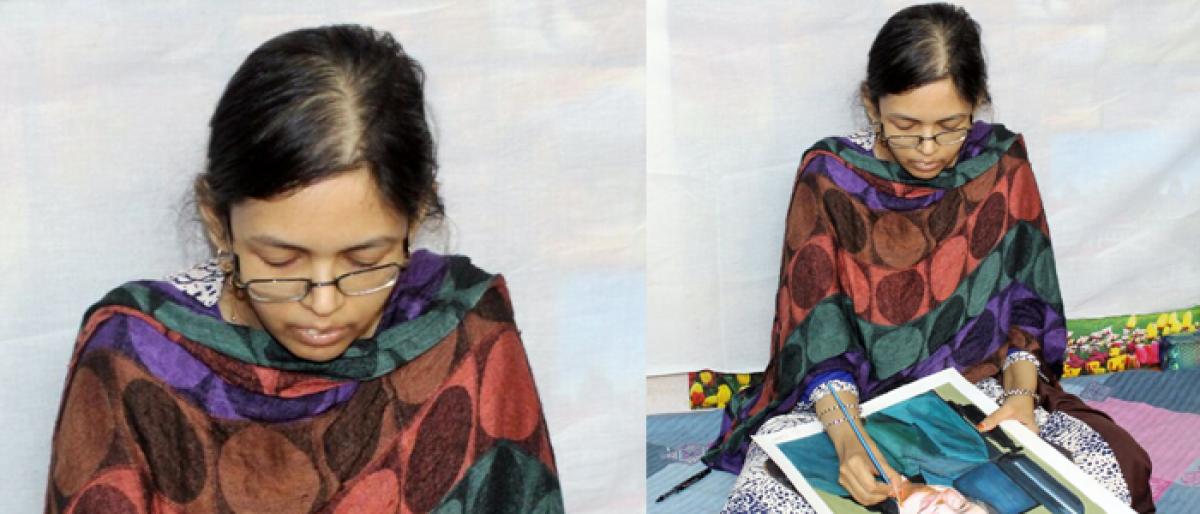 Highlights
Being physically challenged has been no deterrent to Hyderabadbased Nafees Begum in the pursuit of her dreams She has created around 300 paintings which have been appreciated by the public and prominent personalitiesThis 37yearold, bedridden artist even had a solo exhibition of her works recently which was titled HeARTabled, at ICCR Art Gallery, Ravindra Bharathi
Being physically challenged has been no deterrent to Hyderabad-based Nafees Begum in the pursuit of her dreams. She has created around 300 paintings which have been appreciated by the public and prominent personalities This 37-year-old, bedridden artist even had a solo exhibition of her works recently which was titled 'HeARTabled', at ICCR Art Gallery, Ravindra Bharathi.
"My subjects are landscape, human beings, animals, plants, flowers-anything which impresses me or moves me. I used to paint water-colours but now it is all acrylic paintings," Nafees says. Born in a small village in Karnataka, in 1981, she has been battling severe health problems ever since. Her parents noticed that she suffered from overall weakness when she was born. Her voice, bones and nerves were all weak and her movements were impeded. They did the rounds of several hospitals and consulted many doctors. At the age of 11, she even underwent a surgery. However, this only weakened her further, increased her back pain and caused other complications too.
However, she bravely attended school and even completed her tenth standard. "My parents used to take me to school and bring me back on a wheelchair," she explains. The parents displayed great courage and patience as they not only had to look after the bedridden Nafees but also care for her younger sister Naseem Begum who was born with the same health problems.
Nafees continues: "I was in Class 7 when I began painting. I was inspired by my father whose hobby was painting. My parents used to bring me the canvases and colours and encourage me. A few relatives also used to give me compliments."
In 2005, doctors diagnosed her condition as muscular dystrophy. In 2008, her family relocated to Hyderabad where many of her relatives were living. Talking of her medical condition, Nafees says: "We were told that this is a progressive disease and also that there is no cure found as yet. Over the years, after consulting with many allopathic doctors, we have learnt that much research is going on in the West but finding a complete cure is a long way off.
Homeopathy helps, and my sister and I am currently under that mode of treatment. However, even in this method of treatment, it is possible only to control but not cure the disease." Painting is her great succour through all this intense pain and disorientation in life. She paints while sitting up in bed and in bouts. "After I have painted for a while, I feel exhausted and lie down for some time. Then when I am feeling better, I sit up again with and continue to create my art." Nafees also creates greeting cards.
A few months ago, Khaja, a local journalist who came to interview her was moved by her plight and took it upon himself to help her. He helped her get a monthly maintenance from the Telangana government. He also spoke to government officials and thus helped to organise her solo exhibition.
"Many physically challenged people like us have talents but are helpless to do anything about it. So, it needs an outsider to identify the same and give it a platform. More people should come forward to helping the physically and mentally challenged to explore their talent and give it exposure," she says.
Currently, Nafees and her sister are being taken care of entirely by their parents. "My sister and I try to stay as optimistic and happy as possible." She has a message for all those suffering from progressive or debilitating health problems is this: "It is important to stay cheerful and brave and find some hobby to divert oneself from the pain and devastation caused by one's disease and disability."