Lambada art gets helping hand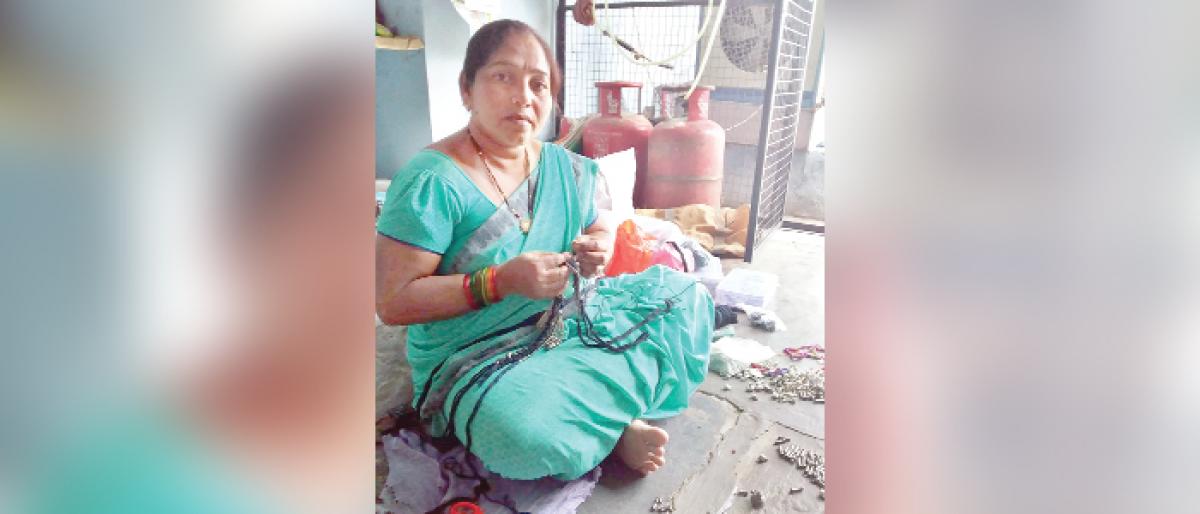 Highlights
Tribal culture is a unique blend of traditions that come along from generations to generations And the Lambada communitytoo has an attractive element in them the chain of connecting culture and carrying it forward being the main motive
Tribal culture is a unique blend of traditions that come along from generations to generations. And the Lambada communitytoo has an attractive element in them; the chain of connecting culture and carrying it forward being the main motive.
Designing fashion has been one of the main traditions of this community and Lambada embroidery and beads and metal jewellery have been very popular.
A town named Deverakonda in Nalgonda district has a story to narrate about its tradition of Lambada community. This community has been designing and making unique jewellery that has been the chief livelihood for the people.
One of the members of the Lambada community who was showcasing jewellery at TRIFED in Hyderabad,Aruna shares, "We have been designing jewellery since generations. I have learnt this art from my mother-in-law. This has been our tradition."
Apart from having the talent fordesigning of jewellery that is handed down by elders, the jewellery makers of this community are also trained by the government that helps them conduct exhibitions of their work and export their ware.
"Since 12 years we have been associated with the government with the help of DC Handicrafts. We have been trained by them in groups to design and make metal jewellery. We used to work for lepakshiHandicrafts and now we are working under Golconda Handicrafts.
'Tribes of India' has also been supporting our work since three years and we set up exhibitions like these every year," she adds.
"We have 12 families that work together. By joining hands, we have a really good number to complete our work.
We divide our work according to our capability and so few of them who cannot step out to showcase their designs in the exhibition, they stay in and work on designing jewellery and the rest focus on marketing them."
"We design and make metal earrings, neck pieces, anklets and kada. The neck pieces and earrings are usually much in demand," she shares.
Every piece that is designed takes around two weeks of hard work, "We take bulk orders and for example, for 15 pieces of necklace it takes all of our efforts with cutting and designing them," she stresses.
The Lambada community designers have exhibited their jewellery in Chennai, Bangalore, Maharashtra, Madhya Pradesh, and Punjab. They get orders in bulk and design them accordingly."
Even though they are doing well in their business, they are yet to take it to online marketing. "We tried to push ourselves to the online business, but it did not turn out good.
We are happy satisfying customers but taking personal orders and exporting them to different states with the help of government is what's working for us," states Aruna.