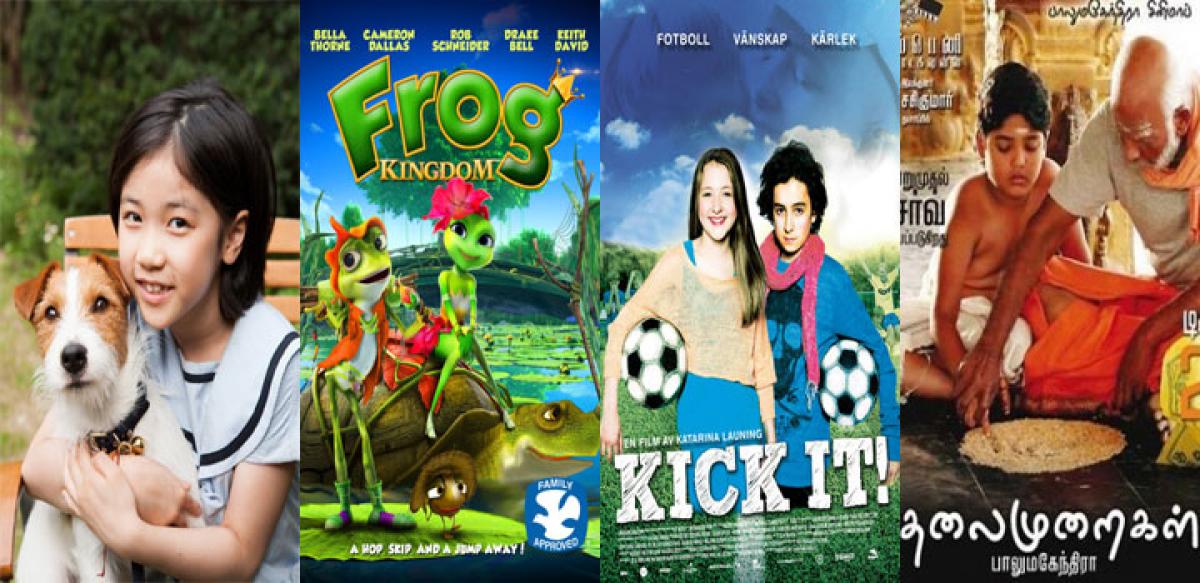 Highlights
With around 300 films being screened at different venues in Hyderabad and Secunderabad, it is quite difficult, almost impossible to choose what to watch. Here are a few films that you must try and watch. To know which theatres are screening these films log on to http://cfsindia.org/19icffi/SCHEDULE.pdf
With around 300 films being screened at different venues in Hyderabad and Secunderabad, it is quite difficult, almost impossible to choose what to watch. Here are a few films that you must try and watch. To know which theatres are screening these films log on to http://cfsindia.org/19icffi/SCHEDULE.pdf
The Generations (105 mins)
Veteran film director Balu Mahendra's award winning Tamil film, the last one before his demise, is about Aditya (Master Karthik), a city bred child of a doctor couple who had an inter caste marriage. Aditya is forced to spend a long time in village with his grandfather (Balu Mahendra) an old man who is fanatical about his religion, caste and his language. How he copes and how his grandfather tries to change him, forms the premise of the film.
Frog Kingdom (86 mins)
Wear you 3D glasses and enjoy the fun-filled Chinese animated adventure drama film directed by Nelson Shin. When The Frog King announces that the winner of the annual Froglympics will win his daughter's hand in marriage, she runs away instead. Disguised as a commoner, Princess Froglegs befriends street vendor, Freddie and begins training with him for the games. Meanwhile, the villainous serpent has ideas of his own to ruin the Froglympics and take over the kingdom. The Princess along with her friends set out to save Frog Kingdom from the evil serpent.
Blue Mountain (134mins)
Suman Ganguly's film premiered at the festival. With an interesting star cast – Ranvir Shorey, Rajpal Yadav, Gracy Singh, Mahesh Thakur, Arif Zakaria – the film explores changing human emotions and journeys beyond mere winning or losing in life. Winner of television talent hunt and on the way to become a celebrity singer, Som is pushed back unceremoniously into the darkness of failure. Once a dreamer of Blue Mountains he only is left with low self-esteem.

How to Steal a Dog (109mins)
The South Korean film directed by Kim Sung-ho, based on the novel of the same name by Barbara O'Connor. A little girl is left homeless with her brother and mother and is forced to live in a van. In a bid to get enough money to buy a house, she along with her friend plans to steal a dog, Wolly from a wealthy old woman and return it for the reward money. In the process of stealing and saving the dog, there is lot of laughter, fun and entertainment and a bit of wisdom that the film offers.
Kick It (102 mins)
A beautiful story of a spirited girl Anja who loves soccer, even though her classmate Jonas thinks girls cant play football. When Anja is diagnosed with leukemia, she continues to be positive and confident. She even tries to train in the hospital itself. How her friends guided by Jonas make her watch the football match and realise for her the dream of her school team winning makes for a sensitive film. The German film is directed by Katarina Launing.
Baanaadi -Free Bird (145 mins)
Actor-writer Nagaraj Kote has directed the Kannada film based on the novel 'Usiru', that Nagaraj Kote wrote in the late 90s. The film is all about the confusion of raising today's children. The film revolves around three generations a young boy, his father and grandfather. The film is getting rave reviews wherever it's screened.

Children! Do email to let us know which film you liked at the International Children's Film Festival and why. We shall publish it here and let everyone else know about it.
Email @theyounghans@gmail.com