Asia's first-class room FinTech programme at SP Jain Global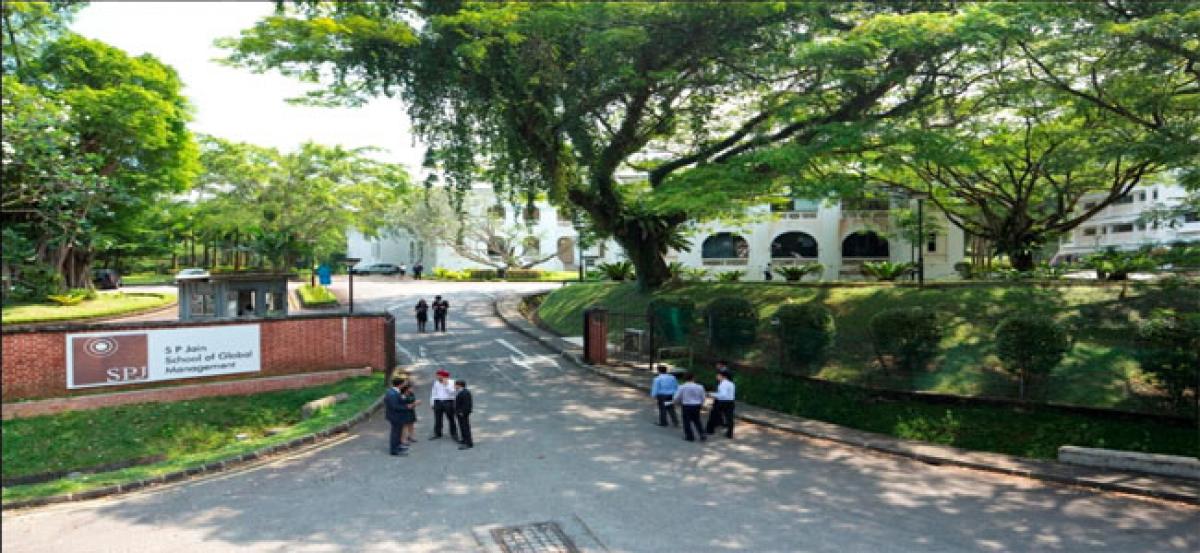 Highlights
This one of a kind course has working professionals from BFSI Sector, IT, Consulting and Start-ups, with an average industry experience of 11+ years...
Mumbai: This one of a kind course has working professionals from BFSI Sector, IT, Consulting and Start-ups, with an average industry experience of 11+ years SP Jain Global yet again redefines its educational offering with the launch of its FinTech course, the first of its kind in the country.
Financial technology has been the hotspot in the BFSI sector and there is a booming demand for trained professionals with an expertise in the field. Understanding this immediate need, SP Jain School of Global Management (SP Jain Global) recently welcomed the first-ever cohort to its 9-month weekend program in FinTech. The program is the first of its kind to be offered by any business school in Asia, and is one of the 6 Emerging Technology programmes that SP Jain Global announced earlier this year.
The School has partnered with several leading financial institutions and incubators such as Rubique, YES Bank, RISE (Barclays), Zone Startups, IBS Intelligence and Monexo to enhance the delivery and industry-relevance of the program. On the technology front, the School has collaborated with Dynamic Grid for building Innovation Labs and Smart Sense Solutions for designing blockchain applications for its students. Along with these category leaders, the School will also look to collaborate and partner in content sharing, mentoring, research collaboration, and industry-led seminars.
A high-point of this program is its tie-up with Prime Chain Technologies, a start-up which operates the BankChain consortium of banks for exploring, building and implementing blockchain solutions.
Today, BankChain has close to 27 members from across India and the Middle East. This partnership will enable students of the program to explore, build and implement Blockchain solutions that can minimise fraud and maximise efficiency, security and transparency in the financial space.
Speaking about the program, Nitish Jain, President, SP Jain Global shared, "In 2006, we were amongst the first to build a School which focused almost exclusively on an international tri-city educational model, transforming our students from ordinary graduates to 21st century global business leaders.
Today, in 2017, the world is advancing and so are we. With technology taking over the world as we know it, we felt that the time was right to pioneer innovative programs in Emerging Technologies, such as FinTech, that will help professionals stay relevant."
Vikram Pandya, Director of the FinTech Program at SP Jain Global added, "There is a huge, untapped opportunity in FinTech which continues to grow every day. At SP Jain, our goal is to prepare a new generation of skilled professionals who can identify complex business problems and implement dynamic, real-world solutions.
FinTech is an ever-evolving field and our program reflects this using several components inspired from current industry-trends and practices. Over the course of the program, students will be exposed to some of the latest innovations in FinTech and this learning will continue through numerous workshops, webinars, and seminars even after they complete the course."
"Current batch comprises largely of working professionals from BFSI Sector, IT, Consulting and start-ups and has an average industry experience of over 11 years.
Majority of professionals are at mid to senior level position in their respective companies. Such professional diversity and rich experience is what makes our program unique. Further, most of our faculties and mentors are from Industry who bring with them wealth of knowledge and practical experience. It provides immense opportunity for personal development and professional networking," added Pandya.
Subscribed Failed...
Subscribed Successfully...